June 21-24, 2022, Judy and I celebrated our 50th anniversary staying at the Village Hotel on the Biltmore Estate in Asheville, NC. This Post offers observations, reflections, and photographs on the grand intersection of human and natural history on the Estate.
Rather than recount the full story behind the Biltmore Estate, allow me to offer a few relevant highlights. A young man of extraordinary, third-generation wealth purchased more than 100,000 acres in the southern Appalachians in the late 1880s…worn out land depleted by repeated attempted agricultural domestication, timber harvesting (not scientific forest management), and wildfire. The endgame — to create a one of a kind country retreat for the family and its rich, famous, and globally successful friends and acquaintances. The youngest of eight children born to William Henry and Maria Louisa Kissam Vanderbilt, George Washington Vanderbilt was known from childhood for his reflective demeanor and thoughtfulness towards others. He brought three incredible generational minds to serve as the venture's braintrust. Richard Morris Hunt, one of the most accomplished architects in the world, designed and supervised construction of the house and associated buildings. Frederick Law Olmsted, the father of landscape architecture, designed the grounds. Upon the advice of Olmsted, Vanderbilt hired trained forester Gifford Pinchot to direct forest operations and implement a self-sustaining stewardship of the land and its resources for years to come. Though it is hard to imagine now, portions of the lush forest surrounding Biltmore House was once overworked farmland and overcut woodland (excerpts in italics from online Biltmore Estate documents).
All the land within view (to the southwest) below right had been part of the estate in 1895 when crews completed home construction. Except for the immediate 8,000 acre current estate property, that viewscape land is part of the Pisgah National Forest, some of the vast acreage of "The Land Nobody Wanted" that became our eastern National Forests.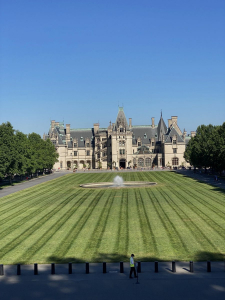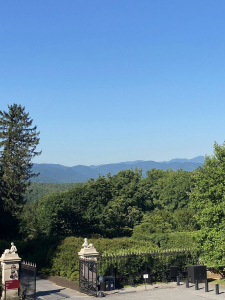 The estate included Mt. Pisgah (5,721′), visible in the center horizon. The original estate covered more than 150 square miles! Pinchot's task was not insignificant.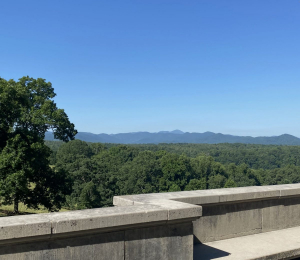 When evaluating the task before him, Olmsted wrote: My advice would be to make a small park into which to look from your house; make a small pleasure ground and gardens; farm your river bottoms chiefly to keep and fatten livestock with a view to manure; and make the rest a forest, improving the existing roads and planting the old fields.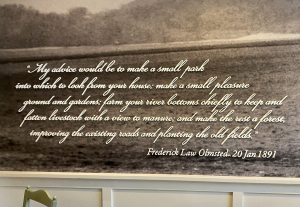 A man of obvious understatement, Olmsted reduced the overwhelming project of establishing the estate, its buildings, and its gardens and forests to its simplest elements.
Pleasure Ground and Garden
The pleasure grounds and gardens surround the house, from the rolling meadow at the southwest corner to the formal Italian Garden below right.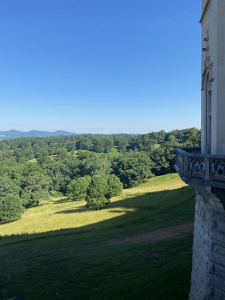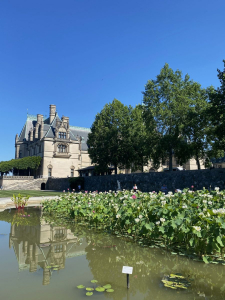 The Shrub Garden falls away to the south from the Italian Garden. Pathways wind through this feature.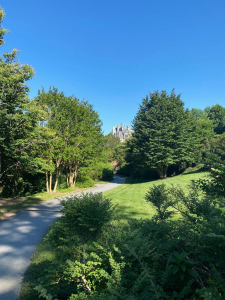 I have a small river birch in my Madison, Alabama backyard. I wonder what it will look like in 2130, the equivalent duration of when Olmsted directed this tree's planting and now. I've said often that nothing Nature is static, whether it be an individual tree or the transformation of an old worn out countryside to the magnificent estate grounds 0f 2022.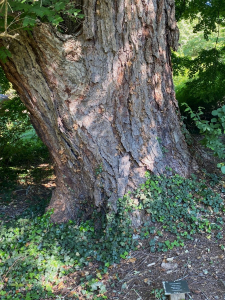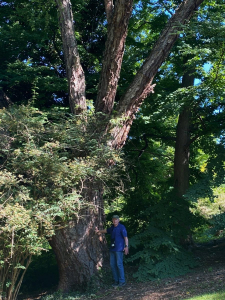 The ancient wisteria and trumpet vine arbor pay tribute to the genius of Vanderbilt and Olmsted. Vanderbilt died in 1914; Olmsted in 1903. How would today's estate compare to the vision they had? I compare their works to the great European cathedrals designed by visionaries, and not completed for many generations of builders. All great human endeavors are acts of faith, investments in the future. Selfless enterprises for new generations. I am typing these thoughts just a few days before the 246th anniversary of our grand nation's Declaration of Independence. Our founding fathers' saw the future and incorporated its assurances in the governing principles they developed in those early years. Thank God for their clear-eyed vision.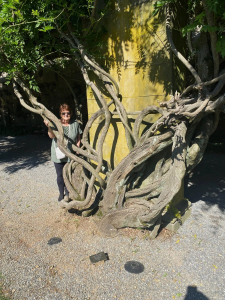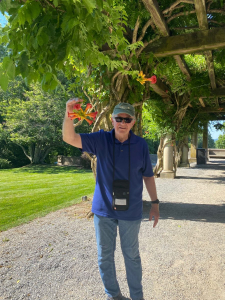 Cultivated Elegance
Scores of books offer exquisite photographs of the Estate's gardens. I offer just three floral examples: gladiolus (left) and fall phlox.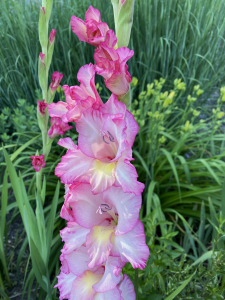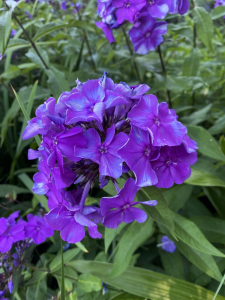 And an anthurium.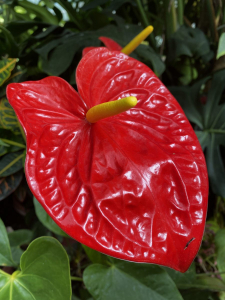 One of my favorite shrubs we encountered is this mophead hydrangea.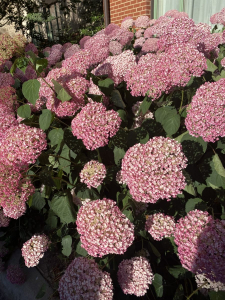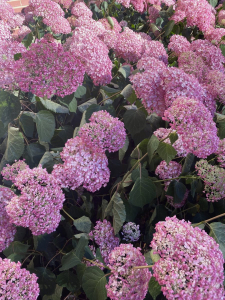 Over the course of an annual cycle I am sure that the gardens of Biltmore entertain visitors with hundreds of flowering plant species. I have given you just a wee taste, which is enough to allow me to move along to where my heart and expertise lie…the wilder elements of the estate.
Farm the River Bottoms
Olmsted urged Vanderbilt to farm the river bottoms. The French Broad River transits the property. Tranquil during our visit, the river experienced a 100-year flood in 1916, resulting from a ten-inch deluge in the river's upper basin July 16, killing six in Asheville and a total of 80 within the region. Interpretive signage at the Estate indicated that several employees of the Biltmore home lost their lives. I would most certainly been many feet below water at my riverside perch below.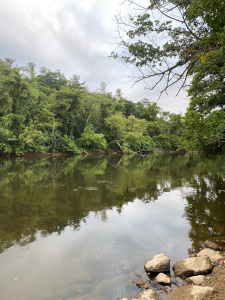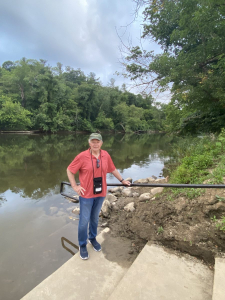 Curiosity took me to The Asheville Citizen newspaper of July 18, 1916:
Last night Asheville was as a city of the dead. The floods from the heavens ceased to descend, but the city was one of utter and complete darkness. Here and there a candle or a kerosene lamp cast but feeble rays into complete darkness. The streets were almost deserted, and a sense of fear entered many a heart unaccustomed to new and strange conditions.
Because 1916 fell 116 years ago, are we now destined for yet another 100-year flood? When can we expect a 1,000-year flood? A millennial-flood? Allow me a brief run down an ancillary rabbit hole. I admit that the Asheville flood of 1916 was an extreme event (much like the eastern Kentucky deluge and flooding of late July 2022). Not a single person or so-called expert attributed the flooding to climate change or global warming…or excess atmospheric carbon dioxide. Global population stood at about 1.7 billion; the industrial age had barely gained stride. Rivers have undergone extreme flooding events since the first thunderstorms trained across the first mountains. Rivers will flood until the end of time. Yet, in this age of crises, existential threats, and deep societal anxiety triggered by pseudo-science and wild imaginings, every reported extreme weather event is just another supposed signal of the approaching end of time…the climate doom.
I urge all of my readers to calm down, take a deep breath, and read Alabama State Climatologist Dr John Christy's A Practical Guide to Climate Change in Alabama. John's Summary is worth contemplating among the continuous noise of alarmists intent upon eliminating our use of fossil fuels:
Upon examination of several important Alabama climate variables such as extreme summer heat, yearly rainfall, heavy rain events, droughts, snowstorms, hurricanes, and tornadoes, we find no significant changes associated with the increasing concentration of greenhouse gases.
Over the past half-century, sea level has risen at variable rates along the Gulf Coast with a reasonable estimate for the Alabama portion of a continued rate-of-rise of about 1 to 1.5 inches per decade.
The latest theoretical model simulations have been unable to replicate the types of changes in climate variables that Alabama has experienced since the late 19th century and so offer little guidance for the future. 
Because we face a continuing onslaught of climate extremist rhetoric from mainstream media, many in higher education, and dominant political quarters, I include two quotes on my email signature line:
     In questions of science, the authority of a thousand is not worth the humble reasoning of a single individual. Galileo Galilei (1564-1642)
     Whoever undertakes to set himself up as a judge of Truth and Knowledge is shipwrecked by the laughter of the Gods. Albert Einstein (1879-1955)
All science distills to facts. Observation prevails over perception. I recall my first autumn of residence in Fairbanks, Alaska. Early in October, I asked many long term residents, "How does the month just ended compare to the Septembers of years ago?" To a person they commented that the month used to be much colder; in fact…seasonal snow cover often came before the end of September. I had already checked the National Weather Service long term records. That September was actually the third coldest in over 100 years of record. That is the difference between observation (science) and perception (the authority of a thousand). Real science is not determined and confirmed by popular vote.
The French Broad will flood again…and again…and again. The same for Gulf Coast hurricanes, tornado outbreaks, heat waves, and other extreme weather events. Such is the Nature of our world!
Okay, back to the tale at hand. To this day, the Estate is farming the river bottoms, this area within range of our early morning stroll from where Judy and I spent our three nights.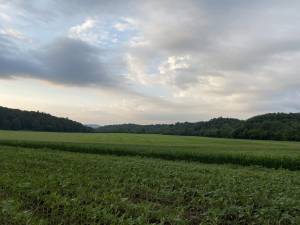 Make the Rest a Forest
And my strongest personal and professional alignment lies with Olmsted's final element of guidance…make the rest a forest. These magnificent white pines grow on a formerly abused pastured hilltop nearly the Biltmore House main visitor parking lots east of the courtyard. I can close my eyes and visualize the eroded, barren pastureland. I see planting crews dibbling white pine seedlings, ready to reclaim the land that during Native American times probably grew natural stands of the same species, common to these southern Appalachians. To the uninformed this stand appears to be original forest…old growth. Nature is remarkably resilient. Nothing in Nature is static.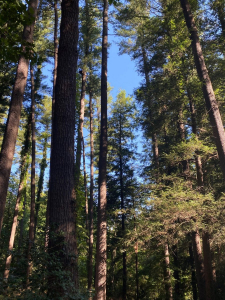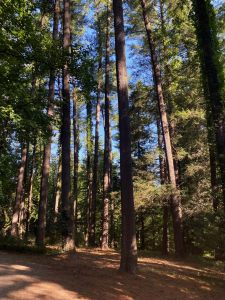 The 1992 The Last of the Mohicans movie generated three Oscar nominations, winning one for its soundtrack, which I have playing in the background as I type this section. This epic historical drama, adopted from 1826 novel The Last of the Mohicans: A Narrative of 1757 by James Fenimore Cooper, takes place near British Fort William Henry (at the south end of Lake George) in New York's Adirondack Mountains. Note: my summer forestry camp (between sophomore and junior years) location was Warrensburg, NY (Pack Forest), just six miles from Lake George. The movie's opening chase scene has key characters running through the unbroken, undisturbed Adirondack wilderness in pursuit of wild game. The untrammeled original New England forest chase scene, in fact, takes place within the Biltmore Estate on old worn out domesticated land that George Vanderbilt purchased and Olmsted and Pinchot rehabilitated and re-wilded! Nature's healing and restorative power is unmatched. Nothing in Nature is static.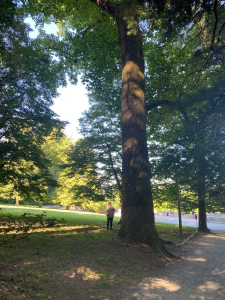 Our anniversary visit coincided with peak rhododendron flowering season at the Estate's approximate 2,200 feet elevation. The peak season of the surrounding Pisgah would lag a week behind for each 900 feet or so of elevation gain. Spring climbs these mountains at 900 feet per week. Winter descends at the same pace.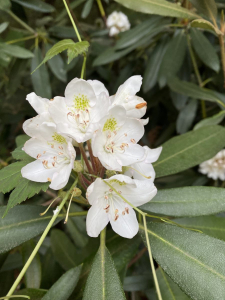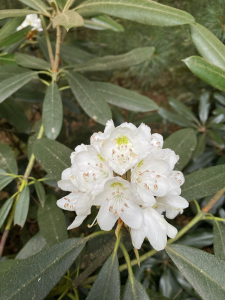 Black cohosh also accommodated our visit, standing 3-5 feet in full flower.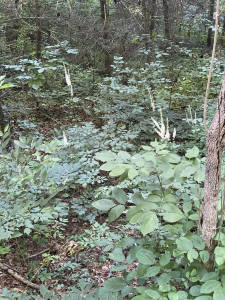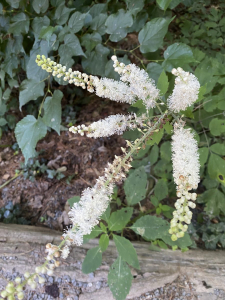 Always on the lookout for tree form curiosities and oddities, I found this burled white oak in plain site adjacent to the House parking lot. I wondered how many of the daily visitors even noticed.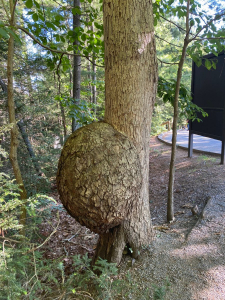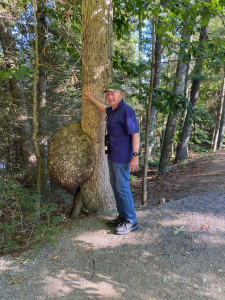 Sunrise of Our Departure
We arose early our final morning to roam the river bottom near our hotel. Dawn seldom disappoints, this one no exception. The Biltmore Inn sits atop the hill, above our Village Hotel, to the right in the below left photo. Our room looked out on a courtyard and the Winery.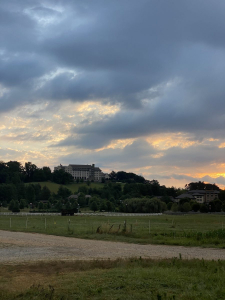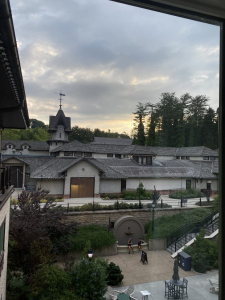 From our near-river vantage point, the sun rose directly above the hotel. Stratocumulus clouds greeted sunrise above the hillside woods lifting from the river bottom.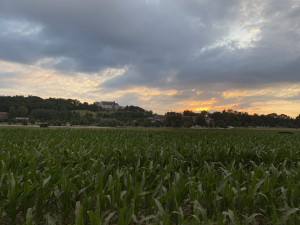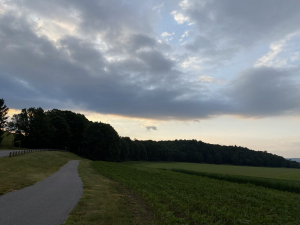 What could be more fitting than my bride of 50 years backdropped by sunrise. We've seldom missed dawn and the rising sun across those five decades.
We both welcome each new day, a treat far exceeding any theater production, a night on the town, or a fancy dinner. It's the Nature of our marriage!
Celebrating 50 Years
The glory of the intersection of human and natural history, culminating a 50 year journey of true love…still in progress.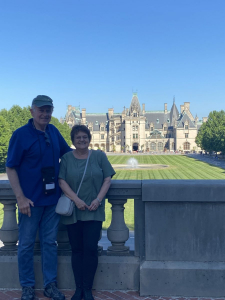 Thoughts and Reflections
I offer these observations:
These magnificent southern Appalachians came to us out of eternity…and it is our common duty to steward their rich ecosystems.
Sometimes the grandest of Nature's presentations can be enhanced by the genius and informed passion of man.
The story of Biltmore and the glory of Nature lift me, soothe my soul, and fill me with peace and gratitude.
Places such as this are best shared with my soulmate and the love of my life!
Inhale and absorb Nature's elixir. May Nature Inspire, Inform, and Reward you!
Note: All blog post images created & photographed by Stephen B. Jones unless otherwise noted. Please circulate images with photo credit: "©2022 Steve Jones, Great Blue Heron LLC. All Rights Reserved."
Another Note: If you came to this post via a Facebook posting or by an another route, please sign up now (no cost… no obligation) to receive my Blog Post email alerts: http://eepurl.com/cKLJdL
And a Third: I am available for Nature-Inspired Speaking, Writing, and Consulting — contact me at steve.jones.0524@gmail.com
Reminder of my Personal and Professional Purpose, Passion, and Cause
If only more of us viewed our precious environment through the filters I employ. If only my mission and vision could be multiplied untold orders of magnitude:
Mission: Employ writing and speaking to educate, inspire, and enable readers and listeners to understand, appreciate, and enjoy Nature… and accept and practice Earth Stewardship.
Vision:
People of all ages will pay greater attention to and engage more regularly with Nature… and will accept and practice informed and responsible Earth Stewardship.
They will see their relationship to our natural world with new eyes… and will understand more clearly their Earth home.
Tagline/Motto: Steve (Great Blue Heron) encourages and seeks a better tomorrow through Nature-Inspired Living!
Steve's Three Books
I wrote my books Nature Based Leadership (2016), Nature-Inspired Learning and Leading (2017), and Weaned Seals and Snowy Summits: Stories of Passion for Place and Everyday Nature (2019; co-authored with Dr. Jennifer Wilhoit) to encourage all citizens to recognize and appreciate that every lesson for living, learning, serving, and leading is either written indelibly in or is powerfully inspired by Nature.
I began writing books and Posts for several reasons:
I love hiking and exploring in Nature
I see images I want to (and do) capture with my trusty iPhone camera
I enjoy explaining those images — an educator at heart
I don't play golf!
I actually do love writing — it's the hobby I never needed when my career consumed me
Judy suggested my writing is in large measure my legacy to our two kids, our five grand kids, and all the unborn generations beyond
And finally, perhaps my books and Blogs could reach beyond family and touch a few other lives… sow some seeds for the future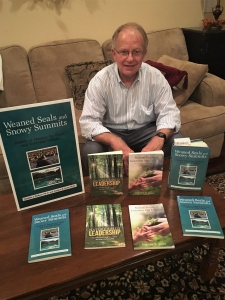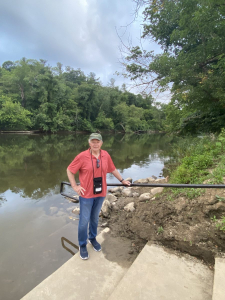 All three of my books (Nature Based Leadership; Nature-Inspired Learning and Leading; Weaned Seals and Snowy Summits) present compilations of personal experiences expressing my (and co-author Dr. Wilhoit for Weaned Seals and Snowy Summits) deep passion for Nature. All three books offer observations and reflections on my relationship to the natural world… and the broader implications for society. Order any and all from your local indie bookstore, or find them on IndieBound or other online sources such as Amazon and LifeRich.
http://stevejonesgbh.com/wp-content/uploads/2022/06/IMG_4150-1.jpg-06.22.22-View-to-SSW-Mt-Pisgah.jpg
1040
1200
Steve Jones
http://stevejonesgbh.com/wp-content/uploads/2017/01/gbhweblogo.png
Steve Jones
2022-08-03 14:18:00
2022-08-03 14:18:00
A Grand Intersection of Human and Natural History at the Biltmore Estate