I went back to McDowell January 20-24, 2020 to begin serious field work for developing McDowell's Land Legacy Story — the Natural History corollary to existing books and essays on the facility's Human History. Founders bought the first Camp parcels in 1946 and initiated Camp programming in 1948. I offer this brief Blog Post as a teaser for what lies ahead. I know the property's Nature quite well at this 2020 point in time. We are discovering and examining the photographic record to document Camp McDowell's Nature Tale across time. We'll enter this Post via the Camp entrance. January 2020, forest rises beyond the sign, a nice setting on a stunning day.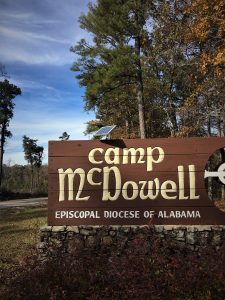 Here's the entrance in 1948, a photo presented to me just last week. When I next visit I will attempt to photograph today's sign at the exact same angle, capturing the road headed north and the forest. I'll examine today's trees to determine whether the couple of individual trees in the 1948 near-view are among those standing tall today. If so, we'll have a then-and-now for specific trees. If not, we'll have a then-and-now for the forest. I will recommend to the Camp establishing a permanent photo-point to retake the image every 5-10 years to track development.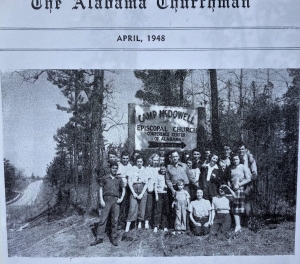 Trees Adorning Main Camp
Camp McDowell completed its first (and still standing) Chapel in 1953 (under final construction below). My hope upon finding this photo was that we could identify multiple trees still standing from this and many other 65-70-year-old images. For the most part, no, the trees in the old photos are gone, leaving only a few decaying stumps. We looked hard at this photo, finally identifying two trees surviving the decades. Without the aid of an arrow I will draw your attention to the two. First, dead center below are three trees, two prominent with dark bark in the foreground. They are now gone. Standing beyond them is a lighter-barked, more slender individual, notably straight and reaching above the photo's top margin. That is tree number one, a loblolly pine (Pinus taeda).
The second tree is the smaller of the two trees some 80 percent of the distance from the photo's left margin. The taller tree is gone. The smaller, a hickory (Carya sp) not much taller than the Chapel roof, still lives.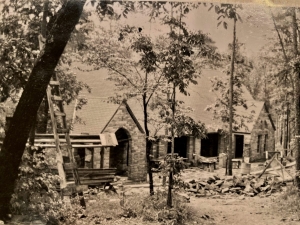 We'll move ahead to 1961, when only those two trees remain.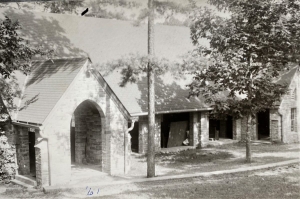 Fifty-nine years later, they both tower above the Chapel. Yet, all is not well. Note that the pine bears dead needles. Tragically, the tree died this past summer.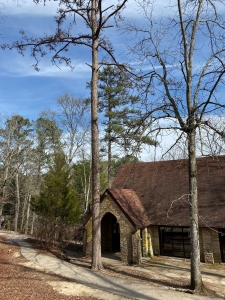 Too bad that we have lost a proud sentinel from the Camp's origin. Yet all is not lost from posterity. Camp staff will remove the tree before gravity introduces it to the Chapel roof. They will cut several two-inch thick cookies from near the base. They'll sand and surface the cookies, preserving a tree-ring history of this Chapel witness-tree. We'll mark rings dating significant events in McDowell's history. I will encourage staff to prepare a planting spot for this lob's successor. I want to envision the successor pine standing tall in 2090!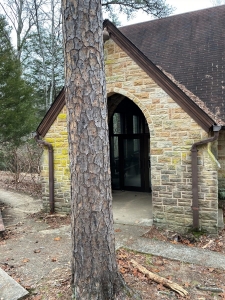 The Right Reverend C.C.J. Carpenter, then Episcopal Bishop of Alabama, appointed the Reverend B Scott Eppes to build and lead Camp McDowell in 1946. He served in that capacity until his retirement in 1978.  Reverend Eppes wrote an undated History of Camp McDowell around that same time. He wrote, The warden made a visit to Athens, Georgia in February 1949, to perform the marriage of his niece. Coming home to Birmingham, he took a long way by Blairsville, Georgia. In those mountains from the sides of the road he pulled up many small white pines…. Placed in a garbage can filled with wet sawdust, they kept well and were planted at McDowell the next day. About 25 were transplanted; most of them lived. Today they are among the tallest trees on the property. One of the 70-year-old white pines (Pinus strobus) leans below against retired Camp Director, The Reverend Mark Johnston. What a great chapter in McDowell's Natural History, which as we all know exists interdependently with its Human History.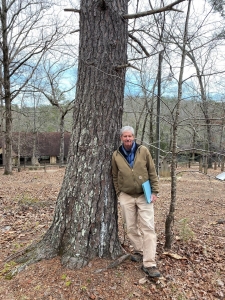 That's the Chapel's brownish-red roof beyond Mark and the white pine at the base of the slope. So far as we could determine, most trees that covered the hillside when the white pine seedling enjoyed its first taste of Alabama soil are now gone.
Tree Action in the Forest
I've often observed in these GBH musings that nothing in Nature is static. Trees sprout, grow, and die. In what appears to be a mature forest (below left) a main canopy red oak reaches with its stark skeleton crown high above the forest floor. Death likely caught up to it 2-3 years ago. Gravity, insects, and microorganisms will soon assure that it reunites with the forest floor and soil. The lateral view gives little indication of the effects of its dying on the remaining forest. Vertically (below right) the result is apparent. A large hole in the canopy will encourage remaining trees to exploit the void. Sunlight reaching the forest floor will allow new vegetation to flourish. This is yet another of the stories we hope to tell. Wouldn't it have been nice if managers 70 years ago had by chance established a permanent photo point to watch the then young oak complete its life cycle!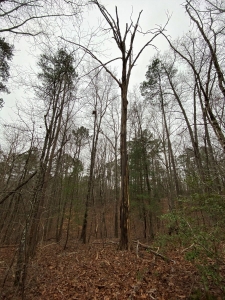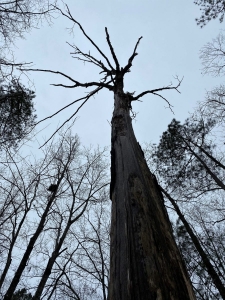 Clear Creek at Camp McDowell
Although my passion and expertise lie in the forest and its associated life, I have always found fascination in weather, climate, and hydrology. Try growing a forest without clouds and water. I photographed the McDowell dam in January (below left). The peaceful impoundment with its placid waters belie the stream's occasional alter ego.  Note that same pipe (below right) protruding above the roiling floodwaters in 1973.  Nothing in Nature is static. Ferocity lies just one deluge beyond tranquility. It is Nature's way. These are the stories that compose the massive volume that is environmental education on McDowell's 1,138 acres.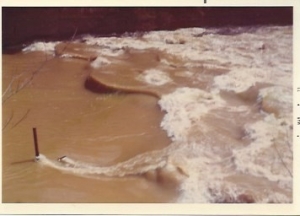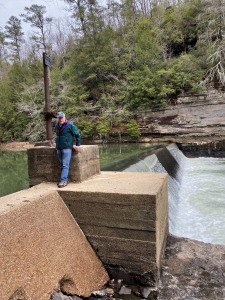 Clear Creek is a permanent (for our purposes) landscape feature at McDowell. Yet not a drop of its flow persists beyond the day. Instead, for 70 years the stream has flowed steadily past McDowell toward the Gulf of Mexico. I draw parallel to the flow of campers. The young people that first camp season would now be in their 80s, flowing on in time and place. Nothing in Nature is static.
Environmental Center Mission
McDowell's Environmental Education Center Mission may actually remain static: To connect people to their environment, teach respect for the Earth and its beings, and to promote a commitment to lifelong learning. Add in a strong touch of faith, service, and humanity and the message is relevant for the ages. My purpose, in part, is to tell McDowell's Land Legacy Tale in a manner that tracks fidelity to the mission through the ages. And what better symbol of that mission than the Camp's new St. Francis Chapel and its surroundings. The Chapel offers many opportunities for photo-tracking its natural setting over time. Few who see it today will be available to tell its environmental story in 2090. Where I stood to snap this shot, I contend, will suit the 5-10-year permanent photo record.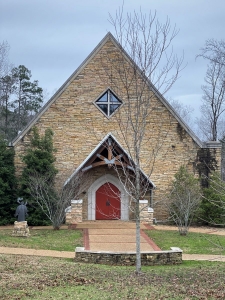 Every parcel of land has its own story of human and natural history. The two are often interwoven. Camp McDowell's history began in 1946. Its human history began when native peoples crossed the Bering land bridge and migrated several thousand miles to this Eden along Clear Creek. I'll track McDowell's natural history from 1946 and offer speculation for the years of European settlement before then.
I am grateful for the chance to collaborate with staff at McDowell to develop this Land Legacy Tale. The project affords me the chance in retirement to re-engage with my forestry roots and to stimulate my lifelong passion for Nature. Watch for more in these Posts as the story unfolds.
Thoughts and Reflections
I wrote my books, Nature Based Leadership (2016), Nature-Inspired Learning and Leading (2017), and Weaned Seals and Snowy Summits: Stories of Passion for Place and Everyday Nature (2019; co-authored with Dr. Jennifer Wilhoit) to encourage all citizens to recognize and appreciate that every lesson for living, learning, serving, and leading is either written indelibly in or is powerfully inspired by Nature. All three are available on Amazon and other online sources.
Here are the three succinct truths I draw from this Blog Post:
Every parcel of wildland tells a story; human and natural history interwoven

Knowing the story enriches environmental education and elevates understanding

Understanding Nature inspires and motivates responsible and informed Earth stewardship

Inhale and absorb Nature's elixir. May Nature Inspire and Reward you!
Note: All blog post images created & photographed by Stephen B. Jones unless otherwise noted. Please circulate images with photo credit: "©2020 Steve Jones, Great Blue Heron LLC. All Rights Reserved."
Another Note: If you came to this post via a Facebook posting or by an another route, please sign up now (no cost… no obligation) to receive my Blog Post email alerts: http://stevejonesgbh.com/contact/
And a Third: I am available for Nature-Inspired Speaking, Writing, and Consulting — contact me at steve.jones.0524@gmail.com
Reminder of my Personal and Professional Purpose, Passion, and Cause
If only more of us viewed our precious environment through the filters I employ. If only my mission and vision could be multiplied untold orders of magnitude:
Mission: Employ writing and speaking to educate, inspire, and enable readers and listeners to understand, appreciate, and enjoy Nature… and accept and practice Earth Stewardship.
Vision:
People of all ages will pay greater attention to and engage more regularly with Nature… and will accept and practice informed and responsible Earth Stewardship.
They will see their relationship to our natural world with new eyes… and will understand more clearly their Earth home.
Tagline/Motto: Steve (Great Blue Heron) encourages and seeks a better tomorrow through Nature-Inspired Living!
Steve's Three Books
I began writing books and Posts for several reasons:
I love hiking and exploring in Nature
I see images I want to (and do) capture with my trusty iPhone camera
I enjoy explaining those images — an educator at heart
I don't play golf!
I actually do love writing — it's the hobby I never needed when my career consumed me
Judy suggested my writing is in large measure my legacy to our two kids, our five grand kids, and all the unborn generations beyond
And finally, perhaps my books and Blogs could reach beyond family and touch a few others lives… sow some seeds for the future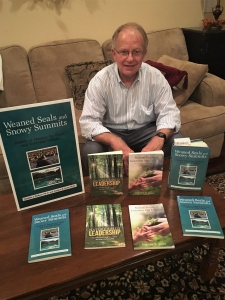 I like to imagine that representative samples of my books appreciate accompanying me into the woods. So far, none has complained nor groaned!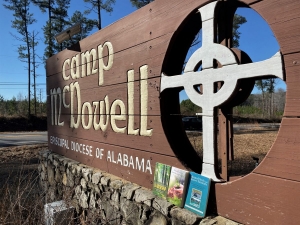 All three of my books (Nature Based Leadership; Nature-Inspired Learning and Leading; Weaned Seals and Snowy Summits) present compilations of personal experiences expressing my (and co-author Dr. Wilhoit for Weaned Seals and Snowy Summits) deep passion for Nature. All three books offer observations and reflections on my relationship to the natural world… and the broader implications for society. Order any and all from your local indie bookstore, or find them on IndieBound or other online sources such as Amazon and LifeRich.
http://stevejonesgbh.com/wp-content/uploads/2020/02/IMG_1501.jpg-AL-Churchman-1948-DCs-Collection.jpg
1054
1200
Steve Jones
http://stevejonesgbh.com/wp-content/uploads/2017/01/gbhweblogo.png
Steve Jones
2020-02-19 09:16:11
2020-02-19 09:16:11
Examining a 70-Year Journey at Alabama's Camp McDowell