Bankhead National Forest
The USDA Forest Service's mission is to sustain the health, diversity, and productivity of the Nation's forests and grasslands to meet the needs of present and future generations. Its motto is Caring for the land and serving people. The Bankhead National Forest is the nearest National Forest to my home in northern Alabama. I often pass through the Bankhead on my way to and from Camp McDowell and Conference Center (sign about ten miles north of McDowell). I intend to learn a lot more about the Forest, including hiking on its many trails.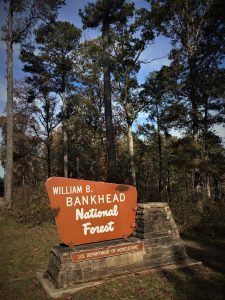 From a USFS website: In 1964, our nation's leaders formally acknowledged the immediate and lasting benefits of wild places to the human spirit and fabric of our nation. That year, Congress enacted the Wilderness Act, landmark legislation that permanently protected some of the most natural and undisturbed places in America. In 1968, the Wild & Scenic Rivers Act was passed to strike a balance between the demands for hydropower, flood control, and irrigation with the need to protect our most outstandingly remarkable rivers. This milestone legislation ensures free-flowing waterways for the benefit and enjoyment of present and future generations. National Scenic and Historic Trails, National Historic Landmarks, Volcanic Monuments, Scenic Areas, Recreation Areas, Preserves, and Monuments are among additional designations bestowed by Congress to ensure protection of unique natural, cultural and recreational values. Collectively, Wildernesses, Wild and Scenic Rivers, National Scenic and Historic Trails and other Congressionally Designated Areas comprise almost a quarter of all lands managed by the Forest Service and afford permanent protection to some of the most varied, ecologically significant, and valued federal lands and free flowing waters in the nation – indeed – the world. We owe a great deal to the wisdom and foresight of congressional delegations and dedicated citizen volunteers whose efforts have provided an enduring benefit to the American people.
Sipsey Wilderness and Sipsey Fork Wild and Scenic River
From the 1964 Wilderness Act: A wilderness, in contrast with those areas where man and his own works dominate the landscape, is hereby recognized as an area where the earth and its community of life are untrammeled by man, where man himself is a visitor who does not remain.
I feel blessed that the Sipsey Wilderness lies within the Bankhead, just 55 miles from my house. I made my first visit (since retiring here to northern Alabama) to Sipsey on January 24 as I returned from McDowell (after four days on-site).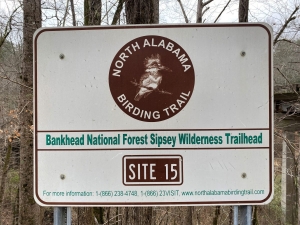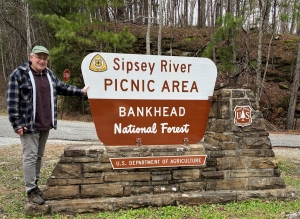 The signage above indicates where we parked for my initial brief entry. We refers to me and Janice Barrett, Alabama Outreach and Education Coordinator for Wild South (https://wildsouth.org/). I'll say a bit more later about Wild South. Janice led me along the Sipsey Fork of the Black Warrior River, which is Alabama's only National Wild and Scenic River. From the USFS: The Wild and Scenic Rivers Act protects more than 12,700 miles of rivers and streams in the U.S. The Forest Service is involved in managing nearly 5,000 of those wild and scenic rivers miles.
Continuing from the Forest Service, Designation as a wild and scenic river is our nation's strongest form of protection for free-flowing rivers and streams. They have remarkable scenic, recreational, geologic, fish and wildlife, historic or other similar values that led Congress to add these waterways to the National Wild and Scenic Rivers System. Again, for emphasis (and, in part, to help me better understand how the pieces fit), we walked the Borden Creek Trail along the Sipsey Fork of the Black Warrior River within the Bankhead's Sipsey Wilderness.
I'm finding some enlightenment in Alabama Rivers: A Celebration and Challenge, authored by my former Auburn University colleague Dr. William (Bill) G. Deutsch. Bill wrote this about the Sipsey Fork: The Black Warrior Basin includes another large tributary called the Sipsey Fork that makes up the northwest portion of the watershed and eventually flows into the Mulberry Fork. The stream is Alabama's only nationally designated Wild and Scenic River, and has the highest, federal water use-classification called Outstanding National Resource Waters.
In contrast, the Sipsey River is a 145-mile-long swampy low-lying river in west central Alabama, discharging into the Tombigbee River. The Sipsey River is not designated Wild and Scenic. However, recall the above signage: Sipsey River Picnic Area. That's where we parked. It is along the Sipsey Fork, not even in the same basin with the actual Sipsey River. Phew, no wonder I'm confused. I am grateful to Bill and Janice — I'll learn…I promise!
Janice introduced me to absolute Sipsey Wilderness beauty along the river trail. At every turn we encountered a Kodak Moment. I know, I'm indicating my age. My iPhone camera wants to ask me, "What's a Kodak?" Sandstone ledges, multiple waterfalls and springs, and towering riparian trees border the river. Although our time was short, I wanted to find a place to sit to absorb the sights and sounds of Nature's beauty, magic, wonder, and awe. I will return, I hope with at least one grandson in tow.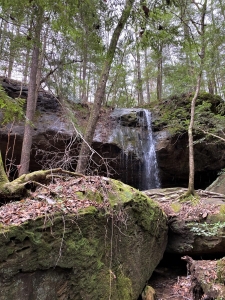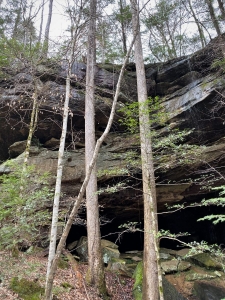 This would have been a great spot to perch. I am always at peace in the company of yellow poplar (Liriodendron tulipifera). They love the rich streamside soils as much as I relish them (the trees). Were this poplar and the adjacent hickory (Carya sp) a little further apart, what a perfect spot for slinging a hammock! Superb relaxation and reflection available with no digital distractions.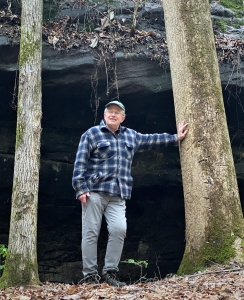 Pure Tranquility Along the River
The old saw, A Picture is Worth a Thousand Words, applies often in Nature, and to every precious spot along this trail. Combine sandstone ledges, cascading freshets, and sylvan comfort and solitude to achieve a physical, mental, emotional, and spiritual oasis. Absolute tranquility; instant and lasting zen, courtesy of Mother Nature. Add in the special sauce of Wild and Scenic River, Wilderness, and National Forest and I am in Heaven on Earth. Amazing that we found this inspiration just a half-mile from the highway and an hour from my home. I loved my visit last summer to Grand Teton and Yellowstone, yet being at the two National Parks involved air and ground travel at considerable expense, and two-weeks dedicated to the journey and exploration. The scope and scale differ between last summer and the Sipsey, yet the separation among levels of inspiration, fulfillment, and satisfaction is small. The magic-at-hand variable carries considerable weight in my life equation.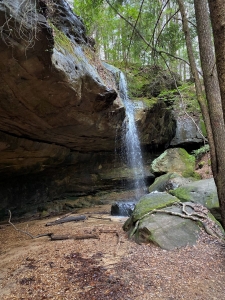 Nature teaches us that every organism on planet Earth clings to life, not necessarily as a function of desperation but as a means of satisfying needs. I marveled at how adept these musclewood trees (Carpinus carolinia; AKA American hornbeam or blue-beech) are at finding purchase on mist-moistened ledges and boulders. Seeds fall atop the rock's thin layer of accumulated organic detritus, germinate in the damp environment, and trail roots along the rock sides, extending them into the rich soil below. I recall that a favorite forestry professor held that forestry is both art and science. I contend evermore strongly now that Nature itself is both art and science. Art is, for example, enjoying the magic of these dendritic root systems matting the rock in exquisite patterns. Science is understanding and explaining the underlying mechanisms.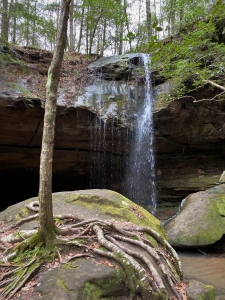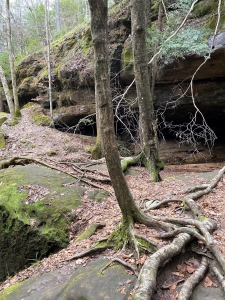 Clearly the rock (below left) is not a rolling stone, which gathers no moss. Again, the super-moist environment encourages life to extend its limits. Note the pocket of last fall's leaves, which upon continuing decomposition will add incrementally to the thin layer of rooting medium atop the boulder. As I brought the camera closer, the moss became a thick forest. I wonder what lies within that forest? I urge readers to spend ten minutes with this 1977 video: https://www.youtube.com/watch?v=0fKBhvDjuy0. The video transports the viewer through successive orders of magnitude… first, ever further outward from a meter square and then inward at the reverse order of magnitude pace. You will never be quite the same, once more mesmerized by Nature's enchantment.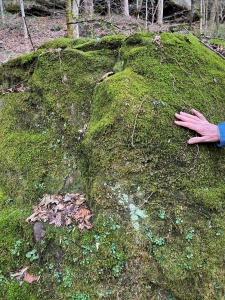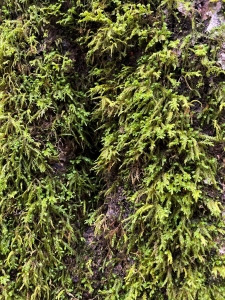 Wild South
I told you I would return to Janice's employer, Wild South. The organization's Mission: Wild South has been putting the public in public lands for 28 years, giving communities opportunities to enjoy, value, and protect the wild character and natural legacy of the South. We want to see people of all ages appreciating and taking responsibility for the care of their public lands, now and for future generations. We believe our Southern National Forests and Parks are treasured places that enrich our quality of life and the social, economic, and cultural wealth of our communities. Join us as we protect the South's lands, water, and biodiversity!
Wild South's website paragraph on Sipsey adds perspective to the brief orientation hike I took with Janice: The Sipsey Wilderness (Bankhead National Forest) is characterized by large sandstone bluffs and the jade-hued water of its streams and rivers, making it home to some of the most picturesque natural features in Alabama. Volunteers maintain trails, clean up trash, and remove tenacious invasive plants. Despite the growing number of visitors to this beautiful wilderness, volunteer wilderness rangers are successfully demonstrating that visitor education leads to reduced visitor impact and increased safety.
That's Janice below with Wild South's version of Sasquatch: Sipsquatch! And yes, that's me below right.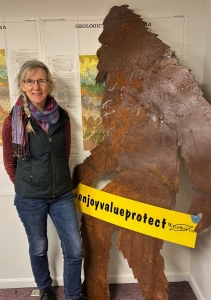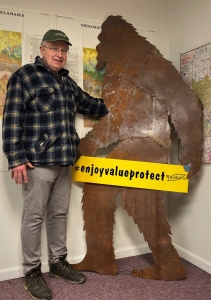 Thoughts and Reflections
I wrote my books Nature Based Leadership (2016), Nature-Inspired Learning and Leading (2017), and Weaned Seals and Snowy Summits: Stories of Passion for Place and Everyday Nature (2019; co-authored with Dr. Jennifer Wilhoit) to encourage all citizens to recognize and appreciate that every lesson for living, learning, serving, and leading is either written indelibly in or is powerfully inspired by Nature. All three are available on Amazon and other online sources.
Here are the three succinct lessons I draw from this Blog Post:
Nature's treasures lie close at hand — seek them; enjoy them; and learn from them

Visiting Nature's special places reminds us that someone (or some group) took the time and made the effort to identify and protect them for future generations

Multiply the work of those who have done their part; do your part to change the world by effectively promoting informed and responsible Earth stewardship

Inhale and absorb Nature's elixir. May Nature Inspire and Reward you!
Note: All blog post images created & photographed by Stephen B. Jones unless otherwise noted. Please circulate images with photo credit: "©2020 Steve Jones, Great Blue Heron LLC. All Rights Reserved."
Another Note: If you came to this post via a Facebook posting or by an another route, please sign up now (no cost… no obligation) to receive my Blog Post email alerts: http://stevejonesgbh.com/contact/
And a Third: I am available for Nature-Inspired Speaking, Writing, and Consulting — contact me at steve.jones.0524@gmail.com
Reminder of my Personal and Professional Purpose, Passion, and Cause
If only more of us viewed our precious environment through the filters I employ. If only my mission and vision could be multiplied untold orders of magnitude:
Mission: Employ writing and speaking to educate, inspire, and enable readers and listeners to understand, appreciate, and enjoy Nature… and accept and practice Earth Stewardship.
Vision:
People of all ages will pay greater attention to and engage more regularly with Nature… and will accept and practice informed and responsible Earth Stewardship.
They will see their relationship to our natural world with new eyes… and will understand more clearly their Earth home.
Tagline/Motto: Steve (Great Blue Heron) encourages and seeks a better tomorrow through Nature-Inspired Living!
Steve's Three Books
I began writing books and Posts for several reasons:
I love hiking and exploring in Nature
I see images I want to (and do) capture with my trusty iPhone camera
I enjoy explaining those images — an educator at heart
I don't play golf!
I actually do love writing — it's the hobby I never needed when my career consumed me
Judy suggested my writing is in large measure my legacy to our two kids, our five grand kids, and all the unborn generations beyond
And finally, perhaps my books and Blogs could reach beyond family and touch a few others lives… sow some seeds for the future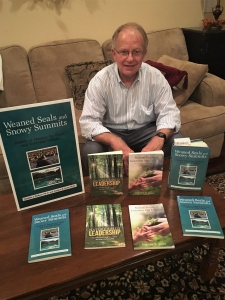 I like to imagine that representative samples of my books appreciate accompanying me into the woods. So far, none has complained nor groaned! Perhaps I will take them along when I next visit Sipsey!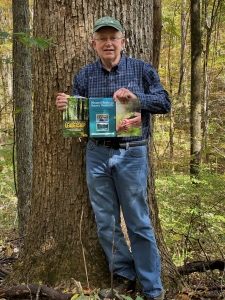 All three of my books (Nature Based Leadership; Nature-Inspired Learning and Leading; Weaned Seals and Snowy Summits) present compilations of personal experiences expressing my (and co-author Dr. Wilhoit for Weaned Seals and Snowy Summits) deep passion for Nature. All three books offer observations and reflections on my relationship to the natural world… and the broader implications for society. Order any and all from your local indie bookstore, or find them on IndieBound or other online sources such as Amazon and LifeRich.
http://stevejonesgbh.com/wp-content/uploads/2020/02/IMG_1440.jpg-01.24.20-with-Janice-Barrett-at-Sipsey-WildSouth.jpg
1200
900
Steve Jones
http://stevejonesgbh.com/wp-content/uploads/2017/01/gbhweblogo.png
Steve Jones
2020-02-12 15:49:59
2020-02-12 16:59:25
My First Visit to Sipsey Wilderness