I returned to Camp McDowell and Conference Center December 19-20, 2019 following a year's absence and two prior Posts:
http://stevejonesgbh.com/2018/11/27/mid-november-camp-mcdowell-land-legacy-orientation/
http://stevejonesgbh.com/2019/01/08/mid-november-skies-at-camp-mcdowell/
On the recent December trip I focused on completing plans for conducting a comprehensive Land Legacy Story for McDowell. Published books and internal documents already chronicle the Human History of the Camp since its 1946 establishment. My volunteer project will develop and publish the corresponding Natural History for the Camp's 1,138 acres. My purpose with this Post, in large part and in full disclosure, is to help me gather my thoughts for the full-blown data-gathering and story-drafting that I will undertake beginning in mid-January.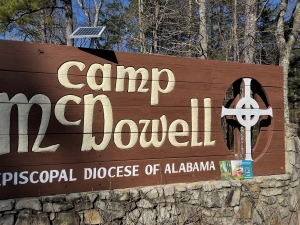 The McDowell Environmental Education Center Mission guides and informs this project: To connect people to their environment, teach respect for the Earth and its beings, and to promote a commitment to lifelong learning. I will prepare the Land Legacy Story to meet the objectives of and beyond the Environmental Education Center… for the Camp, Farm School, Folk School, and Conference Center. Environmental education and our relationship to our Earth home is critical to all Earth citizens and their obligation to be informed and responsible Earth stewards.
McDowell sits within the southern third of the 181,230-acre (283 square mile) Bankhead National Forest. The Forest Service focuses on longleaf pine (Pinus palustris) in that southern third. The Camp has longleaf (below), along with loblolly (Pinus taeda), Virginia (Pinus virginiana), and shortleaf pine (Pinus echinata) across the property. Among the pines, loblolly predominates. I'll describe the species composition and forest types across the property, and discuss the relevant land use history for each parcel assembled to constitute the current mosaic.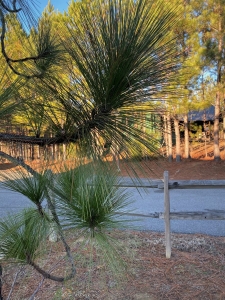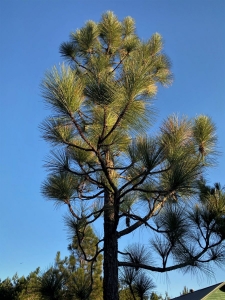 All water bodies at McDowell, excepting the free-flowing springs, creeks, and stream, are man made, including Sloan Lake (below).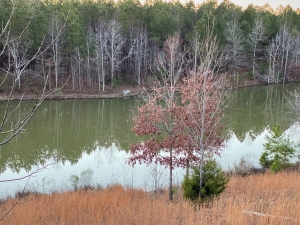 I can't help but include some human reflections in the Land Legacy tale. I photographed this metal sign looking out through a window somewhere at McDowell. Judy and I adopted our comparable Bloom Where You Are Planted philosophy years ago, taking it along as we made 13 interstate moves over our nearly 48 years sharing our lives. The Camp is clearly growing where the Episcopalian Diocese planted it in 1946. Did it work because the founders selected the right spot… or are McDowell's mission and purpose so powerful and timeless that the Camp would have flourished in almost any location in Alabama? I'll explore that question with the Land Legacy Story.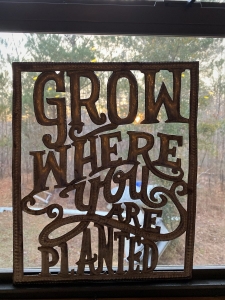 Relic hardwoods link the human and natural histories at McDowell. I'll attempt to discover and explain how these old specimens made their start and survived the decades, and speculate on their fate. I often observed, wouldn't it have been nice if we had a series of photos showing every ten years since property acquisition how these special individuals have grown and changed? We cannot reach back in time to establish such permanent photo points, yet we can do it now.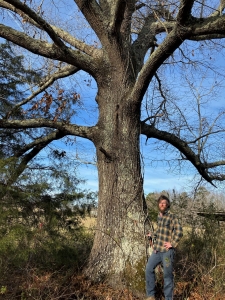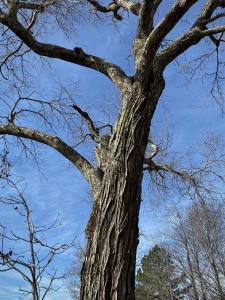 Whether we are examining those stalwart hardwood sentinels or the young pine stand (below left), we can and should chronicle what lies ahead. Everything will change over time; nothing in Nature (or in human life) is static. The same holds true for the pond and its life.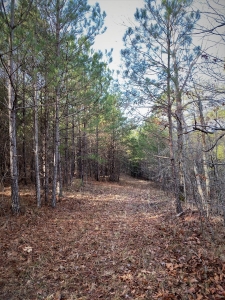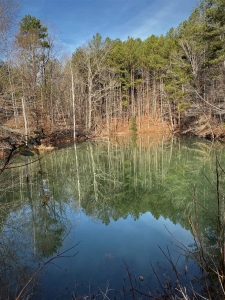 The Camp began in 1946 when the Diocese acquired the first 160 acres from the Summers family. The total Camp now comprises some 25 individual parcels, the most recent 40 acres purchased in 2009. The sign below denotes an internal line separating parcels within the Camp. I intend to examine the individual units for evidence of differential land use history and how that might be expressed by the present forest.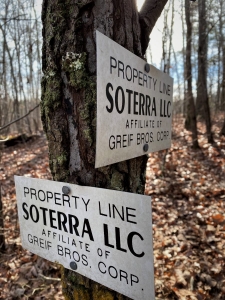 Tree Form Oddities
And then there are the curiosities of tree form oddities. Some have their own stories to tell. This one one bears closer inspection! They are all part of the tale.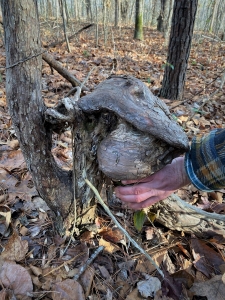 This oddity on a big leaf magnolia (Magnolia grandiflora) resembles an elephant seal. I view tree form oddities as opportunities for explanation, story telling, and fun in environmental education. I want to identify all that I can; mark their location; and include them as permanent photo points. I will implore Camp staff to continue adding to the inventory of on-site oddities and curiosities.
I never tire of seeing sourwood (Oxydendrum arboreum) with its propensity to defy gravity… to grow any way but vertically. They twist and turn, navigating their chosen course to find sufficient light to thrive in the canopy mid-story. Let the oak, pine, and poplars battle for for the upper canopy. Sourwood is content doing things its own way, getting what sunlight it needs, a sylvan minimalist if you will. Sourwood epitomizes the Rolling Stones philosophy: You Can't Always Get What You Want… But You Just Might Get What You Need! Mid-story oaks, pines, and poplars suffer a shortened life; sourwood thrives.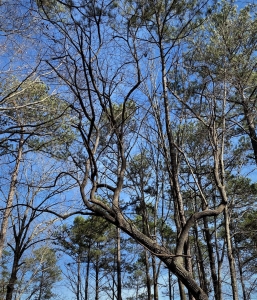 Thoughts and Reflections
I wrote my books Nature Based Leadership (2016), Nature-Inspired Learning and Leading (2017), and Weaned Seals and Snowy Summits: Stories of Passion for Place and Everyday Nature (2019; co-authored with Dr. Jennifer Wilhoit) to encourage all citizens to recognize and appreciate that every lesson for living, learning, serving, and leading is either written indelibly in or is powerfully inspired by Nature. All three are available on Amazon and other online sources.
Here are the three succinct truths I draw from this Blog Post:
Every wildland property has a story to tell… rich elements at the intersection of human and natural history

Memorializing the story amplifies the strength of the property's lessons for Nature-Inspired Life and Living

Camp McDowell, and other such institutions, can change the world by effectively promoting informed and responsible Earth stewardship

Inhale and absorb Nature's elixir. May Nature Inspire and Reward you!
Note: All blog post images created & photographed by Stephen B. Jones unless otherwise noted. Please circulate images with photo credit: "©2020 Steve Jones, Great Blue Heron LLC. All Rights Reserved."
Another Note: If you came to this post via a Facebook posting or by an another route, please sign up now (no cost… no obligation) to receive my Blog Post email alerts: http://stevejonesgbh.com/contact/
And a Third: I am available for Nature-Inspired Speaking, Writing, and Consulting — contact me at steve.jones.0524@gmail.com
Reminder of my Personal and Professional Purpose, Passion, and Cause
If only more of us viewed our precious environment through the filters I employ. If only my mission and vision could be multiplied untold orders of magnitude:
Mission: Employ writing and speaking to educate, inspire, and enable readers and listeners to understand, appreciate, and enjoy Nature… and accept and practice Earth Stewardship.
Vision:
People of all ages will pay greater attention to and engage more regularly with Nature… and will accept and practice informed and responsible Earth Stewardship.
They will see their relationship to our natural world with new eyes… and will understand more clearly their Earth home.
Tagline/Motto: Steve (Great Blue Heron) encourages and seeks a better tomorrow through Nature-Inspired Living!
Steve's Three Books
I began writing books and Posts for several reasons:
I love hiking and exploring in Nature
I see images I want to (and do) capture with my trusty iPhone camera
I enjoy explaining those images — an educator at heart
I don't play golf!
I actually do love writing — it's the hobby I never needed when my career consumed me
Judy suggested my writing is in large measure my legacy to our two kids, our five grand kids, and all the unborn generations beyond
And finally, perhaps my books and Blogs could reach beyond family and touch a few others lives… sow some seeds for the future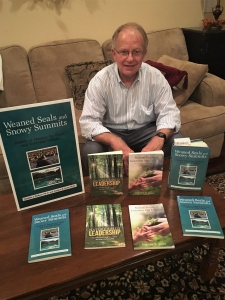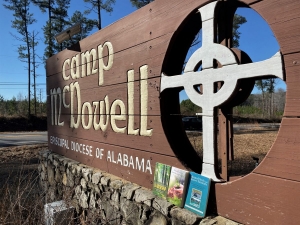 I like to imagine that representative samples of my books appreciate accompanying me into the woods. So far, none has complained nor groaned!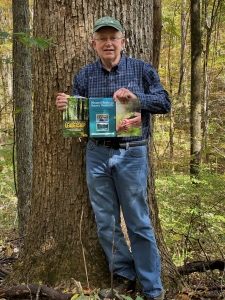 All three of my books (Nature Based Leadership; Nature-Inspired Learning and Leading; Weaned Seals and Snowy Summits) present compilations of personal experiences expressing my (and co-author Dr. Wilhoit for Weaned Seals and Snowy Summits) deep passion for Nature. All three books offer observations and reflections on my relationship to the natural world… and the broader implications for society. Order any and all from your local indie bookstore, or find them on IndieBound or other online sources such as Amazon and LifeRich.
http://stevejonesgbh.com/wp-content/uploads/2019/12/IMG_0853.jpg-12.19.19-McDowell-Sign-Books.jpg
900
1200
Steve Jones
http://stevejonesgbh.com/wp-content/uploads/2017/01/gbhweblogo.png
Steve Jones
2020-02-06 16:54:44
2020-02-09 15:07:05
Back to Camp McDowell