December 27, 2019 Judy and I visited Ave Maria Grotto, St. Bernard Abbey, Cullman, Alabama, just 55 miles from where we live. The self-guided tour brochure describes this attraction: The Ave Maria Grotto is located on the grounds of St. Bernard Abbey, the only Benedictine monastery of men in the State of Alabama. The Abbey was founded in 1891. The Grotto consists of a landscaped hillside of 125 small stone and cement structures, the handiwork of the creative genius, Brother Joseph Zoetle, O.S.B., a monk of the Abbey for almost 70 years.
My purpose is not to describe the Grotto, cover its history, or walk you through the exhibits. All of that is available online at: http://www.avemariagrotto.com/
Instead, I will focus on the interplay of Spirit and Nature. As we toured the Grotto, I pondered the extent to which the magnificent natural setting enhanced the spiritual essence of the place. I will address that intersection of Nature and Spirit… the sacred connection I felt with Nature as I enjoyed, contemplated, and felt lift from the Grotto. The Grotto monument below welcomes visitors. Imagine the monument without its forest backdrop of loblolly pines (Pinus taeda) reaching 80+ feet toward the heavens. They would have been seedlings at best when Brother Joseph began his labors in 1912, more than a century ago.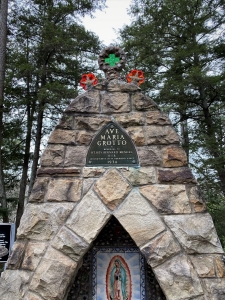 Below are two views of the actual Grotto, the created cave-like structure that is the central element of Brother Joseph's remarkable work. Magnificent in and of itself, the Grotto becomes part of something larger when the photo point recedes, allowing the forest setting to emerge, which through my personal and professional lens magnifies the spiritual essence. Another powerful element of context is that Brother Joseph chose the Abbey's abandoned quarry as the site for his life's work. The Grotto and its forest grew in the ruins of a depleted stone quarry. So much about the Grotto and its story serves to inspire and humble.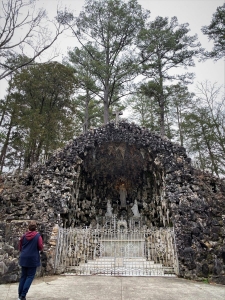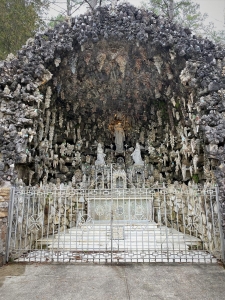 The forest setting enriches every built feature. I wondered whether Brother Joseph even imagined the future forest when he placed his first miniature replica, a replica of some internationally significant religious building. How fully had the forest developed when Brother Joseph died in 1961, nearly 60 years ago? Like so many places I've visited in Alabama, regionally, nationally, and even internationally, the Grotto tells a story of intimately interconnected Human and Natural History.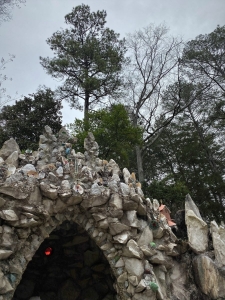 Resonance with Victoria's Butchart Gardens
One of my favorite Earth-places I've had the pleasure to visit is The Butchart Gardens in Victoria, British Columbia. Butchart, too, is a former quarry, transformed through the wisdom, knowledge, dream, and hard work by a truly visionary soul. From the Butchart website: With a former quarry as a canvas, Jennie Butchart envisioned transforming this space into a beautiful garden haven, overflowing with lush greens and colourful blooms. The result of her vision is The Gardens, which are still family run to this day. Ironically, the quarry ceased operations in 1912. Jennie, like Brother Joseph, began her work that same year. Was there some resonance in their work? Both places today are spiritual to me — The Grotto strongly religious; Butchart secularly magnificent. Both inspire and humble! I felt a scared connection to both.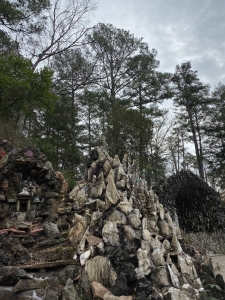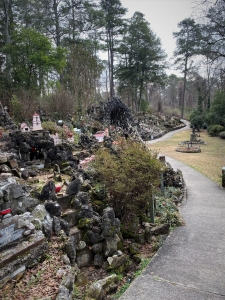 The yellow poplar (Liriodendron tulipifera, below left) towers over the replicas, amplifying the sense of forest grandeur. Brother Joseph worked in full sunlight — no forest shade to shelter him from summer's swelter. Hard to see the gentle forest scene (below right) as an abandoned quarry.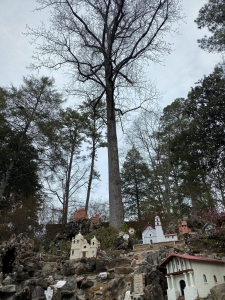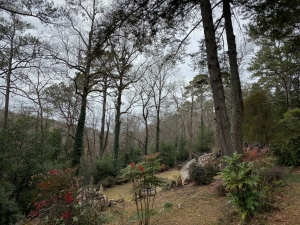 Sacred Connections
Large loblolly pines accent the displays (below). The one below right may actually touch the lower levels of heaven!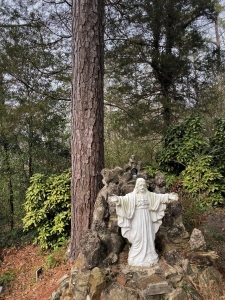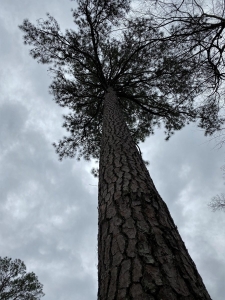 Judy and I found magic in this loblolly's algae-encrusted bark furrows. Life abounds throughout the Grotto. I would have enjoyed the short hike even without the replicas! The Grotto celebrates many centuries of spiritual life and human history. Those stories, through my own forestry and applied ecology filters, are powerfully elevated by the forest setting. I remind you, as does the Grotto, that we are not separate from Nature but are inextricably linked with the natural world. If the power of Brother Joseph's creation is 100 and the natural setting power is 100, the combination is 1,000, an order of magnitude greater than either one alone.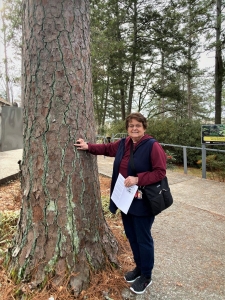 The Abbey cemetery and its chapel sit adjacent to the Grotto. Again, the surrounding forest adds incalculably to the sacred impact. I suppose the forest inescapably shapes my perception. I am addicted to Nature as a sacred force. I cannot (or will not) see the cemetery in isolation, separate from its forest. The chapel is a place of simple beauty, as is the view south toward the Grotto (below right).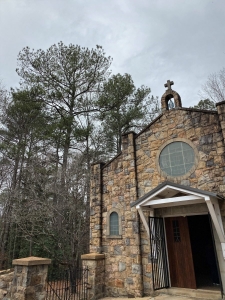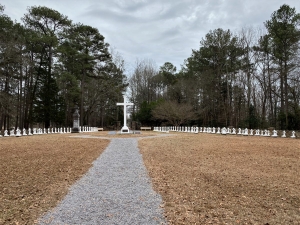 This ancient oak stands along the eastern edge of the cemetery. It likely watched Brother Joseph as he labored within and beside the quarry… not from its present grand stature but as a smaller and younger version of itself.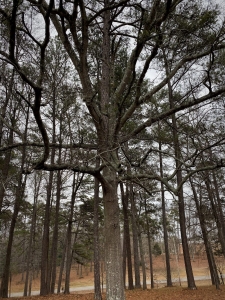 I'll close with another look at the lofty loblolly giants. I gaze skyward with an absolute sense of humility and inspiration. Nature, accented by the special works of man, reminds me of my own fallibility and insignificance. And deepens my gratitude for this pale blue orb on which we are blessed to live. And such perspective strengthens my resolve to spread the message and encourage informed and responsible Earth stewardship.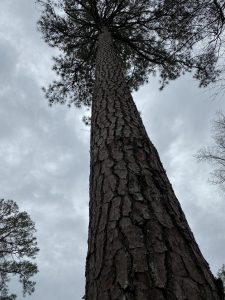 Thoughts and Reflections
I wrote my books Nature Based Leadership (2016), Nature-Inspired Learning and Leading (2017), and Weaned Seals and Snowy Summits: Stories of Passion for Place and Everyday Nature (2019; with co-author Dr. Jennifer Wilhoit) to encourage all citizens to recognize and appreciate that every lesson for living, learning, serving, and leading is either written indelibly in or is powerfully inspired by Nature. All three are available on Amazon and other online sources.
Here are three succinct truths I draw from this Blog Post:
Nature invites (perhaps implores) sacred connections… human to Land and Life

Add the dimension of secular or religious spirituality… and the bond is unbreakable, permanent, and irrevocable
The bond begins with special places and extends to our essential relationship with Earth, from us as individuals to all of humanity

Inhale and absorb Nature's elixir. May Nature Humble, Inspire and Reward you!
Note: All blog post images created & photographed by Stephen B. Jones unless otherwise noted. Please circulate images with photo credit: "©2020 Steve Jones, Great Blue Heron LLC. All Rights Reserved."
Another Note: If you came to this post via a Facebook posting or by an another route, please sign up now (no cost… no obligation) to receive my Blog Post email alerts: http://stevejonesgbh.com/contact/
And a Third: I am available for Nature-Inspired Speaking, Writing, and Consulting — contact me at steve.jones.0524@gmail.com
Reminder of my Personal and Professional Purpose, Passion, and Cause
If only more of us viewed our precious environment through the filters I employ. If only my mission and vision could be multiplied untold orders of magnitude:
Mission: Employ writing and speaking to educate, inspire, and enable readers and listeners to understand, appreciate, and enjoy Nature… and accept and practice Earth Stewardship.
Vision:
People of all ages will pay greater attention to and engage more regularly with Nature… and will accept and practice informed and responsible Earth Stewardship.
They will see their relationship to our natural world with new eyes… and will understand more clearly their Earth home.
Tagline/Motto: Steve (Great Blue Heron) encourages and seeks a better tomorrow through Nature-Inspired Living!
Steve's Three Books
I began writing books and Posts for several reasons:
I love hiking and exploring in Nature
I see images I want to (and do) capture with my trusty iPhone camera
I enjoy explaining those images — an educator at heart
I don't play golf!
I actually do love writing — it's the hobby I never needed when my career consumed me
Judy suggested my writing is in large measure my legacy to our two kids, our five grand kids, and all the unborn generations beyond
And finally, perhaps my books and Blogs could reach beyond family and touch a few other lives… sow some seeds for the future
I find my own sacred connections to Nature
My Earth-Bond is unbreakable, permanent, and irrevocable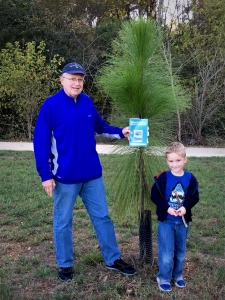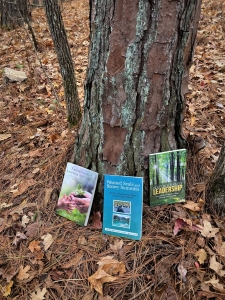 All three of my books (Nature Based Leadership; Nature-Inspired Learning and Leading; Weaned Seals and Snowy Summits) present compilations of personal experiences expressing my (and co-author Dr. Wilhoit for Weaned Seals and Snowy Summits) deep passion for Nature. All three books offer observations and reflections on my relationship to the natural world… and the broader implications for society. Order any and all from your local indie bookstore, or find them on IndieBound or other online sources such as Amazon and LifeRich.
http://stevejonesgbh.com/wp-content/uploads/2019/12/IMG_0939.jpg-12.27.19-Ave-Marie-Grotto.jpg
1200
900
Steve Jones
http://stevejonesgbh.com/wp-content/uploads/2017/01/gbhweblogo.png
Steve Jones
2020-01-29 08:19:59
2020-01-29 08:19:59
A Sacred Natural Setting at Cullman, Alabama's Ave Maria Grotto