We are frequent visitors to Huntsville Botanical Garden (HBG). The last week of May, I had finished a meeting downtown and had fifteen minutes before accepting a scheduled phone call… just enough time to stop by the Garden (on my way home), park, and walk to a shaded bench on one of the woodland trails, and accept the call in forested seclusion.
I relished the chance to inhale a full dose of Nature's Elixir as I sat and talked by phone, and then strolled along several paths that we know well. My purpose here is to take you along with me. Not to visit the exquisite visitors and events center, the butterfly house, the fountains, or any of the infrastructure, but to demonstrate the quality of my quick immersion in the Garden's woodland elements. I value having the Garden, and other natural features, within reach when I need a charge of natural elixir. A few quiet moments, deep inhalations, casual stroll, and alert observations do the trick!
A Brief Dose of Woodland Wonder
Interstate 565 connects to Huntsville from I-65 about 20 miles west of the City. The Huntsville Botanical Garden lies a mile south of I-565 and just five miles west of downtown. I simply diverted the mile south en route home to take my call. Much safer and infinitely more pleasant than talking while driving! Hands-free, no distractions (from driving), and able to take notes. I sat in a mixed pine/cedar/hardwood stand. I looked east facing a main-canopy Eastern red cedar tree (below left); another rises behind me (below right). One might say its just another northern Alabama forest. I prefer Wendell Berry's view of such settings: "Outdoors we are confronted everywhere with wonders; we see that the miraculous is not extraordinary, but the common mode of existence. It is our daily bread." I see the miraculous wherever I seek it. The woods at HBG originated naturally following some two centuries of European settlement, clearing, mixed use agriculture, abandonment, transfer to the Army and Alabama Space Commission, and eventual lease to HBG.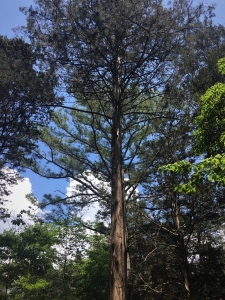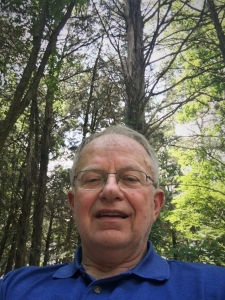 Completing the phone call, I strolled, enjoying the beauty, magic, wonder, and awe of the forest. A large woody grape vine adds a serpentine element among the maturing hardwood trees.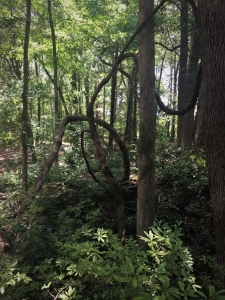 This red oak measures roughly 30-inches diameter breast high (DBH, a common term in forestry). It borders the trail and the more formal display plantings (see native oakleaf hydrangea in flower). A loblolly pine, nearly as large, towers beyond (below right). Such strolls, whether in remote wilderness or along an HBG path, deliver my daily bread.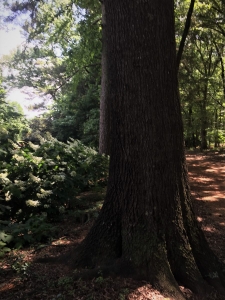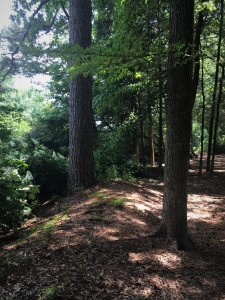 The Interstate highway is just a straight-line mile to the north, but I hear only birdsong and an occasional drifting conversation, adults and children nearby yet not within sight. The extraordinary presents in both the horizontal view (below left) and vertical.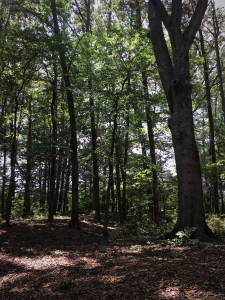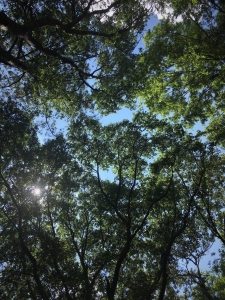 I've long marveled at the seeming infinite texture, form, color, and variety of tree bark between species and even within. The two Eastern red cedars below share similarities yet each is unique… as different as people are one from the other. I can't resist snapping a photo and placing my hands to their faces, distinguishing between them with tactile sense complementing visual. I can envision a book of southern tree bark, or perhaps even one cataloging the trees of HBG or other specific locations, nearby Monte Sano State Park for instance!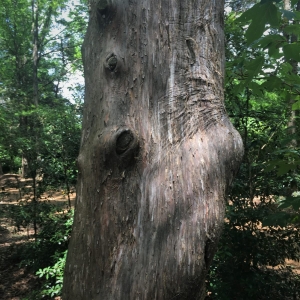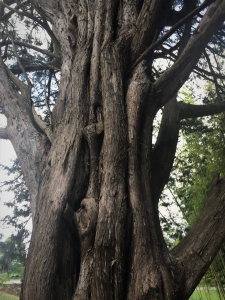 This knotty, warty sweetgum projects yet another image, faces viewed from multiple orientations expressing full sets of personalities and visages. I'm sure that each view tells a different tale in our imagination.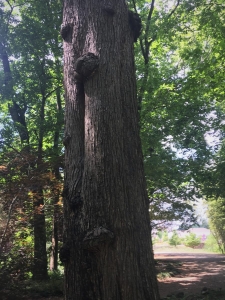 And each tree does have a story to be told and read. I see a formerly forked oak (below left), losing its near-to-camera fork perhaps a decade ago to wind or ice. The old wound is now actively and successfully callousing. Scar tissue may ultimately seal the 15-inch opening. I say "may" because the agents of decay are likewise active, perhaps weakening the tree and making it susceptible to breakage from a subsequent wind or ice storm. Meantime, resident squirrels are enjoying their four-foot-high table-top perch for gnawing acorns. The sycamore (lower right) tells a different tale. Standing at woods edge 10-15 years ago, the then much smaller tree sprouted root collar suckers that have since grown to encircle the "parent" tree. The suckers are technically not offspring. Instead, they are genetically identical appendages of the main stem.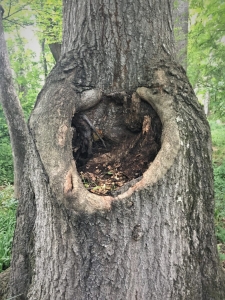 My brief walk brought me to one of my favorite lower-canopy species, bigleaf magnolia (Magnolia macrophylla). This one stands in deep shade behind me. Another nearly 30-inch red oak towers beyond and above it. I include my mug only for scale. The bigleaf magnolia is a deciduous magnolia native to the southeastern United States and eastern Mexico. This species boasts the largest simple leaf and single flower of any native plant in North America — the extraordinary is the common mode of existence in Nature. More of my daily bread!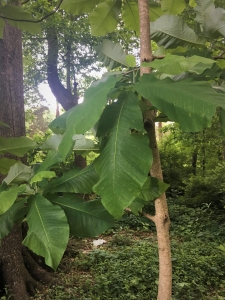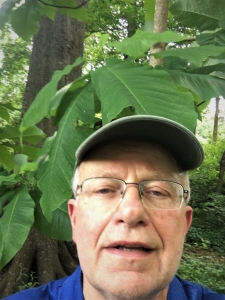 Some tree faces at HBG require little imagination!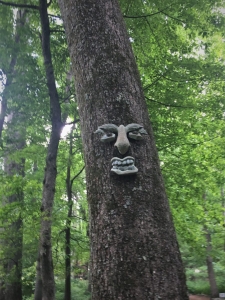 I hold oakleaf hydrangea among my top five native Alabama woody flowering plants.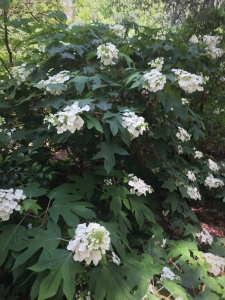 Native azaleas are another. Both were at their flowering zenith on my serendipitously timed stopover phone call.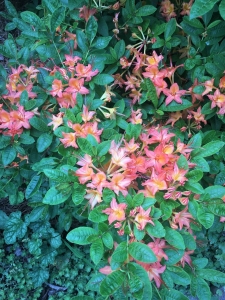 And because of its essential role in the life cycle of monarch butterflies, I deeply value the perennial herbaceous milkweed!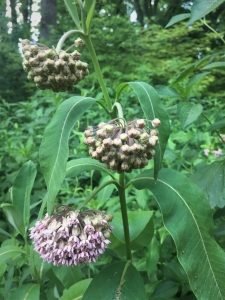 I've only touched the surface with these few photos and observations. I had previously offered an HBG Blog Post two years ago, reporting on a visit back into the Jurassic with our two Alabama grandsons: http://stevejonesgbh.com/2017/06/13/trex-makes-a-call/
Thoughts and Reflections
I wrote my books Nature Based Leadership (2016), Nature-Inspired Learning and Leading (2017), and Weaned Seals and Snowy Summits: Stories of Passion for Place and Everyday Nature, as well as another one by me (single author) scheduled for 2020, Natural Elixir: Lifting Your Life through Nature's Inspiration, to encourage all citizens to recognize and appreciate that every lesson for living, learning, serving, and leading is either written indelibly in or is powerfully inspired by Nature. Both published books are available on Amazon and other online sources.
Here are two succinct lessons I draw from this Blog Post:
We are blessed to have Nature within reach here in northern Alabama, ranging from a world-class botanical garden to the wild acreage of Monte Sano State Park to the waterfowl-rich winter sloughs of Wheeler National Wildlife Refuge.

Nature's panoply of magic, beauty, wonder, and awe is wherever (and whenever) you choose to seek it.

Inhale and absorb Nature's elixir. May Nature Inspire and Reward you!
Note: All blog post images created & photographed by Stephen B. Jones unless otherwise noted. Please circulate images with photo credit: "©2019 Steve Jones, Great Blue Heron LLC. All Rights Reserved."
Another Note: If you came to this post via a Facebook posting or by an another route, please sign up now (no cost… no obligation) to receive my Blog Post email alerts: http://stevejonesgbh.com/contact/
And a Third: I am available for Nature-Inspired Speaking, Writing, and Consulting — contact me at steve.jones.0524@gmail.com
Reminder of my Personal and Professional Purpose, Passion, and Cause
If only more of us viewed our precious environment through the filters I employ. If only my mission and vision could be multiplied untold orders of magnitude:
Mission: Employ writing and speaking to educate, inspire, and enable readers and listeners to understand, appreciate, and enjoy Nature… and accept and practice Earth Stewardship.
Vision:
People of all ages will pay greater attention to and engage more regularly with Nature… and will accept and practice informed and responsible Earth Stewardship.
They will see their relationship to our natural world with new eyes… and will understand more clearly their Earth home.
Tagline/Motto: Steve (Great Blue Heron) encourages and seeks a better tomorrow through Nature-Inspired Living!
Weaned Seals and Snowy Summits: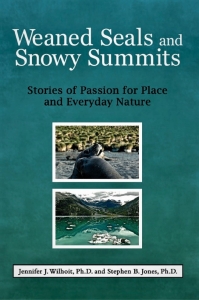 http://stevejonesgbh.com/wp-content/uploads/2019/05/05.21.19-Cedar-Deeply-Furrowed.jpg
1200
900
Steve Jones
http://stevejonesgbh.com/wp-content/uploads/2017/01/gbhweblogo.png
Steve Jones
2019-08-23 13:33:23
2019-08-23 13:33:23
A Quick Dose of Natural Elixir at Huntsville Botanical Garden