I've been writing and issuing these Great Blue Heron Blog Posts on Nature-Inspired Life and Living for about two years, issuing to-date approximately 150 Posts. I have focused at least three dozen based upon exploring our Alabama State Parks. My hope is to have visited all 21 State Parks by the end of 2021. I have written with absolute reverence and unbridled enthusiasm for what I've called our 21-pearl-necklace of State Parks from Gulf State Park to Wheeler, Monte Sano, Cathedral, and Desoto State Parks along the northern tier. Because of my evidenced passion for the Parks, the just-launched (April 25, 2019) Alabama State Parks Foundation named me among its 15 founding board members.
Aligning Mission and Vision
I'm honored. I'll selflessly serve the Parks and pledge to continue my Alabama State Parks pilgrimage. Watch for periodic individual Park Posts as I make the rounds. We're talking about a lot of land, totaling nearly 140 square miles (88,000 acres). Imagine a strip of land four-tenths of a mile wide stretching from the Gulf of Mexico to the Tennessee border! Here's a brief tour from Oak Mountain State Park April 27 (below left) to Gulf State Park in January 2019 (below right).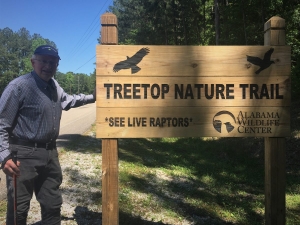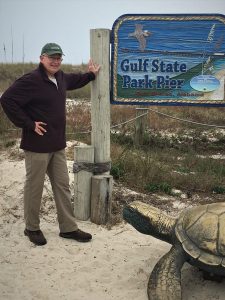 And from Cheaha (with Bigfoot) in August 2018 to Lake Guntersville earlier in summer 2018. John Muir said, "In every walk with Nature, a man receives far more than he seeks." Muir so clearly articulated 130 years ago what I so powerfully feel today! With every Alabama State Parks walk, I receive far more than I seek… and I intend to continue sharing my reflections, feelings, and observations via these Great Blue Heron Blog Posts.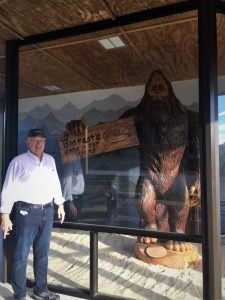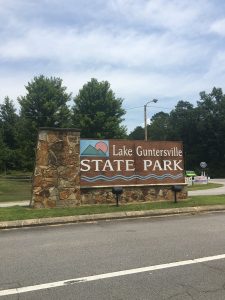 Our Foundation exists exclusively to serve our Parks. The mission reads: The Alabama State Parks Foundation hosts a community of people who love our State's parks. A philanthropic partner of the Parks Administration, the Foundation seeks gifts that will support and enhance park programming, park facilities, and park experiences. Members of the Foundation are people dedicated to building and sustaining a great, statewide park system.
The Foundation tag line: Parks for People, People for Parks.
We enjoyed good media coverage at the launch.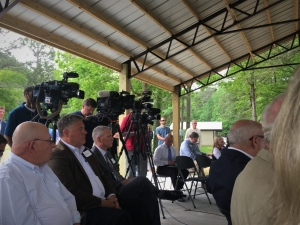 Here is the Alabama State Parks mission: To acquire and preserve natural areas; to develop, furnish, operate, and maintain recreational facilities; and to extend the public's knowledge of the state's natural environment.

My own personal and professional mission interweaves perfectly with the Foundation and Parks' missions: Employ writing and speaking to educate, inspire, and enable readers and listeners to understand, appreciate, and enjoy Nature… and accept and practice Earth Stewardship.
Serving as a Founding Board Member comes without financial return, yet the dividend in satisfaction, fulfillment, and inspiration is immeasurable! I am grateful for the chance to participate in some small way through the Foundation to make tomorrow better for Park users and future visitors.
Here are just a few of the reasons why our Alabama State Parks are worthy of gifts and donations that will support and enhance park programming, park facilities, and park experiences:
View from the Rock Garden at Cheaha State Park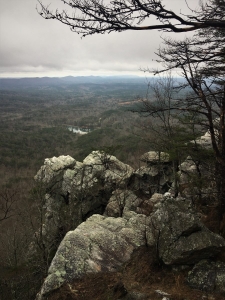 Sunrise at Gulf State Park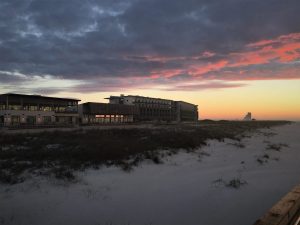 Ecosystems from Sand Dunes (GSP) to Cove Hardwood at Wheeler State Park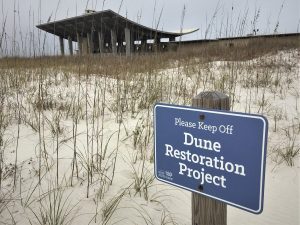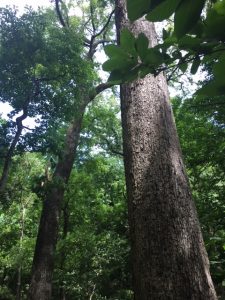 Clouds Below (Lake Guntersville) and Above (Cheaha)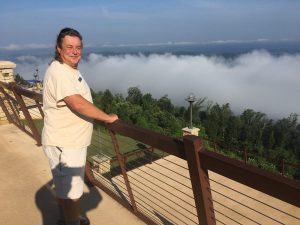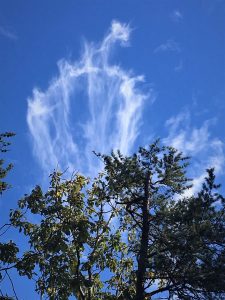 Rickwood Caverns State Park Above and Below Ground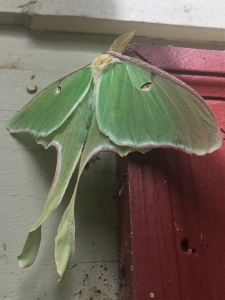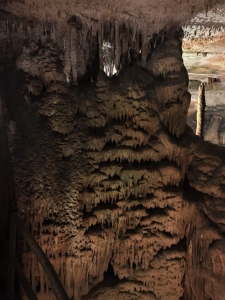 Actions to Ensure Parks for People and People for Parks
I urge you to visit the Foundation website: https://asparksfoundation.org/
Consider becoming a First Friend and Founding Member of the Alabama State Parks Foundation.
Please view me first and foremost as a dedicated champion of Nature-Inspired Life and Living. I see my role with the Parks and the Foundation in full resonance with my personal mission, vision, and values. The Parks and Foundation provide yet another vehicle for me to spread the gospel of Earth stewardship and make tomorrow better. My own goal does not stand as a destination, nor do the Foundation and Parks' objectives. Instead, our individual and collective goals represent a journey. As he so often managed to accomplish some 130-years-ago, John Muir captured the essence of our journeys in a reflection on Nature: "This grand show is eternal. It is always sunrise somewhere; the dew is never all dried at once; a shower is forever falling; vapor is ever rising. Eternal sunrise, eternal sunset, eternal dawn and gloaming, on sea and continents and islands, each in its turn, as the round earth rolls." (John of the Mountains: The Unpublished Journals of John Muir.)
Thoughts and Reflections
I wrote my books (Nature Based Leadership (2016) and Nature-Inspired Learning and Leading (2017)) and the two scheduled for 2019 (Weaned Seals and Snowy Summits: Stories of Passion for Place and Everyday Nature) and 2020 (Natural Elixir: Lifting Your Life through Nature's Inspiration) to encourage all citizens to recognize and appreciate that every lesson for living, learning, serving, and leading is either written indelibly in or is powerfully inspired by Nature. Both published books are available on Amazon and other online sources.
Here are the four succinct lessons I draw from this Blog Post:
Our Alabama State Parks are jewels for the ages.

We collectively share an obligation and opportunity to understand, preserve, and enjoy these gems of Nature.

The Foundation provides a mechanism for each of us to enhance our Parks for now and on behalf of generations to come.

Earth stewardship is a multi-generational commitment of passion and action (volunteering, gifting, and donating).
Inhale and absorb Nature's elixir. May Nature Inspire and Reward you!
Note: All blog post images created & photographed by Stephen B. Jones unless otherwise noted. Please circulate images with photo credit: "©2019 Steve Jones, Great Blue Heron LLC. All Rights Reserved."
Another Note: If you came to this post via a Facebook posting or by an another route, please sign up now (no cost… no obligation) to receive my Blog Post email alerts: http://stevejonesgbh.com/contact/
And a Third: I am available for Nature-Inspired Speaking, Writing, and Consulting — contact me at steve.jones.0524@gmail.com
Reminder of my Personal and Professional Purpose, Passion, and Cause
If only more of us viewed our precious environment through my own filters. If only my mission and vision could be multiplied untold orders of magnitude:
Mission: Employ writing and speaking to educate, inspire, and enable readers and listeners to understand, appreciate, and enjoy Nature… and accept and practice Earth Stewardship.
Vision:
People of all ages will pay greater attention to and engage more regularly with Nature… and will accept and practice informed and responsible Earth Stewardship.
They will see their relationship to our natural world with new eyes… and will understand more clearly their Earth home.
Tagline/Motto: Steve (Great Blue Heron) encourages and seeks a better tomorrow through Nature-Inspired Living!
http://stevejonesgbh.com/wp-content/uploads/2019/04/IMG_0139.jpg-04.25.19-Foundation-Launch.jpg
1200
900
Steve Jones
http://stevejonesgbh.com/wp-content/uploads/2017/01/gbhweblogo.png
Steve Jones
2019-04-29 13:48:28
2019-04-29 17:54:53
Launching the Alabama State Parks Foundation