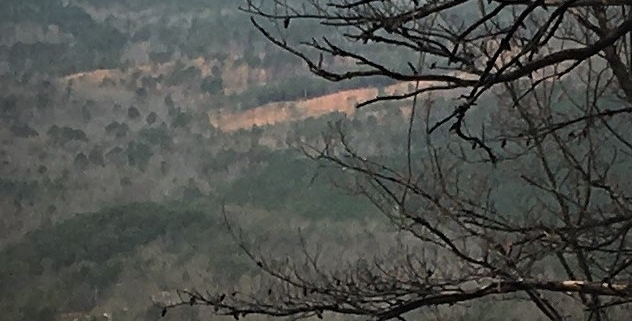 This is the second of what will be four posts from my February 28-March 2 visit to Cheaha State Park. I joined some 120 environmental educators attending the annual meeting of the Environmental Educators Association of Alabama (EE AA). The group invited me to present the opening keynote address Thursday evening (2/28). I stayed for the entire conference, enjoying it immensely. This blog post explores a conflicting set of  reactions and reflections to something we observed from the Rock Garden overlook during an interpretive hike. In subsequent posts over the next several weeks I'll pursue two other themes:
Seeing and Translating Nature's Infinite Storm of Beauty: My Keynote Atop the Mountain
Non-Flowering Plants Atop the Mountain: Observations While Attending the EE AA Conference
Last week's post provided a broad conference and Cheaha overview: http://stevejonesgbh.com/2019/03/05/magic-and-wonder-on-the-mountain-an-inspiring-conference-at-cheaha-state-park/ (Magic and Wonder on the Mountain: An Inspiring Conference at Cheaha State Park).
Irony and Perspective from the Rock Garden Overlook
Friday morning I accompanied the interpretive hike group from the Lodge to the Rock Garden overlooking Lake Cheaha (lower left) and the sprawling Talladega National Forest beyond. The view is to the WNW, encompassing thousands of acres of mostly National Forest. I stood among two dozen fellow environmental educators. We marveled at the landscape below us. Someone nearby, however, pointed out an apparent blemish, terming it an unfortunate scar upon the land. My iPhone camera shows the scar only faintly at about two-o'clock beyond the lake (photo left), a tawny opening in the forest. Enlarging the photo, with the resultant reduced resolution (lower right), reveals the scar as a 30-40 acre disturbance (my term for the moment). I will explain more fully as we proceed.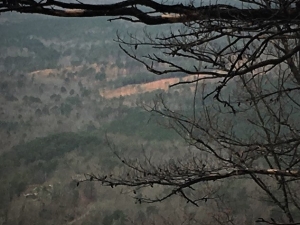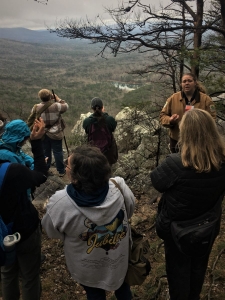 The USDA Forest Service website expresses the Talladega National Forest's rich history: "The National Forest Commission created the Oakmulgee Purchase Unit, located south of Centreville, January 21, 1935. The area was first settled in the early 1800's. At that time, stands of timber were cleared for agricultural purposes and to build homes. What is now known as the Oakmulgee Ranger District was about 60 percent cut-over land.
On July 17, 1936, President Roosevelt, by proclamation, created the Talladega National Forest out of the Talladega and Oakmulgee Purchase Units. The Talladega National Forest, at one time, consisted of four ranger districts: Oakmulgee or the Cahaba Working Circle, Tuscaloosa or the Pondville Working Circle, Shoal Creek and Talladega. The Talladega Unit was divided into two districts October 1, 1945, with the northern district, Shoal Creek Ranger District, headquartered in Heflin and the Talladega Ranger District. Thirty percent of the Shoal Creek/Talladega land was cut-over, cultivated and vacated farmland."
Had we been standing at Rock Garden 80-85 years ago, some 30-60 percent of the viewscape would have been "cut-over, cultivated, and abandoned farmland." Much of the other 40-70 percent would have constituted previously cut-over or abandoned farmland, by then supporting second-growth forest. The only non-scarred and unblemished land would have been too steep to log or domesticate. In effect, the 1935 viewshed stood as a vast, nearly unbroken scar!
I found it a bit incongruous that some of my Alabama environmental educator colleagues were so quick to bemoan and lament the scar, as though it signaled some aberrant behavior by the Forest Service. And they missed the irony of demonizing National Forest management practices (timber harvesting to facilitate ecosystem diversity, wildlife habitat, and forest renewal) while enjoying the rich wood flooring, paneling, ceiling, and table in the upstairs boardroom (lower left) and the magnificent flooring and timber beams in the auditorium (below right).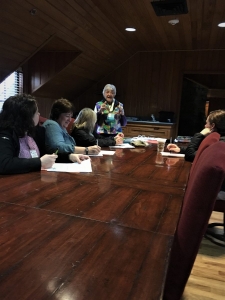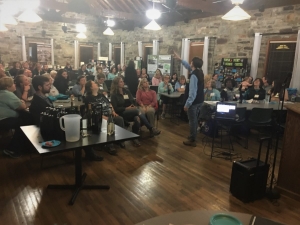 The created opening we spotted may have evidenced a pine bark beetle salvage sale, or a regeneration harvest to create early successional habitat for dependent wildlife, or provide additional edge for other species of birds or mammals. Forest management entails many such deliberate actions to achieve desired outcomes. Many designated outcomes require harvesting to affect stand density, species composition, forest structure, and successional stage.
The view north from Bald Rock shows a rich mosaic of Talladega forest stands, including pine plantations, streamside management zones, and hardwood patch regeneration. I'm not sure whether those same colleagues would have found this view so offensive. My forestry practitioner inner-self viewed it as delightful.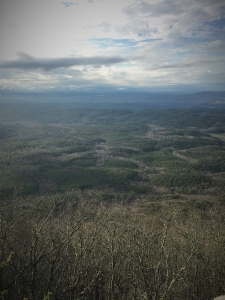 Our US National Forest System (193 million acres) operates "to provide the greatest good for the greatest amount of people in the long run" (first chief of the U.S. Forest Service and founder of the Yale Forest School, Gifford Pinchot). The Forest Service mission: "To sustain the health, diversity, and productivity of the Nation's forests and grasslands to meet the needs of present and future generations." Its motto is "Caring for the land and serving people." From my own forestry undergraduate days I recall the fundamental role of the National Forests to produce wood, water, wildlife, recreation, and aesthetics. Professors emphasized the distinction between National Forests and formal Wilderness lands. The 1964 Wilderness Act defines wilderness: "A wilderness, in contrast with those areas where man and his own works dominate the landscape, is hereby recognized as an area where the earth and its community of life are untrammeled by man, where man himself is a visitor who does not remain." That is in sharp contrast to the vast bulk of the Talladega National Forest (393,000 acres), exclusive of its 7,400 acre Cheaha Wilderness area. The view below is typical of the Forest Service's management that cares for the land and serves the people. We foresters refer to it as multiple use management. Such management occasionally leaves scars and blemishes.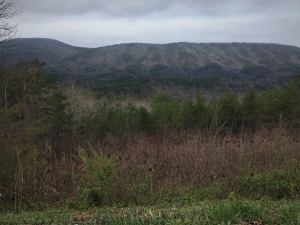 Seeing and Understanding the Land
We environmental educators must understand the underlying reasons and explanations. I cherish many Aldo Leopold quotes. His wisdom is timeless. What he wrote in A Sand County Almanac (1949) is at least as relevant today as 70 years ago. I offered this quote during my welcoming keynote atop Cheaha: "The objective is to teach the student to see the land, to understand what he sees, and enjoy what he understands."
I remind you that all who consider ourselves environmental educators are both teacher and student. We cannot teach the student until we first see and understand the land. We must understand that the scar can be a means… far more than a blemish or insult. That every mark on the landscape tells a tale that we must understand and interpret. Every scenic overlook provides a palette of teachable moments. Our role is to engage passion and avoid its potentially evil sister — emotion that obscures and taints understanding and interpretation.
Please know that I am not casting shadows upon those who termed the management activity as a scar. Instead, I am taking advantage of what I saw as a teachable moment. I remain steadfastly impressed with the degree to which my fellow environmental educators demonstrated that they are well-informed, purpose-driven, passion-fueled, and resulted-oriented. Perhaps at next year's annual meeting I'll have an opportunity to expand on this theme addressing passion, emotion, and interpretation.
I'll close with another photo, this one I took last summer at a second-growth cove hardwood site on Monte Sano State Forest. Eighty to 90 years ago, this magnificent stand was a harvested scar. Today one might view it as a "wilderness, where the earth and its community of life are untrammeled by man, where man himself is a visitor who does not remain." Or mistake it for virgin "old growth."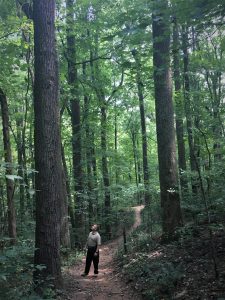 Again, our role is to see and understand… and then interpret and facilitate enjoyment: "The objective is to teach the student to see the land, to understand what he sees, and enjoy what he understands."

Thoughts and Reflections
I wrote my books (Nature Based Leadership (2016) and Nature-Inspired Learning and Leading (2017)) and the two scheduled for 2019 (Weaned Seals and Snowy Summits: Stories of Passion for Place and Everyday Nature and Natural Elixir: Lifting Your Life through Nature's Inspiration) to encourage all citizens to recognize and appreciate that every lesson for living, learning, serving, and leading is either written indelibly in or is powerfully inspired by Nature. Both published books are available on Amazon and other online sources.
Here are three succinct lessons I draw from this Blog Post:
In every walk with nature one receives far more than he seeks (John Muir).
The objective is to teach the student to see the land, to understand what he sees, and enjoy what he understands (Aldo Leopold).
Environmental education should be passion-fueled, yet absent emotional bias.
Inhale and absorb Nature's elixir. May Nature Inspire and Reward you!
Note: All blog post images created & photographed by Stephen B. Jones unless otherwise noted. Please circulate images with photo credit: "©2019 Steve Jones, Great Blue Heron LLC. All Rights Reserved."
Another Note: If you came to this post via a Facebook posting or by an another route, please sign up now (no cost… no obligation) to receive my Blog Post email alerts: http://stevejonesgbh.com/contact/
And a Third: I am available for Nature-Inspired Speaking, Writing, and boutique Consulting — contact me at steve.jones.0524@gmail.com
Reminder of my Personal and Professional Purpose, Passion, and Cause
If only more of us viewed our precious environment through my own filters. If only my mission and vision could be multiplied untold orders of magnitude:
Mission: Employ writing and speaking to educate, inspire, and enable readers and listeners to understand, appreciate, and enjoy Nature… and accept and practice Earth Stewardship.
Vision:
People of all ages will pay greater attention to and engage more regularly with Nature… and will accept and practice informed and responsible Earth Stewardship.
Great Blue Heron clients will see their relationship to our natural world with new eyes… and will understand more clearly their Earth home.
Tagline: Steve (Great Blue Heron) encourages and seeks a better tomorrow through Nature-Inspired Living!

http://stevejonesgbh.com/wp-content/uploads/2019/03/IMG_9414.jpg-03.01.19-Rock-Garden-View-to-Lake-2.jpg
474
632
Steve Jones
http://stevejonesgbh.com/wp-content/uploads/2017/01/gbhweblogo.png
Steve Jones
2019-03-11 12:28:22
2019-03-11 12:28:22
Scars Upon the Land: Thoughts Stirred by a View from Cheaha's Rock Garden