I spent two days at McDowell Camp and Conference Center (Winston County Alabama) mid-November 2018. My purpose was to conduct field exploration and staff interviews prior to developing a McDowell Land Legacy Story for the Camp's 1,140 acres (see my November 27 Blog Post: http://stevejonesgbh.com/2018/11/27/mid-november-camp-mcdowell-land-legacy-orientation/ )
My purpose with this followup Post is to highlight some of the sky photos I captured while there. I never stop admiring the firmament (the sky or heavens — the vault of the sky). I also never cease to pause when using the term firmament! I remind myself that dry land (not sea or air) is terra firma. Both words employ firma. Odd that somehow one is land and the other sky. Yes, I examined the etymology for both terms. Yet I will forevermore remain uncertain at first blush when using either.
Nevertheless, I admit to being a cloud and sky junkie. Okay, perhaps an addiction, too, to trees, spring wildflowers, thunderstorms, frosty mornings… all things Nature!
So, back to McDowell's sky. Lots of rain the day and night before my visit had transitioned briefly in the wee hours to snow as cold air advected on the system's back side. Hence, these frosted-sweetgum (Liquidambar styraciflua) stars… firmament falling to terra firma!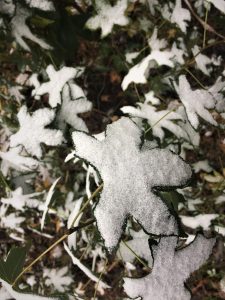 As the vigorous low pressure system departed, northwesterly winds and scudding stratocumulus gave us a classic fall sky. I expected to see a skein of geese at any moment. If only during our deep summer I could conjure a few days of blessed heat-relief… this is how those days would look.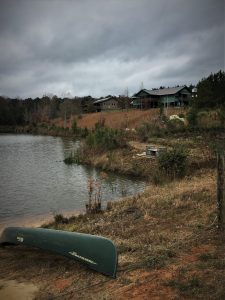 McDowell meets some its electrical needs from solar photovoltaic. Even with the morning's dark overcast, old sol manages to generate some current.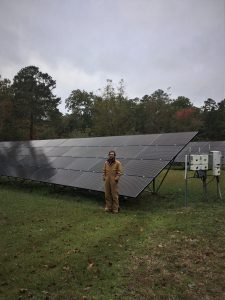 By mid-afternoon, the sky cleared. I snapped the two dusk shots from my west-facing deck, looking across the pond above with the canoe. From that perspective, my cabin is the one at center-top. I like the framed reflection of the waning firmament in the pond's now-still surface. Given frontal passage, clear skies, and calm winds, I knew the next morning would dawn crisp and frosty.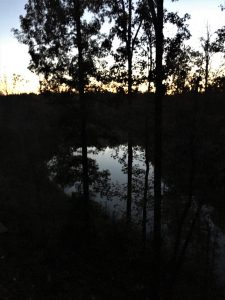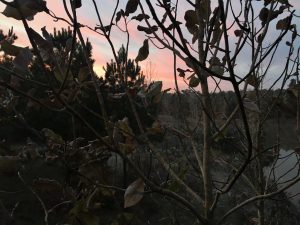 As is my usual habit, I awoke well before dawn. This early shot shows crepuscular rays streaming from the rising sun, still below the horizon. As I've often pondered, what TV program, video game, or web-surfing late at night could possibly be so good as to beat the rewards of dawn? Henry David Thoreau (Walden) likewise loved day's dawning, "The morning, which is the most memorable season of the day, is the awakening hour. Then there is least somnolence in us; and for an hour, at least, some part of us awakes which slumbers all the rest of the day and night." Imagine the price some pay for late evening TV, gaming, and surfing — to never experience the awakening Nature offers.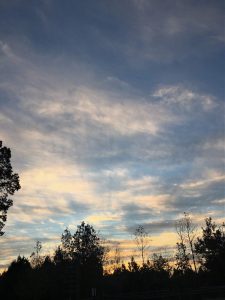 Soon after, the rising sun kissed the oak crowns beyond the chapel. The image stands well and messages succinctly without my words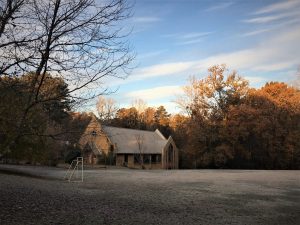 And a few minutes later, the sun, with lots of work to do on a very cold and frosty morning, kissed the grass. Again, words do little but distract from the gift Nature presents to those willing to seek and embrace the beauty, magic, wonder, and awe.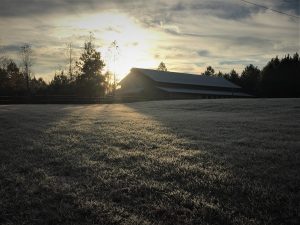 The ground still frosted, I could look outward (from my terra firma perch) 3-6 miles and negative 15-25 degrees Fahrenheit to an etching of white cirrus against the purest of blues. Cirrus is a genus of atmospheric cloud generally characterized by thin, wispy strands, giving the type its name from the Latin word cirrus, meaning a ringlet or curling lock of hair. The strands of cloud sometimes appear in tufts of a distinctive form referred to by the common name of mares' tails. Pity the impoverished soul who could not feel inspiration in such an image… and sense absolute humility in the wonder of Nature.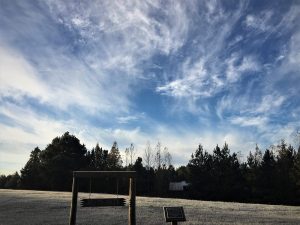 The remnant cirrus from the prior day's system drifted eastward during the morning, yielding to mostly clear, high blue skies, this view from the south end of a pond north of the Camp proper. This is prototypical Alabama winter: freeze-deadened herbaceous, leafless hardwood, loblolly pine green, open water, and azure-blue sky. Another view worthy of rejoicing.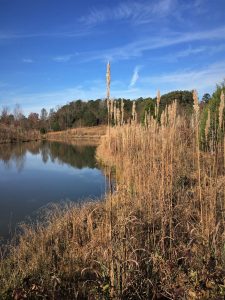 Mid-morning along the creek as the cirrus drifted to the east. As I have said many times, my aesthetic appreciation leans toward paintings that look like photographs… and to photographs that could be paintings. Could anyone command a brush to match or exceed the beauty Nature provided my simple iPhone?!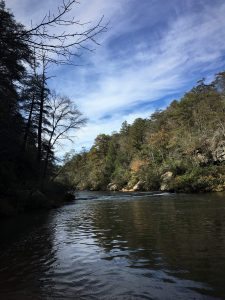 As I departed McDowell and shortly thereafter passed the Bankhead National Forest, the sky could not have been more cooperative.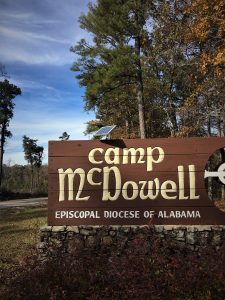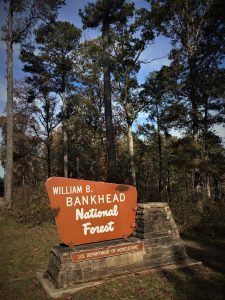 I'll be back at McDowell several times over the next 3-4 months gathering information, images, and a deeper understanding and appreciation for the Camp and Conference Center. Our goal is to develop McDowell's Land Legacy Story as a reference and tool in support of McDowell's mission, which for the Environmental Center is: To connect people to their environment, teach respect for the Earth and its beings, and to promote a commitment to lifelong learning. I can only hope that the firmament above these blessed acres will reward me anew with special magic. Yet as in all things Nature, my threshold for absolute awe and amazement is low. I'm an easy target… for I see wonderment in what too many others view as mundane, if not unpleasant or invisible.
If only more of us viewed our precious environment through my own filters. If only my mission and vision could be multiplied untold orders of magnitude:
Mission: Employ writing and speaking to educate, inspire, and enable readers and listeners to understand, appreciate, and enjoy Nature… and accept and practice Earth Stewardship.
Vision:
People of all ages will pay greater attention to and engage more regularly with Nature… and will accept and practice informed and responsible Earth Stewardship.
Great Blue Heron clients will see their relationship to our natural world with new eyes… and will understand more clearly their Earth home.
Tagline: Steve (Great Blue Heron) encourages and seeks a better tomorrow through Nature-Inspired Living!

Thoughts and Reflections
I wrote my books (Nature Based Leadership (2016) and Nature-Inspired Learning and Leading (2017)) and the two scheduled for 2019 (Weaned Seals and Snowy Summits: Stories of Passion for Place and Everyday Nature and Harnessing Nature's Wisdom and Inspiration) to encourage all citizens to recognize and appreciate that every lesson for living, learning, serving, and leading is either written indelibly in or is powerfully inspired by Nature. Both published books are available on Amazon and other online sources.
Here are two succinct lessons I can easily draw from this Blog Post:
Look up — literally and metaphorically — Nature's beauty, magic, wonder, and awe abound… and the composite surrounds us.

Learn more — understanding deepens and expands appreciation and wonderment.

May Nature Inspire and Reward you!
Note: All blog post images created & photographed by Stephen B. Jones unless otherwise noted. Please circulate images with photo credit: "©2018 Steve Jones, Great Blue Heron LLC. All Rights Reserved."
Another Note: If you came to this post via a Facebook posting or by an another route, please sign up now (no cost… no obligation) to receive my Blog Post email alerts: http://stevejonesgbh.com/contact/
And a Third: I am available for Nature-Inspired Speaking, Writing, and Consulting — contact me at steve.jones.0524@gmail.com
http://stevejonesgbh.com/wp-content/uploads/2018/11/IMG_8374.jpg-11.16.18-Frosty-Field-and-Great-Sky.jpg
1200
900
Steve Jones
http://stevejonesgbh.com/wp-content/uploads/2017/01/gbhweblogo.png
Steve Jones
2019-01-08 16:52:48
2019-12-17 15:27:56
Mid-November Skies at Camp McDowell