I issued the core of this Great Blue Heron Blog Post October 3, 2018. Its text, photos, reflections, and ruminations are applicable to each and every one of our 22 Alabama State Parks and their aggregate 74 square miles of beauty, magic, wonder, and awe. So, permit me to present the original Cloud Inspiration Blog Post here, and then offer an Addendum at the end of this Post with similarly themed photos from four of our northern Alabama State Parks.
Cloud Inspiration Core Blog Post
I admit to having a life-time addiction to weather, manifest in part by a deep fascination with clouds. I offer with reflection and interpretation a series of photos I've taken from my patio December 2017 through September 2018. Before I depart with you for this backyard cloud tour, allow me an excerpt from Nature Based Leadership, my first book (available at: https://www.amazon.com/Nature-Based-Leadership-Stephen-Jones/dp/1489710957/ref=sr_1_1?s=books&ie=UTF8&qid=1537390559&sr=8-1&keywords=nature+based+leadership):
My elderly mother tells me that her older sister, Geraldine, tried to frighten the toddler me of thunderstorms. Perhaps she feared them herself. Although I do not remember at all, Mom says Geraldine would exclaim with a sense of alarm, "Dark clouds, rain hard, Stevie; time to hide." Nor do I recall ever being frightened by lightning, thunder, ominous clouds, wind, or any other manifestation of nature's more threatening moods. Instead, Aunt Geraldine may have unintentionally ignited my lifelong love affair with weather, even adverse conditions.
I have a vague recollection (from sixty years ago) of sitting in my high chair, watching the sliver of sky that I could see through the kitchen window, rapidly (dizzyingly) transition from blue to very dark as clouds raced across. Even then, I puzzled over what I had seen. Nothing else emerges from the memory. Did a storm follow, or did the blue return? Perhaps Mom placed food in front of me, and the window view—with its curiously rapid cloud covering—slipped into a lower priority. Regardless, the memory is clear. I still puzzle over how nearly-instantaneously the clouds advanced. Given how much more deeply I now understand weather, I suppose that the visual memory is flawed or far too blurry to interpret. I observed and interpreted then through the visual and intellectual lenses of a three-year-old, and through those same lenses, stored the memory. How closely does what I recall seeing six decades later match the actual image visible through the parted curtain? The image I carry now is remarkable, like nothing I have seen since. I close my eyes, and the memory is vivid and real, yet it makes no sense through the perception of a sixty-five-year-old weather fanatic. What we see depends clearly on what tools, understanding, and knowledge we bring to the observation. And time adjusts the memory of what we see.
Docile Beauty
The seeds sown early in my youth, the plant grew strong, and has to a large degree shaped my life and profession. I am a scholar and student of Nature. Clouds and weather stand as a central element of what I'll characterize as a calling and a hobby. Some close to me have classed my obsession as spiritual, a religious attachment. Fitting then that my first photo is a cross framed by the chapel that is my patio roof!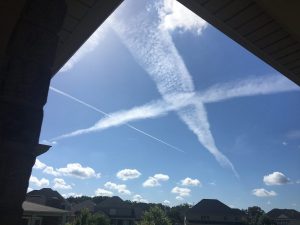 A winter cold front soaked us all day before departing to the south and east as the sun dipped below the western horizon. The visuals could not have been more striking and inspirational. Think about the metaphorical implications of magical light and reawakening after the storm. With only a little imagination I see distant mountains in the field of view (both photos). I'm transported back to my Central Appalachian roots. Those mountains are remnants of the sinking storm cloud banks modified by the special light. I'm sure you've gazed at the warm flickering glow of a campfire or fireplace. I find similar solace, tranquility, and therapy in cloud-watching. Nature serves as my elixir.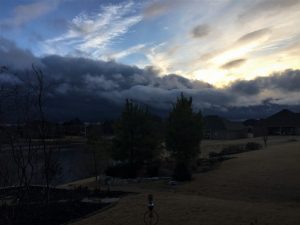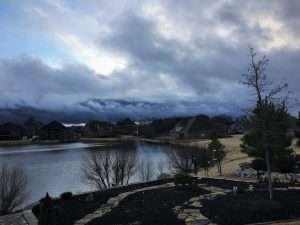 The above images evoke  winter's harshness — a feeling of a cold approaching darkness. The sunset (below left) photo seems warm and docile, yet it occurred on December 26, 2017, within a week of the photos above. I can't recall the temperature conditions of either sunset. The images carry the warmth and chill, regardless of reality. The December 28, 2017 sunrise (below right) likewise feels warm. Was it? Here at this latitude late December can range from highs of 20s to 60s. Does it matter to our appreciation of the image?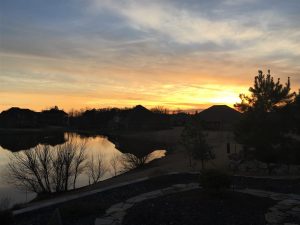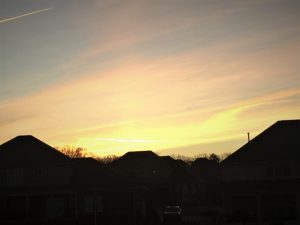 Here's a soft August dawn. August in northern Alabama — we don't need to wonder whether this warm image matches reality. We know that we are likely no cooler than the upper 60s.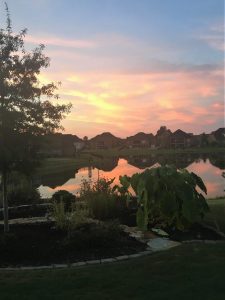 And from my patio October 2, 2018 — this time, a gentle sunset. Nature's beauty and magic stay within reach. Seek the moments; grasp them; feel the inspiration; taste the humility of knowing our place in the world.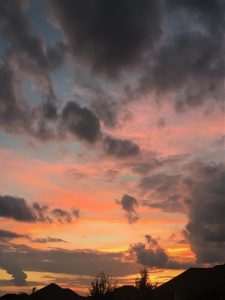 Gentle Precipitation to Impending Violence
And now to what I view as an unusual dawn, this one from early September 2018. My wife and I had just completed our 30-minute pre-dawn walk in the neighborhood. So quiet this time of year. Only an occasional protesting killdeer sounds alarms if we draw too close. At one point we felt a fine mist hitting our faces, lasting less than a minute. Only after we returned to our house, poured a cup of coffee, and found our way to the patio did we see the cause of our brief misting. As the east brightened, we saw this lovely virga under lit by the breaking first light. From my online dictionary, virga is "a mass of streaks of rain appearing to hang under a cloud and evaporating before reaching the ground." Funny that I've know this term since undergraduate meteorology, yet few people know the term or can identify those tell-tale streaks that I see often… no matter where we've lived. I had never before, however, witnessed such an early morning display. The eastern-sky glowing to reveal the virga served up a visual treat — an uncommon spectacle. I accepted this gift with full appreciation. I feel sorry for the poor souls among us who in sequence:
Never beat dawn to their patios
Seldom venture onto their patios even after the sun has made its full set of morning greetings
Wouldn't know virga if it came with sub-titles
Seldom look, see, or feel Nature's beauty, magic, wonder, and awe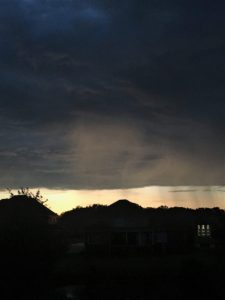 Virga normally signals tame weather. Air dry enough that falling rain (or snow) evaporates before hitting the ground. Sure, we felt a brief mist from the few tiny droplets completing their fall to ground level. There is nothing calm, tranquil, and docile in the following photos. I've presented the first two could photos in a previous Blog Post: http://stevejonesgbh.com/2018/07/01/late-june-derecho-natures-fury/ This derecho roared in from the north back in June. The clouds are angry, turbulent, and speeding southward at a furious clip. Strong winds and heavy rain soon followed the screeching passage of this tortured shelf cloud bottom.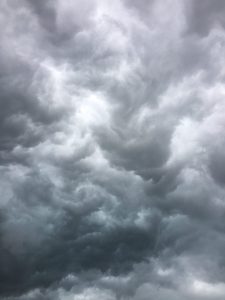 Tumultuous yet profoundly inspirational. Had I been on foot in open country (not in my backyard) this storm would have reached pleasurable terror level. This magnificent beast reached deeply into my head and chest. Its visage struck me as beautifully sinister. I was not frightened intellectually, yet its approach and passage struck a raw chord… a nerve taunt with some hard-wired message that raised the hair on the back of my neck. The wind and deepening thunder added to the near-harrowing and instinctive response I could not completely jettison.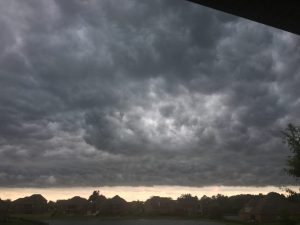 Here are another two cloud photographs from a prior Blog Post: http://stevejonesgbh.com/2018/07/24/a-reverse-rainbow/ Again, see the Post for a full explanation and more photographs. What's so special about this storm? Simply that most rainbows in my experience follow a storm or shower, as the cell move away from the sun that is breaking through the now clearing sky. This storm advance from the east with evening skies still clear to the west. The rainbow, in this case, is preceding the storm!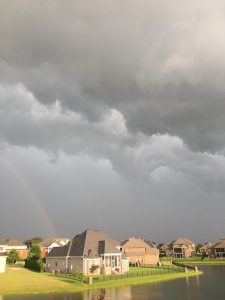 And lastly among these storm clouds, this shower held a special charm. An August afternoon generated a few widely scattered showers. I watched a single cumulus begin reaching vertically just south of us. It dropped a cylindrical rain shaft no more than a quarter-mile wide. It rained itself out within ten minutes as it drifted slowly to the east.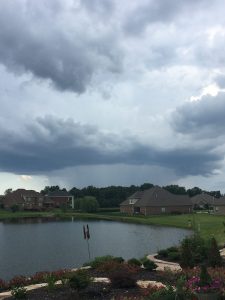 Clear Sky Danger — Judging a Book by its Cover
I snapped all the photos above from my backyard over the eight-month window beginning end of December 2017. The two photos below are from February 2015. Will Broussard, Education Director at the Mount Washington Observatory, back-framed me with New Hampshire's White Mountains on an afternoon after weather halted our morning Mount Washington summit attempt at ~5,300 feet. The spin-drift streaming from the mountain's 6,288-foot summit adds an element of beauty, yet the casual observer sees nothing of the fury the photo signals. Think of the clear-sky as a book cover… a cover that reveals little of the tale's violent content. I relate that day's adventure in the Mount Washington Summit Attempt essay in Nature Based Leadership. We aborted the venture when ten-foot drifts, 80-mile per hour winds, and a persistent ground blizzard placed us at great risk. Our snow-cat transport could go no further. Conditions were bad enough at this mile-high point. Staff at the summit Observatory reported winds above 100-mph and the actual temperature at negative ten F. Wind chill at the summit — absolutely deadly!
Here we are at Five-Mile Flat, just beyond where we turned the snow-cat. Ryan Knapp, one of the Observatory's meteorologists,  took this second shot. He was unable to report for his week-long shift; the meteorologist whom he was to relieve would spend at least another day on top. So much in Nature is hidden within plain sight. Ryan's photo could be interpreted as six folks in arctic gear calmly walking a trail. To those of us who experienced those conditions, we know that during this 200-foot venture beyond the snow cat, several of us were thrown to the ground by powerful gusts. We covered every inch of exposed flesh when we walked back into the violence. In those few minutes, the wind filled and obliterated our out-bound footsteps. The mountain can be lethal, boasting the world's most extreme weather. An outdoor novice would not have guessed at the ferocity we encountered from the brilliant blue sky and gentle spin drift we saw from the base. An experienced observer and student of the mountain would have known. From the moment we climbed into the snow cat that morning, we knew we could very well be thwarted.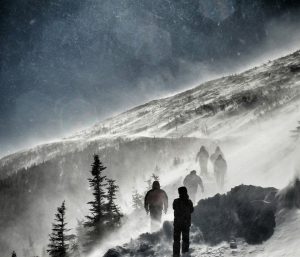 I have distilled thirteen distinct lessons for leading, serving, learning, and living from Nature-Inspired Learning and Leading, my second book. Among those thirteen, these six hold special relevance to this Blog Post:
Nature can serve as an essential life focus.
Nature provides multiple attractions for enhancing life's journey.
Test your limits; be bold; ignite and employ your passion.
Enter your zone of courage; abandon your zone of comfort; Nature can show the way.
Nothing is as it appears at first glance; always seek to know what lies hidden within.
Don't be blind to what lies in front of you.
"Vision is the art of seeing what is invisible to others."
Jonathon Swift
"My destination is no longer a place, rather a new way of seeing."
Marcel Proust
Look for Nature's Inspiration in life's simple moments — every minute of every day… where you live.
Note: All blog post images created & photographed by Stephen B. Jones unless otherwise noted. Please circulate images with photo credit: "©2018 Steve Jones, Great Blue Heron LLC. All Rights Reserved."
Another Note: If you came to this post via a Facebook posting or by an another route, please sign up now (no cost… no obligation) to receive my Blog Post email alerts: http://stevejonesgbh.com/contact/
And a Third: I am available for Nature-Inspired Speaking, Writing, and Consulting — contact me at steve.jones.0524@gmail.com
The Alabama State Parks Addendum
Eventually I will have visited all 22 State Parks. At the moment I can draw relevant text and photos from only four.
DeSoto — Here's dawn at DeSoto — how's that for Cloud Inspiration Magic!
Joe Wheeler — This massive trail-side white oak is reaching for the clouds… and, that in itself is magic!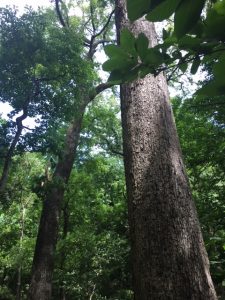 Lake Guntersville — The early morning sun is beginning to burn its way through the valley fog below the Lodge patio. So, we have a top-down view of clouds of a different sort, reminding us that all things are a matter of perspective. Even the darkest storm clouds are sun-illuminated, belying the ferocity that rages below.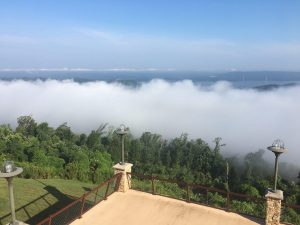 Monte Sano — Nothing beats the could inspiration from a scenic overlook, this one rich with plateau highland topography and fair-weather cumulus.
Our Parks are special places filled with Nature's beauty, magic, wonder, and awe. Visit and enjoy!
http://stevejonesgbh.com/wp-content/uploads/2018/09/IMG_6688.JPG-7.19.18-Desoto-SP-1.jpg
900
1200
Steve Jones
http://stevejonesgbh.com/wp-content/uploads/2017/01/gbhweblogo.png
Steve Jones
2018-10-03 14:32:37
2018-10-03 14:32:37
Cloud Inspiration -- Alabama State Park Edition