August 28, 2018, I toured Monte Sano State Park with Park Manager Brian Moore and Parks Northwest District Superintendent Chad Davis. As a new and permanent Alabama resident, I am beginning my quest to officially visit and eventually hike all 22 Alabama Parks. Our end-of-August date oriented me broadly to a Park that I have hiked numerous times, covering a few of its 31 trail miles. Beyond the official overview, Brian and Chad wanted me to see the 40-acre parcel recently donated by Huntsville's Robert Wells (https://outdooralabama.com/node/2258).
We three hiked the newly-dedicated William Arthur Wells trail, named in honor of Robert's older brother, "one of 253 American sailors who died aboard the destroyer USS Hoel when the ship sank in the Battle of the Leyte Gulf in the Philippines in 1944." Prior to WWII the fallen sailor had worked as a Civilian Conservation Corpsman (CCC) to construct cabins, the lodge, and other Monte Sano Park facilities. I hope soon to meet benefactor Robert Wells to learn more about him, his brother, and his passion for the Park, and to offer my appreciation for his generous gift to the people of Alabama. I will develop a subsequent Blog Post based upon that yet-to-be-scheduled conversation.
The William Arthur Wells Trail
I could not have had better hosts than Brian and Chad — a delightful hike with two gentlemen absolutely dedicated to the spirit and cause of our Alabama State Parks:
Mission: To acquire and preserve natural areas; to develop, furnish, operate and maintain recreational facilities; and to extend the public's knowledge of the state's natural environment.
Goals: 
To manage and operate the park system in an economically sound and efficient manner on the most self-sustaining basis possible.
To provide and maintain high quality facilities and services to meet the needs of visitors; to provide an opportunity for personal growth and development of individuals through outdoor experiences. 
To promote use of state parks facilities. 
To preserve unique natural features and integrity of state parks for future generations.
To promote good will and enhance the public image of Alabama, and the Alabama State Parks through dedicated, courteous employees.
The memorial signage welcomes hikers to the legacy trail and gifted parcel. I am pleased that on such a hot and humid day my younger guides maintained a civil pace. We all agreed that our intent was to walk within these woods rather than rapidly hike through them. I savored every step, as did Brian and Chad. Borrowing shamelessly from one of my core Nature-Inspired Learning, Living, Serving, and Leading sermons, I spoke as we strolled about my five essential verbs for Nature immersion.
Believe — hold firm to anticipating that beauty, wonder, awe, and magic lie hidden within any such parcel
Look — join the mind and eyes and focus toward discovering those hidden gems
See — we actually see only when we believe and scan with open mind and clear vision
Feel — and when we see deeply, we feel Nature's aura, breathe its essence, and swallow its elixir to the point of feeling it with mind, body, heart, and soul
Act — that deep feeling leads to commitment… and commitment to action. Action aimed at supporting the mission, achieving the goals, and to changing some small corner of this Earth for the better through wisdom, knowledge, and hard work
As I reflect on our entry to the Wells Trail, I see it now as a portal into a special place, a sacred memorial to a selfless WWII hero, and a physical manifestation of Robert Well's own noble service and loving gift to the future.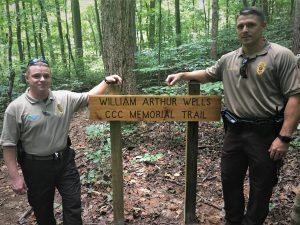 No small wonder why I employ such high words of praise and gratitude. These 40-acres contain a cathedral forest. Lower right we have Brian looking skyward into the main canopy, flanked by magnificent yellow poplar. We saw massive red oaks just as majestic. I told Brian that if I could, I would slip into this cove grove at least once a week. I view myself as a spiritual ecologist. How could I not feel the spirit of this special place?!
Our conversations and reflections reached beyond this sense of emotion and exaltation. Brian and Chad probably grew weary of my applied ecologist's explanation for the reasons these trees are fat and tall and the forest so densely stocked. I'll share a little of that with you. From these Cumberland Plateau forests well north into southern New England, these ancient highlands have weathered patiently and similarly across the ages. I performed my doctoral research (mid-80s) on the Allegheny Hardwood forests of southwest NY and northwest PA — a soil-site analysis relating forest productivity to factors of site (slope steepness; aspect; slope position; soil depth; etc.). Across the 800 miles from Monte Sano to my NY/PA field plots, the sites of highest quality face north or east, occupy the lower one-third of the slope, and are concave. The Monte Sano cathedral fits the bill. Add in the 80+ years since clearcutting, and we have had time for this stand to begin developing its old growth characteristics.
I will revisit this special grove time and time again. Once fall invades northern Alabama I will take our two Alabama grandsons… to enjoy the hike and to perhaps sit quietly in reflection and admiration.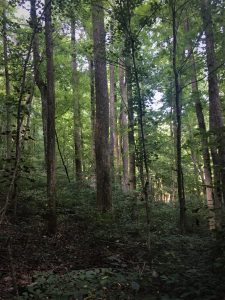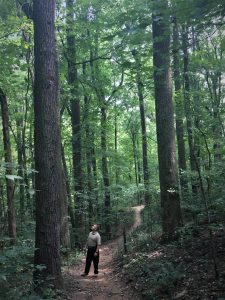 Again, Brian and I plan to meet soon with Mr. Wells. Watch for a subsequent Blog Post.
Civilian Conservation Corps Heritage
My late Father-in-law, himself a WWII combat veteran, made his living laying brick, stone, and block… an accomplished mason. He admired the exquisite craftsmanship of the CCC, which is evident on many parks near where we lived in western Maryland. He was not one to be generous with his praise — if he complimented the work, its was truly good. The Monte Sano CCC structures have stood an 85-year test of time. I had not been to this CCC Museum, built by the CCC and now housing photos and period tools of the trade.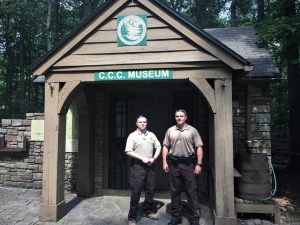 We have some current Monte Sano employees who combine their trade with a sense of humor and a healthy imagination. Why else would we have a faucet on a bird house?! Nearby, Nature adorned this chestnut oak with a couple of burls. Why not a couple of faucets to collect oak sap?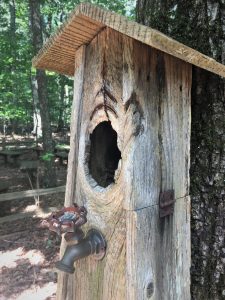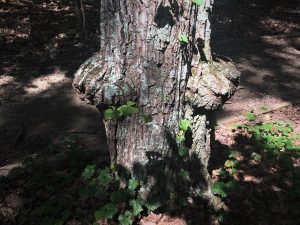 Also near the Museum, additional signage and an interpretive trail, well-suited to extending the public's knowledge of the state's natural environment.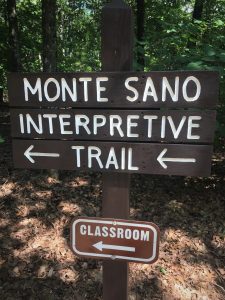 A Huntsville Japanese Heritage
Huntsville's defense and space industries have for decades drawn Japanese corporations and researchers to the area. Although a surprise to me, the plateau-top Japanese Gardens offer a nice view to another culture and botanical realm. Yet another educational feature at Monte Sano.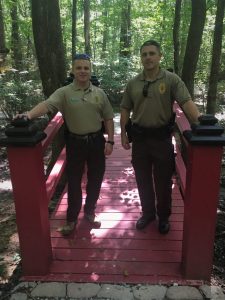 A different species of cathedral; another spot for Natural meditation.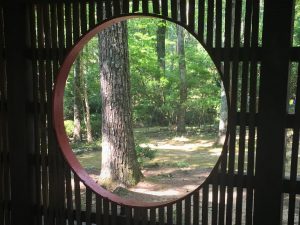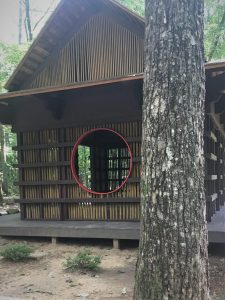 Mountain of Health Hotel
The historical marker hints at the rich history on this plateau top:
"Monte Sano" – Spanish for "Mountain of Health"
Site of Hotel Monte Sano, built in 1887 by the North Alabama Improvement Company with the assistance of Michael and James O'Shaughnessy. The 233-room hotel opened on June 1, 1887 and served as a health resort and haven for famous visitors including Helen Keller, the Vanderbilts, and the Astors. Guests arrived via the "Tally Ho" stagecoach or the Monte Sano Railway, which served the mountain community. The hotel closed in 1900, and the W. W. Garth family later purchased it for their summer retreat. It was demolished for salvage in 1944. All that remains of the hotel is the brick chimney.
ALABAMA HISTORICAL ASSOCIATION – 2007
Seeing that Helen Keller visited the hotel reminds me of my favorite Helen Keller quote: "Life is either a daring adventure or nothing." I find my daring (and not-so-daring) adventures through Nature. Imagine living in or near Huntsville, Alabama and never visiting the cathedral along the Arthur Wells Trail! The trail may not require great effort or constitute a daring adventure, however, not experiencing it is most assuredly NOTHING.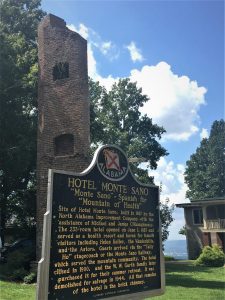 Another CCC structure, the Monte Sano State Park Lodge is yet another treasure. I am eager for the day when some occasion invites me to experience refreshments in this fine monument to the CCC workers. I am sure that their service to Great Depression America constituted a great adventure. You can see from the lower right view from the Lodge why I have no trouble feeling as though while at Monte Sano I am back to my Appalachian childhood home.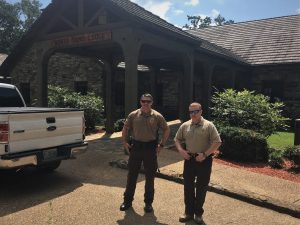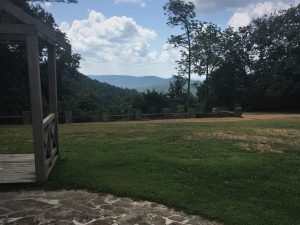 Spicebush Fruit
I can't take a hike without capturing some special interest plant feature. Spicebush (Lindera benzoin) stood in full berry glory. Not only visual, a few crushed leaves added a little olfactory spice to our hike!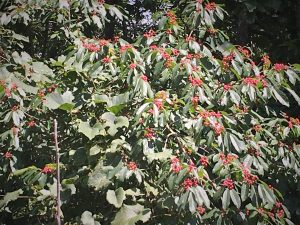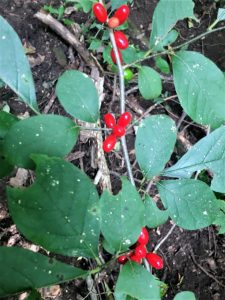 Looking Off the Overlook!
I suppose the same person who placed the faucet on the bird house may have added some folksy charm to this sign. What do you do at an "overlook"? Well of course, you "look off" into the distance. So, why not call this place a "lookoff"? Well, the term was new to me… yet somehow fitting.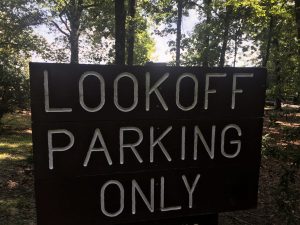 Reflections and Observations
I've distilled 13 succinct Nature-Inspired lessons from my second book, Nature-Inspired Learning and Leading. Here are those that directly apply to my half-day at Monte Sano:
Lesson One: Nature can serve as an essential life focus.
Lesson Three: Don't be blind to what lies in front of you.
Lesson Five: Nature provides multiple attractions for enhancing life's journey.
Lesson Nine: Nothing stands apart from Nature.
Lesson Ten: Recognize the irreconcilable burden of Earth stewardship we bear as individuals and enterprises.
Lesson Eleven: Use whatever bully pulpit you have to change some small corner of the Earth for the better.
Lesson Thirteen: Nothing is as it appears at first glance; always seek to know what lies hidden within.
I will close with a reminder that we Alabamians are blessed with our magnificent State Park System. I will continue my daring adventure to visit all 22, and in so doing chronicle my experiences through these Blog Posts.
I am hopeful that there are others like Robert Wells among my future contacts who might help us strengthen our Parks through similar selfless acts of generosity.
Note: All blog post images created & photographed by Stephen B. Jones unless otherwise noted. Please circulate images with photo credit: "©2018 Steve Jones, Great Blue Heron LLC. All Rights Reserved."
Another Note: If you came to this post via a Facebook posting or by an another route, please sign up now (no cost… no obligation) to receive my Blog Post email alerts: http://stevejonesgbh.com/contact/
And a Third: I am available for Nature-Inspired Speaking, Writing, and Consulting — contact me at steve.jones.0524@gmail.com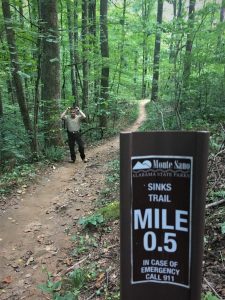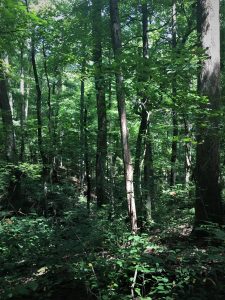 I'll look for you on Alabama State Park trails. May Nature Inspire all that you do!
http://stevejonesgbh.com/wp-content/uploads/2018/08/IMG_7592-1.jpg-08.28.18-Monte-Sano-Brian-at-Wells-Trail.jpg
1200
900
Steve Jones
http://stevejonesgbh.com/wp-content/uploads/2017/01/gbhweblogo.png
Steve Jones
2018-09-17 18:46:32
2018-09-19 16:39:05
Monte Sano State Park -- Exploring an Addition