My six-month Fairmont State University adventure behind me, I am engaging Great Blue Heron here in the Huntsville area. In a public service spirit, I will deliver a six-week lecture series on Nature's Wisdom through LearningQUEST (http://lquest.org/). My course offers participants a taste of Nature's Wisdom through the eyes, heart, soul, and spirit of this life-long Nature enthusiast. See my passion expressed visually in my home office (in fact, in my state of semi-retirement, my only office!):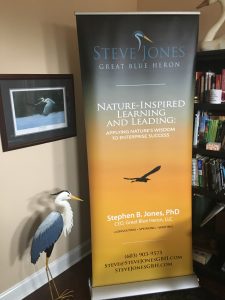 January 24, I staffed my Nature's Wisdom display at the Huntsville Library for four hours as LearningQUEST members viewed the exhibits, met with the presenters, and decided what workshops/lectures to attend. I feared that few people would express interest. Such was not the case. I had nary a dull moment. Instead, people engaged deeply and expressed great enthusiasm… demonstrating their own passion for Nature. I now anticipate a good showing on those six Wednesdays beginning February 14!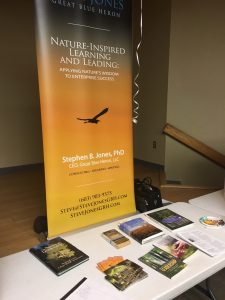 Here is the language from the LearningQUEST catalog:
This interactive workshop introduces participants to an emerging field of study that Dr. Jones helped define and create. Explore with him his belief that every lesson for living, learning, serving, and leading is either written indelibly in, or is powerfully inspired by nature. Realize through examples and immersive discussion that we are one with nature; learn to appreciate its wisdom and power in our lives. Dig deep as we learn to Look, See, Feel, and Act in furtherance of Earth stewardship.
Dr. Jones will relate tales of his experiences in Alaska and across his 13-state journey pursuing a rewarding career in forestry and higher education. Sharpen your own ability to draw lessons from nature. You most certainly have experienced many along life's journey – lessons you may not yet have deciphered. Together we will probe your experiences to find nature's wisdom rooted in wonder, awe, magic, and beauty.
We will also examine a land ethic and a stewardship philosophy. We'll take a walk or two to touch a little nature and feel its elixir quality, drawing upon the varied background of Dr. Jones as a natural resources scientist and educator to convert nature's time-tested wisdom into actionable insights (http://lquest.org/event/natures-wisdom/?instance_id=10167).

I anticipate wonderful interaction with the participants. I hope to learn as much from them as they will take from the discussions. This will be my first LearningQUEST venture, yet I feel certain it will not be my last. What a blessing for me to have discovered this opportunity right here in my backyard!
Once more I have a great forum to propagate the gospel of Nature-Inspired Learning and Leading. Watch for more Blog Post text and photos as we launch the series.
http://stevejonesgbh.com/wp-content/uploads/2018/02/IMG_4793-LearningQUEST-Rally-Day-e1517589922649.jpg
2016
1512
Steve Jones
http://stevejonesgbh.com/wp-content/uploads/2017/01/gbhweblogo.png
Steve Jones
2018-02-06 04:24:25
2018-02-06 04:24:25
Huntsville's LearningQuest: Nature's Wisdom