Steve's Second Book is Available!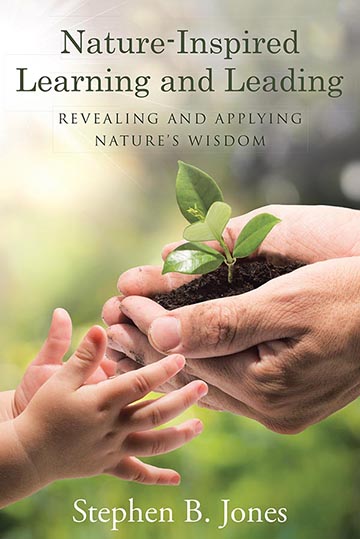 I am announcing my new book, the second in a series breaking fertile ground in the business and enterprise management and leadership field, and in the arena of Nature enthusiasm/appreciation and applied ecology. Now president of my fourth university and founder of the Nature Based Leadership Institute, I do NOT write like an academic – my feet are firmly rooted to the ground. I am determined to reach the reader from my heart, soul, and spirit. Yes, I do know my science, yet I refrain from speaking the hard, cold language so common to scholars and professors. I am simply a forester who found his way to university leadership. Nature speaks a simple language, and so do I!
As a lifetime champion of Nature, I explore in Nature-Inspired Learning and Leading how individuals and organizations can apply nature's wisdom to achieve success and fulfillment. My first book, Nature Based Leadership, introduced my belief that every lesson for living, learning, serving, and leading is written indelibly in or is powerfully inspired by Nature. Both books reveal Nature's insight and its application to life and living.
More About Nature-Inspired Learning and Leading
I point out that Nature's routes, processes, options, and outcomes seem infinite. In many ways they are, but all species—including humans—seek the same thing: to succeed, reproduce, and sustain. This book is a series of essays that inspire, illuminate, and entertain those who are willing to learn from Nature. A collection of personal reflections, this book and my first (Nature Based Leadership) evoke deep emotion and stimulate the reader to think deeply about our relationship with this planet we call home. Some of these essays instruct of Nature's pleasurable terror via my own experience. All of the essays draw indelible lessons from or inspired by Nature. The lessons spur the reader to look, to see, to feel, and to act for the good of the individual, the enterprise, and our one Earth.
The books translate nature's time-tested wisdom into actionable insights that will help you live, learn, serve, and lead while engaging in responsible Earth stewardship. My science-informed personal reflections evoke comprehension, stir passion, elicit emotion, and prompt action. Above all else, these stories harness the wonder, magic, awe, beauty, and spirit of Nature in the service of reason and to the cause of humanity.
I urge you to capitalize on the wisdom of the natural world through the lessons in Nature-Inspired Learning and Leading (and Nature Based Leadership). Both books are available through LifeRich Publishing and from other online outlets like Amazon.
http://stevejonesgbh.com/wp-content/uploads/2017/07/760161HighResBook-Two-Front-Cover.jpg
2676
1788
Steve Jones
http://stevejonesgbh.com/wp-content/uploads/2017/01/gbhweblogo.png
Steve Jones
2017-07-11 06:20:42
2017-07-17 08:26:08
Nature-Inspired Learning and Leading: now available