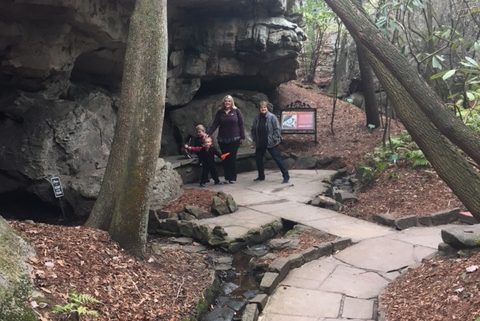 Daughter Katy, her two boys (Jack, 9 and Sam, 3), Judy, and I headed over to Rock City near Chattanooga about dawn March 17. Sure, I had seen the promotional barns, bird houses, and bumper stickers most of my life: See Rock City! This was my first visit. Katy and Jack had been a few years back and enjoyed it. Based upon my image of what the tourist "attraction" portended, I could not understand why she believed I would love the place.
Granted, I was expecting another glitter-gulch kind of experience. That's how Fairbanks, AK residents refer to the commercial strip along the Nenana River near the entrance to Denali National Park. Business after business ready to lighten the cash load of tourists from all over the world who stop by the Park on their whirlwind summer tour of The Last Frontier. I always strived to quickly penetrate the commercial rind and enter the actual Park, an exquisite natural wonder of the world, everything that glitter gulch is not.
Rock City? I visualized faux gem stones in souvenir bags, nick-knack shops at every bend and juncture. Hawkers, pennants, balloons, junk food, garish signs, and disturbing music.
We climbed (well, our car did) the sinuous paved road, gaining 1,000 feet vertical above the valley floor, my queasy passengers' protests notwithstanding. A Friday just a few days from the vernal equinox, our ten o'clock arrival found only a few cars in the lot. A parking area sheltered mostly by mixed southern Appalachian hardwoods. Nothing disturbing or garish!
A Starbucks outside the turnstile; a gift shop nearby. Stone walls and garden vegetation softening every aspect of the entrance, from the ticket booth to the entry gates. Employees smiling and friendly. Where are the hawkers, obnoxious music, and demanding vendors? And what's with the soft mood music flowing from invisible speakers?
I found pleasant, unexpected surprises around every corner. No trash; well-maintained plantings. Trees and shrubs placard-identified with common and Latin names. Seamless melding of natural rock features and man-placed walls, paths, and themed statuary. Meticulous care to manage the landscape in a manner stressing and emphasizing natural. I marveled at how densely trails, passageways, tunnels, and other features transited the mountain top, yet did so in a way that masked the use-density. I recall a Dolly Parton quote about herself, "It costs a lot of money to look this cheap!" My own corollary at Rock City is that, "It requires tremendous effort to make a dense-use attraction look so natural."
As we paused near the seven-states-overlook, a gentleman about my age, dressed in a St. Patty's Day green sweater and flat cap, commented on my Nature Conservancy baseball hat, asking whether I am a TNC member. We struck up a conversation, leading to me to conclude and ask, "Are you the Rocky City owner?" Bill Chapin is indeed the proprietor and has been since 1985. I complimented Bill on his obvious commitment to earth stewardship and fidelity to the natural environment. We ended up exchanging books: a copy of my Nature Based Leadership for See Rock City, The History of Rock City Gardens. His father's uncle first developed Rock City in 1932. What a fortuitous encounter to meet Bill and enjoy a brief conversation!
I had not even visited Rock City on the internet prior to our trip, much less read any history. I went to the web site today, after reading the book, and grew more and more fascinated with the attraction's 85-year history. One of the web site buttons is, "Rock City Gardens: Doing our part to find our world's Green Way Forward:
We educate people on the importance of our natural and historic environment. Through internal training, our partners understand the importance of sustainability at work and at home. Externally, we attempt to educate our guests on what Rock City does to protect our world and how guests can help.
At the core of our Green Way Forward effort lies the commitment to developing a way of business, a set of Best Practices, that creates a culture of health and vibrancy relative to all things, particularly the environment in which we work and live.
Of course, we don't know it all, and we're not perfect. So, if you have an idea that will help Rock City find its Green Way Forward, we'd love to hear from you."
I suggested to Bill in our too-brief conversation that someone needs to tell Rock City's environmental stewardship story. Now I see from the third bullet that the door is wide open for me to suggest that a Green Way Forward will mean far more within a context chronicling the Green Way from 1932 to the present. These few thoughts and reflections I offer today are just a hint of the Rock City earth stewardship tale to date, and of what lies ahead for the Green Forward Way.
I have relished other positive nature-inspired stewardship surprises along life's journey. Yet too frequently it's disappointments that present themselves. Unfortunate surprises that feature ignorance, mismanagement, apathy, and blindness respecting our natural world. What an absolute joy to visit Rock City with low expectations and discover an earth stewardship exemplar. Hours traversing one of nature's gifts, responsibly stewarded by Bill and his forebears, rewarded our drive and opened my eyes to the imperative to always seek virtue, promise, and hope. I am consoled when I see true stewards embrace and practice a land ethic, adopt the tenets of conservation, and bear the standard of showing the way.
I will share this essay with Bill, and suggest that perhaps Great Blue Heron can help tell the Rock City conservation story, enriching the Rock City experience for all and memorializing the tale for posterity.
The result would be Rock City's Forestland Legacy Story
http://stevejonesgbh.com/wp-content/uploads/2017/03/IMG_3367-Rock-City-e1490289211129.jpg
640
480
Steve Jones
http://stevejonesgbh.com/wp-content/uploads/2017/01/gbhweblogo.png
Steve Jones
2017-03-23 12:01:02
2017-05-23 09:03:54
See Rock City -- Some Natural Reactions: A Forestland Legacy Story