The Madison, Alabama (my home) weather span of 29 hours and 46 minutes, from New Year's Day at 4:32 PM to January 2, at 10:18 PM, shifted from tornado watch to severe thunderstorm and tornado warnings to winter weather advisory to winter storm warning! I've said often that I could not thrive living where weather is constant and dull. The rapidity of change thrills me. The combination of the scale, scope, and power of change humbles and inspires me. This Post chronicles those nearly 30 hours with photos, observations, and reflections.
I have a lifelong fascination with weather. I wrote extensively about my weather addiction/obsession in Nature Based Leadership (2016), the opening paragraph of Chapter Seven, Snow in the Arc Light:
My elderly mother (now deceased) tells me that her older sister, Geraldine, tried to frighten the toddler me of thunderstorms. Perhaps she feared them herself. Although I do not remember at all, Mom says Geraldine would exclaim with a sense of alarm, "Dark clouds, rain hard, Stevie; time to hide." Nor do I recall ever being frightened by lightning, thunder, ominous clouds, wind, or any other manifestation of nature's more threatening moods. Instead, Aunt Geraldine may have unintentionally ignited my lifelong love affair with weather, even adverse conditions.
The two-day period I present in this Post offered considerable grist for my weather mill. New Year's Day (2022) we reached a high of 75 degrees in Madison, Alabama, as a strong cold front approached from the northwest. Severe thunderstorms and two tornado-warned cells crossed Madison County, my home, that evening. January 2, 2022 offered an early morning high of 57 degrees. The temperature fell into the upper 30s by late afternoon as a low pressure system formed along the trailing cold front. Rain changed over to wind-driven snow by 8:30 PM as the temperature fell to 30 degrees. I'll walk you through that wild period with photographs and reflections.
January 1, 2022 Tornado Watch to Warning
New Year's morning (6:24 AM) dawned calmly with alto-cumulus backdropping the hardwood forest at the entrance to my development.  Forecasters hinted at the evening potential for servere weather. By 3:48 PM (below right), the sky hinted that change was imminent…and the NWS had placed us under a tornado watch.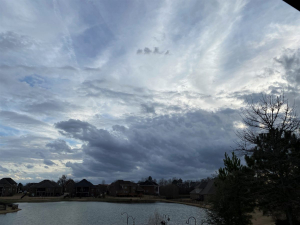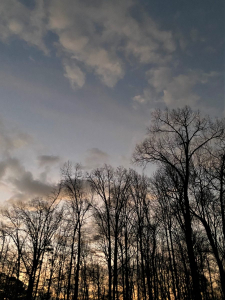 Looking west at 4:32 PM, darkening and thickening clouds portended the line of thunderstorms then radar-visible crossing from northeast Mississippi into Alabama.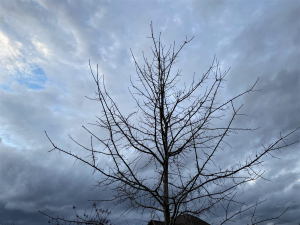 The first storms arrived two hours later, when cell after cell charged from west to east across the Madison area. Two of the individual storms generated tornado warnings. The first one passed far enough to the north that we did not retreat to our shelter. We had less confidence of the second storm's track, moving east at 55 miles per hour, so we entered the shelter, staying there for ten minutes until the warning sirens stopped wailing. Fortunately, neither tornado-warned storm dropped a twister.
January 2, 2022 Evolving Wnter Storm Warning
Our morning temperature reached 57 degrees, far too warm for me to anticipate much in the way of wintry precipitation, yet the NWS had issued a winter weather advisory. As temperatures fell into the upper 30s and the radar-indicated rain shield expanded over Mississippi and Arkansas, the NWS upgraded the advisory to a winter storm warning. That caught my interest! With the onset of rain at 6:30 PM, I paid more attention to our real time temperature, the nature of falling precipitation, and the radar-depicted rain/snow line.
I noticed our rain transitioning to wet snow at 8:30. The changeover was complete at 8:59 when I snapped these two images. Moderate snow had begun coating all but our stone pathways, which still held heat from the warmer days. The temperature had fallen to just above freezing.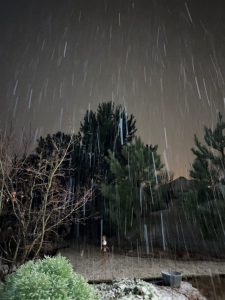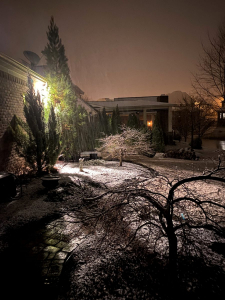 By 9:50 and 9:51 PM, we had dropped below 32 degrees as snowfall intensified.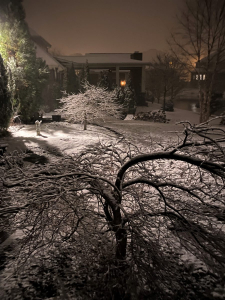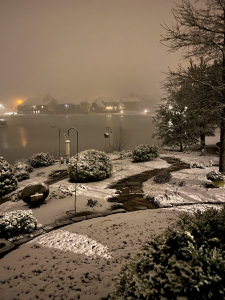 At 10:18 heavy wind-driven snow covered all surfaces, including the street in front of our home.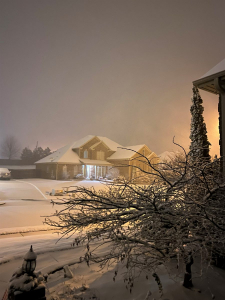 Ten minutes later, once again in the backyard, the snow had accumulated to two inches, which is equal to our annual average snowfall.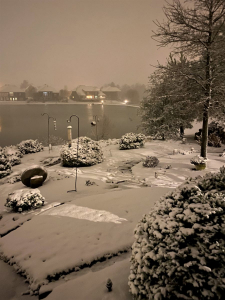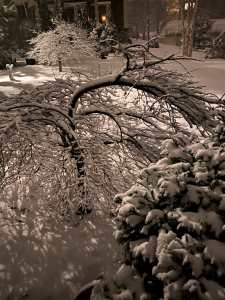 At the same time, even our stone walkways are covered with snow.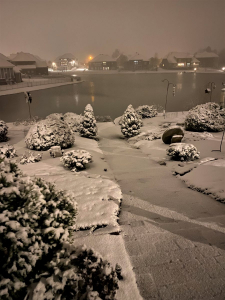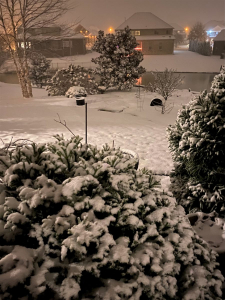 I went to bed shortly thereafter.
Pre-Dawn January 3
I snapped these photos at 4:46 AM, long after the snow had ceased. Five inches coated our landscaping. Although still full darkness, the camera captured the reflected light quite well with a three-second exposure.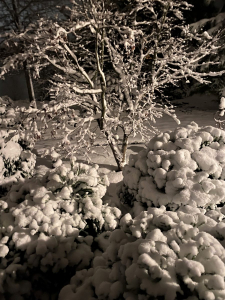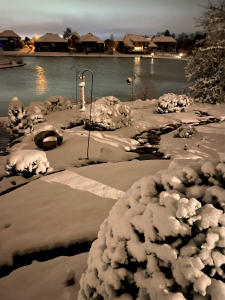 I am a confessed snow fanatic, especially here in the south where it is a rarity. At the time I took these photos, the temperature in Fairbanks, Alaska, where we lived from 2004-08 was 39 degrees below zero, with a snowpack 34 inches deep. One might wonder how I could get so excited about these rather tame Madison, Alabama winter conditions. The answer is simple — this is the best I can hope for in northern Alabama. One of my favorite places in the US is Grand Teton National Park, yet visiting Alabama's Cheaha State Park fills me with wonder and appreciation. My ratings for scale, scope, and grandeur shift with where I happen to be. I've been to Yosemite's giant sequoias, Callifornia's redwoods, and the giant douglas firs of Oregon and Washington, yet October 2021, I stood in awe at The Big Tree in Alabama's Bankhead National Forest.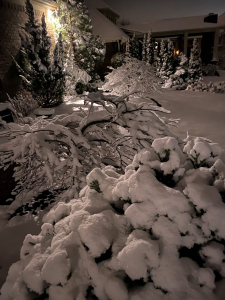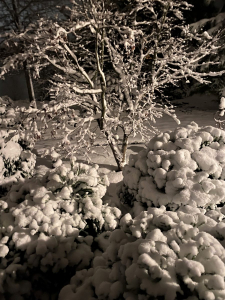 As I write these words on January 7, all traces of snow are gone. In contrast, the Fairbanks snowpack may be all gone by the end of April. Each year we lived there, dirty residual piles of snow remained the fourth of July where the city had dumped snow removed from city streets and parking lots during the long winter. I loved living there, yet I also love living where a single snowstorm can drop 2.5 times the average annual snowfall and the ground be clear within five days!
By Dawn's Early Light
Dawn brought cloudy but brightening sky (7:15 AM), revealing the snow/wind-coated northwest faces of tree trunks and shrubs.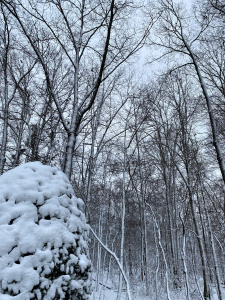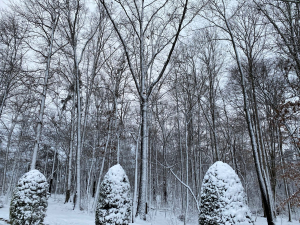 Like so much in the realm of my Nature observation, capturing images is less about my photography prowess (for goodness sake, I use an iPhone!), and much more about getting into the out there, being observant, and understanding what is important to me, whether a snowy landscape, fresh mushrooms, spring wildflowers, or a special forest setting.
Sun Brings Glory
All of the prior images could pass for black and white. Once the skies cleared, color emerged, sharp and brilliant in the light-flooded snow- and sky-scape (11:32 AM). Note that already the stone pathways are once again snow free due to the combination of sun hitting from above and the stones' warmth melting from below.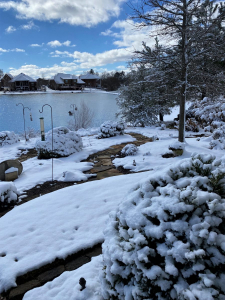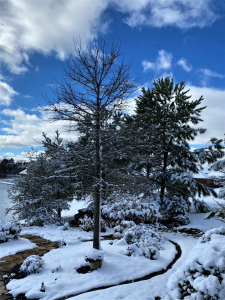 I publish these photo-essays around the theme of Nature-Inspired Life and Living. Some might wonder how photos and reflections from a suburban landscape can be considered Nature. I submit that Nature is where we seek it, even if that means right here in my backyard. The severe weather and snow do not know whether they are affecting urban or wildland. Moreover, I didn't care. I do indeed find Nature's beauty, magic, wonder, and awe wherever I happen to be. In my younger Nature-purist days, I would have scoffed at my present relative view of Nature. I would have demanded wildness. Today, I take what I can whether at home or in nearby wildlands. Who can argue with the beauty and magic of this snowy landscape.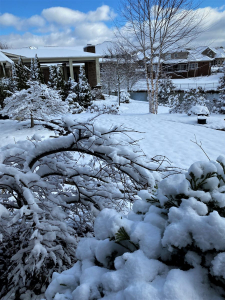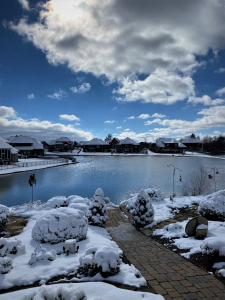 These two images span 29 hours and 46 minutes, from New Year's Day at 4:32 PM to January 2, at 10:18 PM, from tornado watch to winter storm warning! I said often that I could not thrive living where weather is constant and dull. The rapidity of change thrills me. The combination of the scale, scope, and power of change humbles and inspires me.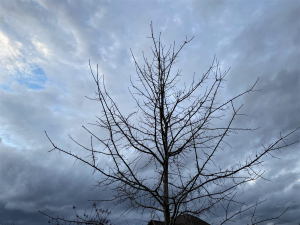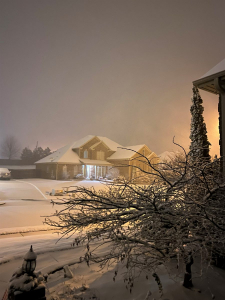 I will long remember those 29 hours. The period temporarily sated my weather obsession/addiction, yet I will continue to watch for the next episode. I vow to find and appreciate Nature's beauty, magic, wonder, and awe wherever I am.
Thoughts and Reflections
I offer these observations:
I am a confessed snow fanatic, especially here in the south where it is a rarity.
I could not thrive living where weather is constant and dull.
I submit that Nature is where I seek it, even if that means right here in my backyard.
Inhale and absorb Nature's elixir. May Nature Inspire, Inform, and Reward you!
Note: All blog post images created & photographed by Stephen B. Jones unless otherwise noted. Please circulate images with photo credit: "©2022 Steve Jones, Great Blue Heron LLC. All Rights Reserved."
Another Note: If you came to this post via a Facebook posting or by an another route, please sign up now (no cost… no obligation) to receive my Blog Post email alerts: http://eepurl.com/cKLJdL
And a Third: I am available for Nature-Inspired Speaking, Writing, and Consulting — contact me at steve.jones.0524@gmail.com
Reminder of my Personal and Professional Purpose, Passion, and Cause
If only more of us viewed our precious environment through the filters I employ. If only my mission and vision could be multiplied untold orders of magnitude:
Mission: Employ writing and speaking to educate, inspire, and enable readers and listeners to understand, appreciate, and enjoy Nature… and accept and practice Earth Stewardship.
Vision:
People of all ages will pay greater attention to and engage more regularly with Nature… and will accept and practice informed and responsible Earth Stewardship.
They will see their relationship to our natural world with new eyes… and will understand more clearly their Earth home.
Tagline/Motto: Steve (Great Blue Heron) encourages and seeks a better tomorrow through Nature-Inspired Living!
Steve's Three Books
I wrote my books Nature Based Leadership (2016), Nature-Inspired Learning and Leading (2017), and Weaned Seals and Snowy Summits: Stories of Passion for Place and Everyday Nature (2019; co-authored with Dr. Jennifer Wilhoit) to encourage all citizens to recognize and appreciate that every lesson for living, learning, serving, and leading is either written indelibly in or is powerfully inspired by Nature.
I began writing books and Posts for several reasons:
I love hiking and exploring in Nature
I see images I want to (and do) capture with my trusty iPhone camera
I enjoy explaining those images — an educator at heart
I don't play golf!
I actually do love writing — it's the hobby I never needed when my career consumed me
Judy suggested my writing is in large measure my legacy to our two kids, our five grand kids, and all the unborn generations beyond
And finally, perhaps my books and Blogs could reach beyond family and touch a few other lives… sow some seeds for the future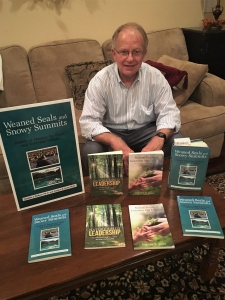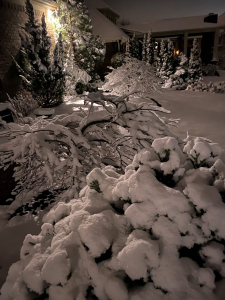 All three of my books (Nature Based Leadership; Nature-Inspired Learning and Leading; Weaned Seals and Snowy Summits) present compilations of personal experiences expressing my (and co-author Dr. Wilhoit for Weaned Seals and Snowy Summits) deep passion for Nature. All three books offer observations and reflections on my relationship to the natural world… and the broader implications for society. Order any and all from your local indie bookstore, or find them on IndieBound or other online sources such as Amazon and LifeRich.
http://stevejonesgbh.com/wp-content/uploads/2022/01/IMG_2227-1-1.jpg-01.03.22-7.15-AM-1.jpg
1200
900
Steve Jones
http://stevejonesgbh.com/wp-content/uploads/2017/01/gbhweblogo.png
Steve Jones
2022-02-16 15:09:40
2022-02-16 15:09:40
48 Hours: from Tornado Warnings to Winter Storm Warnings (Trial 2)