Accompany me on a trip of reminiscence to my hometown, where powerful forces shaped the course and curve of my lifelong Nature-Inspired Life and Living.
Heart of Cumberland
Although I reside now in north Alabama, at the southern end of my beloved Appalachian Mountains, I return to Cumberland at least once a year. We visited for a couple of days at the end of May 2021. I offer a quick glimpse into the Nature of that visit with this Post, soon to be followed with one each of a rainy morning at Evitts Creek Three Ponds just north of I-68 east of Cumberland and a glorious afternoon hike around Rocky Gap State Park's Lake Habeeb.
Whenever I return to my hometown I find time to at least stop by the eastern terminus of the C&O Canal, with an up-close view of the heart of The Queen City, the juncture of Wills Creeks and the Potomac, and the deep embrace of our Appalachians.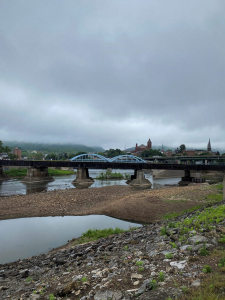 Low stratus obscured all but the lower notch of The Narrows.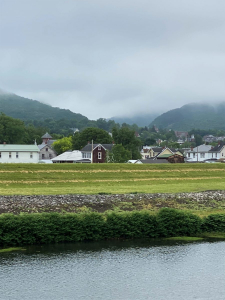 Likewise, clouds eclipsed most of Knobly Mountain as it stretches deeper into West Virginia. The Potomac is the border between Maryland (left) and West Virginia. I recall as a kid walking from home (on the slight rise to the left) to fish the Potomac a half mile downstream from the photo point, beyond the sweeping curve. The pre-Clean Water Act Potomac harbored no game fish then (only carp, suckers, eels, and mudcats), and carried debris from untreated municipal and industrial effluents, and on summer days wafted foul odors. The river is now fishable and swimable. Who says we are destined for environmental ruin!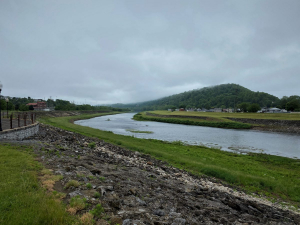 The city's history links to the river (the canal), the mountains (coal and timber), and the ultimate transportation corridor to the Ohio frontier. The artificially channeled Potomac through Cumberland resulted from engineered flood control levees after the epic and devastating 1936 St. Patrick's Day flood. The 184-mile marker (clearly disrespected by our avian residents) prompts vivid memories of biking from Cumberland to Georgetown some 30 years ago.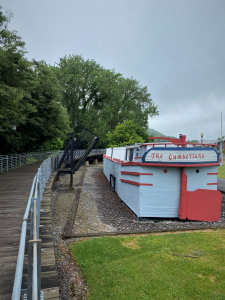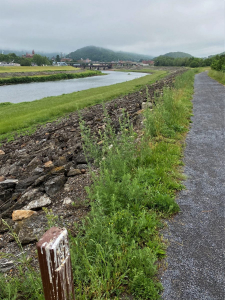 Bikers continue making the journey along the 184.5-mile National Historical Park. Below left a biker with trailer departs from my point. Another biker with the same group approaches me below right.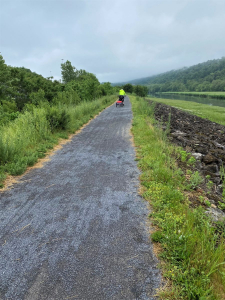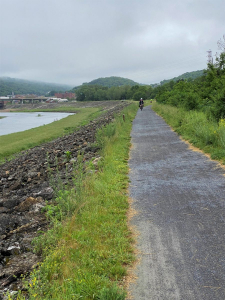 I found yellow sweetclover (left) and hop trefoil (right) to brighten the cloudy late spring morning.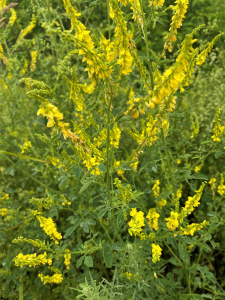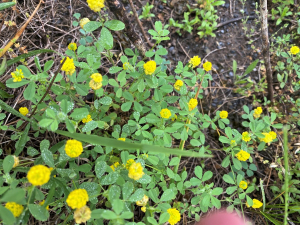 And broad-leafed sweet pea (left) and purple crown vetch (right). All four species are legumes that fix nitrogen and enrich soils.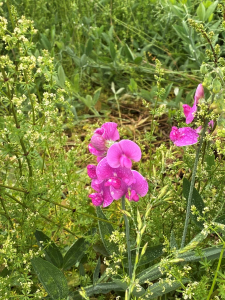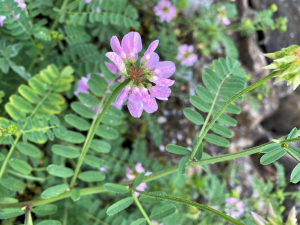 Bladder campion added a special pink and white touch… a delicate beauty.
Great wooly mullein stands ready below to launch its 3-5-feet tall flower shaft. The leaves are covered by dense velvety wool.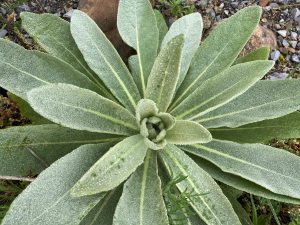 Fort Hill High School
My wife (Judy) and I graduated from this very same building in 1969, as did my mother in 1942. The school sits on a hill some 300 feet above the elevation of the Potomac, providing an unobstructed view to the Allegheny Front, the nearly 3,000 foot elevation escarpment just west of Cumberland. I know I spent what my teachers deemed far too many hours gazing westward over the city and into those wonderful ridges beyond. A great place to observe and appreciate Nature, especially the weather, an addiction I embrace yet today.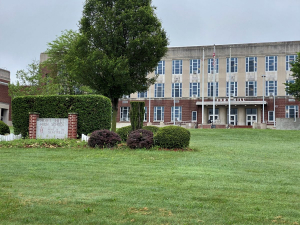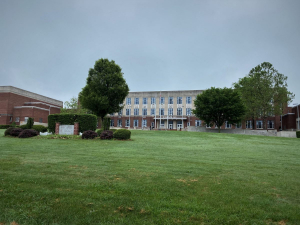 I lettered in cross country at Fort Hill. I mention it not to draw attention to my distance running prowess (I was such a plodder!), but because practice sent me into the rural landscape mosaic of hills, forests, fields, and streams nearby. What a magnificent escape into Nature. Cross country planted a seed for distance running that I carried into my 50s, when knees began to protest.
Allegany Community College
I have written often of my belief that there are incidents in life that seem to be coincidences, but instead upon my closer inspection and deliberation amount to correspondence and divine providence. As my love for Nature and the outdoors began to deepen, the local community college opened a brand new campus (below) the fall of 1969 (I graduated high school in June 1969) and initiated a forestry program. The campus sits along Evitts Creek. Cross country training often took me past the soon-to-be campus entrance. When I attended Allegany Community College the campus occupied grassy fields. Over the intervening five decades, mature landscaping and impressive oak trees have grown to occupy the valley floor. Our dendrology labs often took us onto the forested hill on the far side of Evitts Creek (below right and left).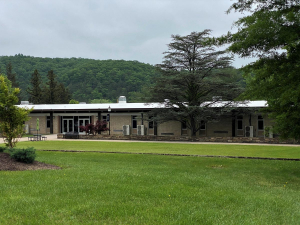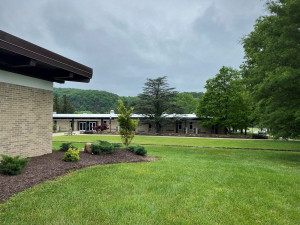 I offer this Post not as a detailed ecological examination, but as a short reflection on three cornerstones of my formative years: the Potomac flowing through the Appalachians within walking distance of my home; experiences in secondary education and athletics at a hilltop high school overlooking the ridges and valley that I cherished; and the inauguration of a professional program of study in my forestry passion-field just four miles from my home. Coincidence? No, divine providence has guided my way. Robert Frost told my tale in The Road Not Taken:
Two roads diverged in a yellow wood,
And sorry I could not travel both
And be one traveler, long I stood
And looked down one as far as I could
To where it bent in the undergrowth;
Then took the other, as just as fair,
And having perhaps the better claim,
Because it was grassy and wanted wear;
Though as for that the passing there
Had worn them really about the same,
And both that morning equally lay
In leaves no step had trodden black.
Oh, I kept the first for another day!
Yet knowing how way leads on to way,
I doubted if I should ever come back.
I shall be telling this with a sigh
Somewhere ages and ages hence:
Two roads diverged in a wood, and I—
I took the one less traveled by,
And that has made all the difference.
Divine providence presented the pathway that I chose. In fact, better stated, the path chose me.
Thoughts and Reflections
I offer these reflections:
The Nature of my youth shaped the seedling and sapling Steve Jones.
I attribute so much of what has shaped me to Divine Providence.
Fortuity and serendipity have been powerful life forces for me.
Inhale and absorb Nature's elixir. May Nature Inspire, Inform, and Reward you!
Note: All blog post images created & photographed by Stephen B. Jones unless otherwise noted. Please circulate images with photo credit: "©2021 Steve Jones, Great Blue Heron LLC. All Rights Reserved."
Another Note: If you came to this post via a Facebook posting or by an another route, please sign up now (no cost… no obligation) to receive my Blog Post email alerts: http://eepurl.com/cKLJdL
And a Third: I am available for Nature-Inspired Speaking, Writing, and Consulting — contact me at steve.jones.0524@gmail.com
Reminder of my Personal and Professional Purpose, Passion, and Cause
If only more of us viewed our precious environment through the filters I employ. If only my mission and vision could be multiplied untold orders of magnitude:
Mission: Employ writing and speaking to educate, inspire, and enable readers and listeners to understand, appreciate, and enjoy Nature… and accept and practice Earth Stewardship.
Vision:
People of all ages will pay greater attention to and engage more regularly with Nature… and will accept and practice informed and responsible Earth Stewardship.
They will see their relationship to our natural world with new eyes… and will understand more clearly their Earth home.
Tagline/Motto: Steve (Great Blue Heron) encourages and seeks a better tomorrow through Nature-Inspired Living!
Steve's Three Books
I wrote my books Nature Based Leadership (2016), Nature-Inspired Learning and Leading (2017), and Weaned Seals and Snowy Summits: Stories of Passion for Place and Everyday Nature (2019; co-authored with Dr. Jennifer Wilhoit) to encourage all citizens to recognize and appreciate that every lesson for living, learning, serving, and leading is either written indelibly in or is powerfully inspired by Nature.
I began writing books and Posts for several reasons:
I love hiking and exploring in Nature
I see images I want to (and do) capture with my trusty iPhone camera
I enjoy explaining those images — an educator at heart
I don't play golf!
I actually do love writing — it's the hobby I never needed when my career consumed me
Judy suggested my writing is in large measure my legacy to our two kids, our five grand kids, and all the unborn generations beyond
And finally, perhaps my books and Blogs could reach beyond family and touch a few other lives… sow some seeds for the future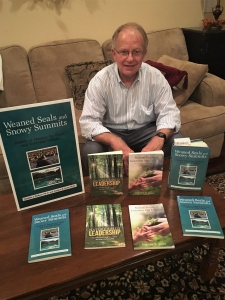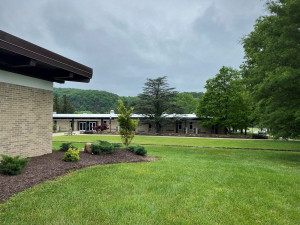 All three of my books (Nature Based Leadership; Nature-Inspired Learning and Leading; Weaned Seals and Snowy Summits) present compilations of personal experiences expressing my (and co-author Dr. Wilhoit for Weaned Seals and Snowy Summits) deep passion for Nature. All three books offer observations and reflections on my relationship to the natural world… and the broader implications for society. Order any and all from your local indie bookstore, or find them on IndieBound or other online sources such as Amazon and LifeRich.
http://stevejonesgbh.com/wp-content/uploads/2021/06/IMG_8321.jpg-05.24.21-Low-Ceiling-Over-the-Queen-City.jpg
1200
900
Steve Jones
http://stevejonesgbh.com/wp-content/uploads/2017/01/gbhweblogo.png
Steve Jones
2021-07-14 04:17:27
2021-07-14 04:21:17
Another Nature Visit to Cumberland, Maryland, My Home Town