Dec 17 & 21 25 photos
Human history and natural history have intersected across the 13,000-years since the first Native Americans arrived here in northern Alabama. Over a five-day period (December 17-21, 2020), I visited three recent (past 100 years) historic locations in our area: Burritt Museum (Huntsville, AL), Jesse Owens Museum (Oakville, AL), and Helen Keller's Ivy Green Birthplace (Tuscumbia, AL). My purpose with this Post isn't to recreate the deep history and significance of the three stories of struggle and accomplishment. Instead, I will present my photos and reflections on how natural features today accent the interpretive power of the three sites. Although all three museums and their grounds are worth visiting, I do not intend for this Post to be a Chamber of Commerce promotional piece. I simply want potential visitors to these and any other such places to appreciate the interplay of human history and Nature, and to recognize that Nature helps define place and context.
Burritt Museum on Monte Sano; Huntsville, AL
Attracted to the healthful spring waters and mountain air, Dr. Burritt chose to build his retirement home on this 167 acre portion of Monte Sano, known as Round Top Mountain, some 800 feet above Huntsville, Alabama on the western rim of the Cumberland Plateau above the city. Don't look for a lot of text accompanying the photos from these three historic memorials. I'll ask you now at the outset to consider the value-added by the naturalizing context that complements all three.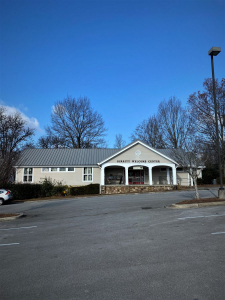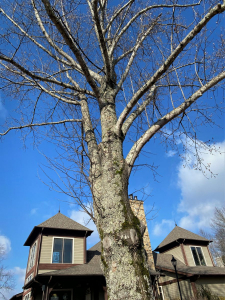 The view west over the city placed Dr. Burritt in what he perceived as a more healthful environment. If nothing else, the view served as salve for the spirits and an elixir for his mental well being.
Windmill, vivid blue firmament, and perched cat — more peace and tranquility above and beyond the city bustle.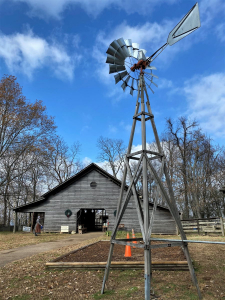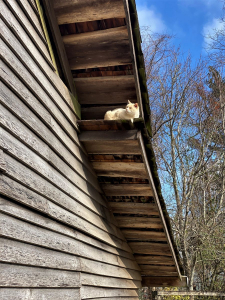 Lichen ornamenting a fragment of bark fallen into a landscape bed of liriope adds beauty to those who look closely for Nature's visual gifts. Below right lichen is decorating and adding character to a weathering corral rail.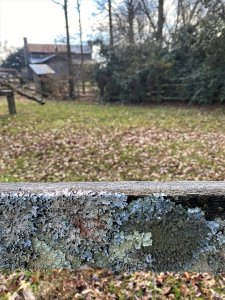 Moss and lichen adorn this furrowed ash bark. A nearby cousin sports a mossy coat as it carefully "eyes" the museum grounds visitor.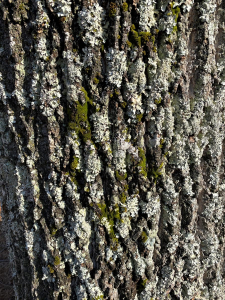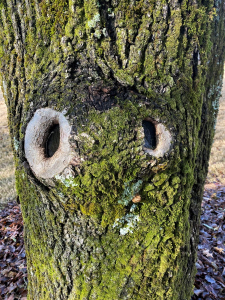 I enjoyed the museum contents and the remade working farm village, even as I relished Nature's infiltrating the grounds and contributing immeasurable value to my experience.
Jesse Owens Museum; Oakville, AL
Jesse began life as one of ten children in a sharecropper's shack, replicated below right. The open fields and deep blue sky haven't changed much.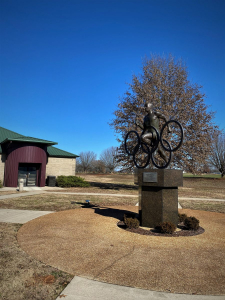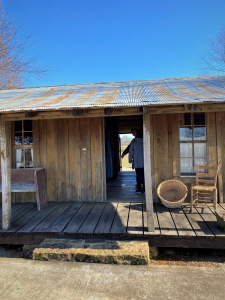 The memorial and air-conditioned, modern museum stand in stark contrast to the Owens family's harsh existence. The Olympic Committee presented a white oak seedling to each gold medal recipient. Jesse left Berlin with four oak trees. Three of his four survived. Museum founders planted a symbolic replacement for the fourth tree on-site at the museum. This individual will stand taller and broader when the museum celebrates the 100th anniversary of Jesse's golds. Imaging it in 2136!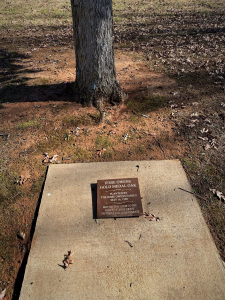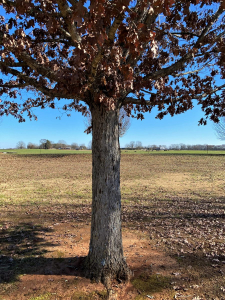 Nature will become ever more important over time. This tree, and other natural complements will enhance visitors' experience for decades to come.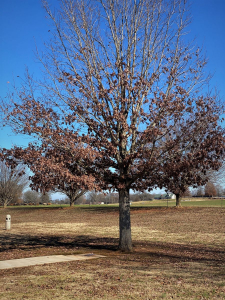 I am grateful that the museum celebrates The Nature of historic events.
Ivy Green: Helen Keller Birthplace; Tuscumbia, AL
I felt Helen Keller's spirit amid the trees that she had touched, inhaled their aroma, and felt their bark, each species signaling distinctively their identity to her. The oak and southern magnolia below overlapped in time with Helen at Ivy Green.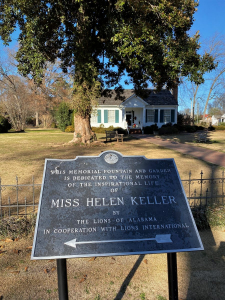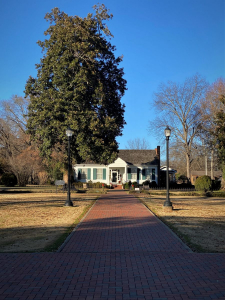 The iconic well, where Annie Sullivan finally broke through to the troubled child, touched me deeply. That something so fundamental to life and Nature as water served as the medium for connection speaks to the absolute essence of Nature in her life… and ours.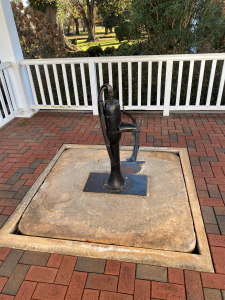 Although the American holly and willow oak below continue to grow, I am certain that Helen enjoyed the fragrance of spring holly in flower and touched the coarse bark of the ever-expanding oak trunk, enriching my own experience at Ivy Green.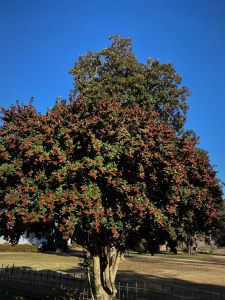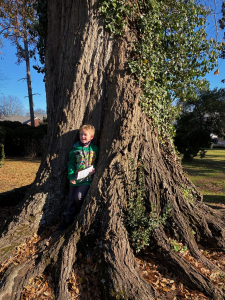 The dinner bell on wooden pole standing beside the raw-wood, free-standing kitchen and servants' quarters reminded me that Helen, and all of us today, are essentially OF Nature, not separate from it.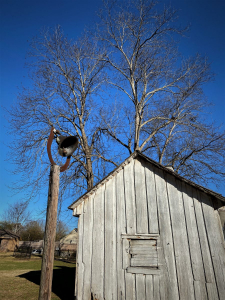 I also marveled at The Moon Tree, planted within a decade of her death. The loblolly pine seed had traveled the quarter-million miles to the moon and back, and now stands tall at Ivy Green. We cannot measure Helen's own journey from darkness and absolute quiet to a life of extraordinary accomplishment in miles. We do know that she overcame impossible odds and reached deeply into mysteries we can only imagine.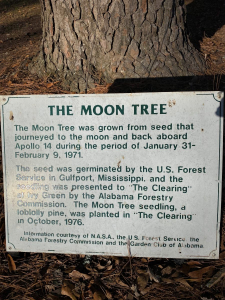 The Moon Tree stands grandly as a symbol for Helen's own other worldly journey… as an inspiration to all of us. This Moon Tree… this Tree of Life… this tree of Knowledge and Wisdom!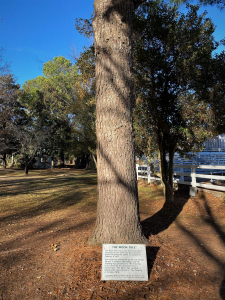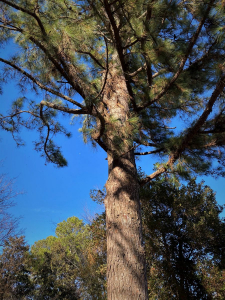 Six-and-one-half-year-old grandson Sam serves as scale and reminder, along with the large oak, that life reaches beyond our own. That all we can ever hope and aspire to do is change some small corner of the world for the better… through wisdom, knowledge, and hard work.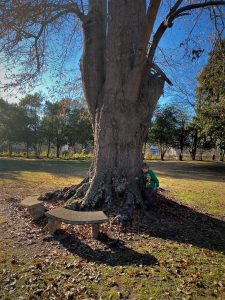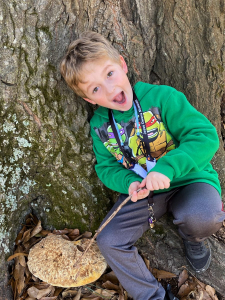 Helen changed all of us for the better, exceeding my own feeble ambition to change a small corner of my world. I felt her spirit throughout Ivy Green.
Thoughts and Reflections
I offer three observations from my December visits exploring the intersection of Natural and Human History:
Natural features today accent the interpretive power of human history
Nature accents the story of human enterprise
Nature helps define historical place and context
Inhale and absorb Nature's elixir. May Nature Inspire, Inform, and Reward you!
Note: All blog post images created & photographed by Stephen B. Jones unless otherwise noted. Please circulate images with photo credit: "©2021 Steve Jones, Great Blue Heron LLC. All Rights Reserved."
Another Note: If you came to this post via a Facebook posting or by an another route, please sign up now (no cost… no obligation) to receive my Blog Post email alerts: http://eepurl.com/cKLJdL
And a Third: I am available for Nature-Inspired Speaking, Writing, and Consulting — contact me at steve.jones.0524@gmail.com
Reminder of my Personal and Professional Purpose, Passion, and Cause
If only more of us viewed our precious environment through the filters I employ. If only my mission and vision could be multiplied untold orders of magnitude:
Mission: Employ writing and speaking to educate, inspire, and enable readers and listeners to understand, appreciate, and enjoy Nature… and accept and practice Earth Stewardship.
Vision:
People of all ages will pay greater attention to and engage more regularly with Nature… and will accept and practice informed and responsible Earth Stewardship.
They will see their relationship to our natural world with new eyes… and will understand more clearly their Earth home.
Tagline/Motto: Steve (Great Blue Heron) encourages and seeks a better tomorrow through Nature-Inspired Living!
Steve's Three Books
I wrote my books Nature Based Leadership (2016), Nature-Inspired Learning and Leading (2017), and Weaned Seals and Snowy Summits: Stories of Passion for Place and Everyday Nature (2019; co-authored with Dr. Jennifer Wilhoit) to encourage all citizens to recognize and appreciate that every lesson for living, learning, serving, and leading is either written indelibly in or is powerfully inspired by Nature.
I began writing books and Posts for several reasons:
I love hiking and exploring in Nature
I see images I want to (and do) capture with my trusty iPhone camera
I enjoy explaining those images — an educator at heart
I don't play golf!
I actually do love writing — it's the hobby I never needed when my career consumed me
Judy suggested my writing is in large measure my legacy to our two kids, our five grand kids, and all the unborn generations beyond
And finally, perhaps my books and Blogs could reach beyond family and touch a few other lives… sow some seeds for the future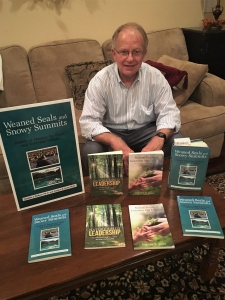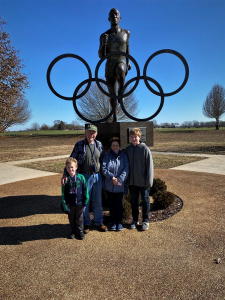 All three of my books (Nature Based Leadership; Nature-Inspired Learning and Leading; Weaned Seals and Snowy Summits) present compilations of personal experiences expressing my (and co-author Dr. Wilhoit for Weaned Seals and Snowy Summits) deep passion for Nature. All three books offer observations and reflections on my relationship to the natural world… and the broader implications for society. Order any and all from your local indie bookstore, or find them on IndieBound or other online sources such as Amazon and LifeRich.
http://stevejonesgbh.com/wp-content/uploads/2020/12/IMG_6141.jpg-12.21.20-Helen-Keller-Birthplace.jpg
1200
900
Steve Jones
http://stevejonesgbh.com/wp-content/uploads/2017/01/gbhweblogo.png
Steve Jones
2021-02-17 09:06:50
2021-02-17 09:06:50
Complementing History with Natural Settings