I admit to an addiction to Alabama's 21 State Parks. I added Lake Lurleen State Park to my checked-off list October 15, 2020, hiking the four-mile Ridge Loop Trail with Park Manager Dee White. Encompassing 1,625 acres, the Park is about nine miles northwest of Tuscaloosa, home to the Crimson Tide.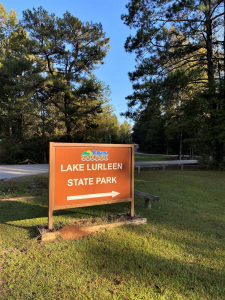 The 250-acre man-made lake presents an open invitation upon entry to the Park. From the Lake Lurleen website: The main attraction at the park is the 250-acre Lake Lurleen. The lake measures nearly one and a half miles in length, one-half mile wide, and at its deepest is 48 feet. The lake is stocked with largemouth bass, bream, catfish, and crappie so anglers are sure to reel in a nice-sized catch. Boat-launch areas and ample pier and bank fishing are available.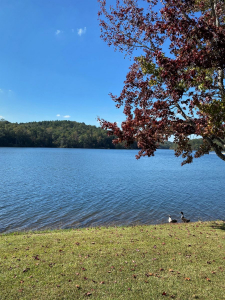 The Park offers 23 miles of maintained multi-use trails winding across forested hillsides and around the lakeshore. That's Dee below left beside the trail directory signpost, and a map of the trail system below right.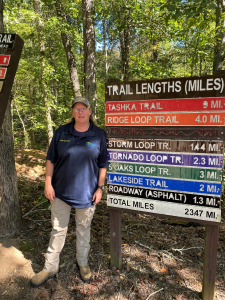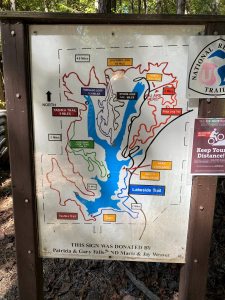 Trails are well-maintained and trail signage excellent, below marking both the Ridge Loop beginning and its end.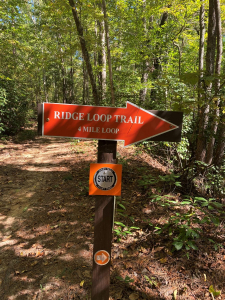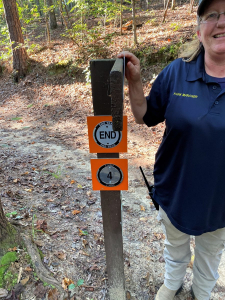 At first blush I questioned the purpose of the two caution signs below. However, as I wondered, a mountain biker slipped past. The signs are for bikers, not this old trail-trekker.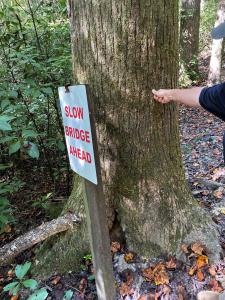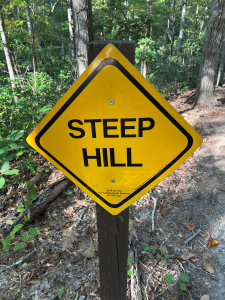 Lower Slope Forest Vegetation
I viewed the Loop Trail as a tale of two forest types, each one accounting for roughly half the four-mile distance. We'll cover the lower slopes with this first Lake Lurleen Blog Post. A subsequent Post will address the drier upland forest type. Mixed oaks and yellow poplar, straight and tall, dominated the moist sheltered hollow we entered at the outset. Florida anise (Illicium floridanum) occupied the understory from ground to 12-15-feet, much like rhododendron and laurel grows in dense thickets on similar slope positions in the Appalachians.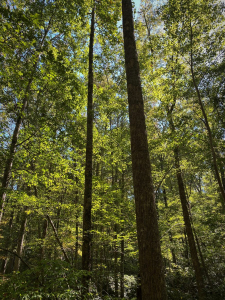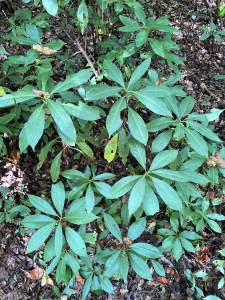 Within the stand of straight oaks and poplar, sourwood (Oxydendrum arboreum) refused to reach inverse to the force of gravity, instead the species chooses what appears to be a defiant wandering through the mid-canopy, a rogue free spirit. I've long-admired its independence. All other species of my familiarity are either positively phototropic (growing toward sunlight) or negatively geotropic (oriented opposite the draw of gravity). The individual below is typical of sourwood's free-form throughout its range.
Two other understory shrubs appeared within these lower slope forests, neither reaching much beyond six feet: Winterberry holly (Ilex verticillata; below left) and Carolina buckthorn (Frangula caroliniana; below right). Winterberry holly ranges widely in the eastern US from Florida to Nova Scotia; the buckthorn grows only as far north as Pennsylvania.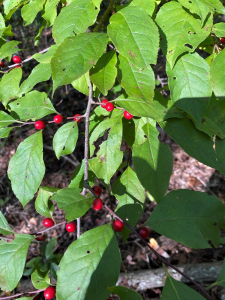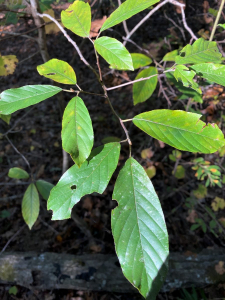 Bigleaf magnolia (Magnolia macrophylla) likewise appeared across these more mesic sites, growing into the lower mid-canopy to 15-20 feet. This southeastern US species has the largest simple leaf (and flower) of any native North American tree. A girl scout troop posted hand-printed and painted interpretive signs near the Ridge Loop Trail end, including this one below right. The signs are helpful, accurate, and charming.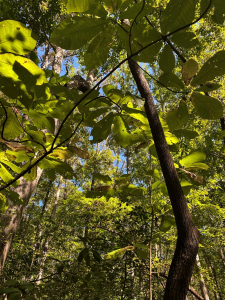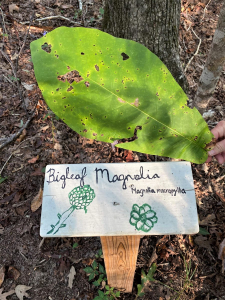 The flowering dogwood sign is for the tree just to the right and off-camera except for its base.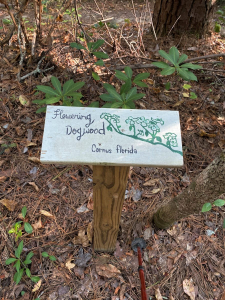 Only 19 more miles of Lake Lurleen State Park trails to explore on future visits. The four-mile loop trail amounts to an easy stroll, one we could have covered far more rapidly had we chosen to walk through the forest… rather than within the diverse sylvan cover. That's me below at trail's end, offering evidence that I visited the Park.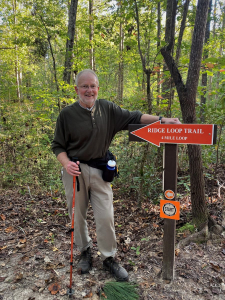 As I indicated earlier in this Post, I will develop a second photo-essay chronicling our trek through the more xeric upland portions of the Ridge Loop Trail.
An Alabama State Parks Foundation Board meeting (reference to the Foundation under the heading below) the next day brought me to Lake Lurleen State Park. Several of us enjoyed a campfire the evening after my Ridge Loop hike. I'll call this the Nature of friendship and shared service to a good cause.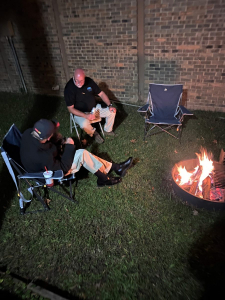 Alabama State Parks Foundation
I'll remind you that I serve on the Alabama State Parks Foundation Board, in part because of my love of Nature and in recognition for my writing many prior Posts about visiting and experiencing the Parks. I urge you to take a look at the Foundation website and consider ways you might help steward these magical places: https://asparksfoundation.org/ Perhaps you might think about supporting the Parks System education and interpretation imperative: https://asparksfoundation.org/give-today#a444d6c6-371b-47a2-97da-dd15a5b9da76
The Foundation exists for the sole purpose of providing incremental operating and capital support for enhancing our State parks.
Thoughts and Reflections
Our Alabama State Parks reveal their own individual and collective gifts of wonder and beauty:
Unique forest types and landscape features
Interpretive trails and lessons for life and living
Unlimited magic at all scales
Inhale and absorb Nature's elixir. May Nature Inspire, Inform, and Reward you!
Note: All blog post images created & photographed by Stephen B. Jones unless otherwise noted. Please circulate images with photo credit: "©2020 Steve Jones, Great Blue Heron LLC. All Rights Reserved."
Another Note: If you came to this post via a Facebook posting or by an another route, please sign up now (no cost… no obligation) to receive my Blog Post email alerts: http://eepurl.com/cKLJdL
And a Third: I am available for Nature-Inspired Speaking, Writing, and Consulting — contact me at steve.jones.0524@gmail.com
Reminder of my Personal and Professional Purpose, Passion, and Cause
If only more of us viewed our precious environment through the filters I employ. If only my mission and vision could be multiplied untold orders of magnitude:
Mission: Employ writing and speaking to educate, inspire, and enable readers and listeners to understand, appreciate, and enjoy Nature… and accept and practice Earth Stewardship.
Vision:
People of all ages will pay greater attention to and engage more regularly with Nature… and will accept and practice informed and responsible Earth Stewardship.
They will see their relationship to our natural world with new eyes… and will understand more clearly their Earth home.
Tagline/Motto: Steve (Great Blue Heron) encourages and seeks a better tomorrow through Nature-Inspired Living!
Steve's Three Books
I wrote my books Nature Based Leadership (2016), Nature-Inspired Learning and Leading (2017), and Weaned Seals and Snowy Summits: Stories of Passion for Place and Everyday Nature (2019; co-authored with Dr. Jennifer Wilhoit) to encourage all citizens to recognize and appreciate that every lesson for living, learning, serving, and leading is either written indelibly in or is powerfully inspired by Nature.
I began writing books and Posts for several reasons:
I love hiking and exploring in Nature
I see images I want to (and do) capture with my trusty iPhone camera
I enjoy explaining those images — an educator at heart
I don't play golf!
I actually do love writing — it's the hobby I never needed when my career consumed me
Judy suggested my writing is in large measure my legacy to our two kids, our five grand kids, and all the unborn generations beyond
And finally, perhaps my books and Blogs could reach beyond family and touch a few other lives… sow some seeds for the future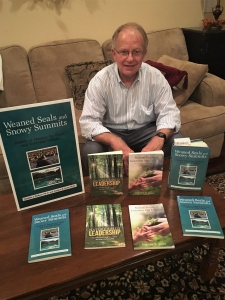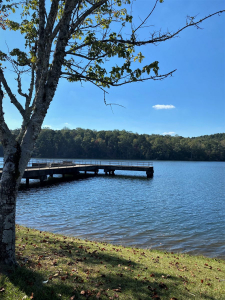 All three of my books (Nature Based Leadership; Nature-Inspired Learning and Leading; Weaned Seals and Snowy Summits) present compilations of personal experiences expressing my (and co-author Dr. Wilhoit for Weaned Seals and Snowy Summits) deep passion for Nature. All three books offer observations and reflections on my relationship to the natural world… and the broader implications for society. Order any and all from your local indie bookstore, or find them on IndieBound or other online sources such as Amazon and LifeRich.
http://stevejonesgbh.com/wp-content/uploads/2020/10/IMG_5103.jpg-10.14.20-LL-SP-Lake.jpg
1200
900
Steve Jones
http://stevejonesgbh.com/wp-content/uploads/2017/01/gbhweblogo.png
Steve Jones
2020-11-19 09:48:21
2020-11-19 09:48:21
A First Visit to Alabama's Lake Lurleen State Park: Moist Lower Slope Forest