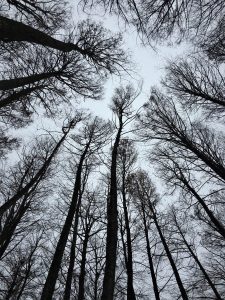 February 22, 2020, the North Alabama Land Trust hosted a Leafless Tree I.D. hike along Bradford Creek Greenway in Madison, AL. I remain convinced that learning more about Nature amplifies our commitment to Earth stewardship. Don't we care more about other humans when we know something (positive) about them, including their names? I believe the same is true of our kinship with the natural world. I was pleased to see some 30 eager-to-learn participants accompany hike leader Dr. Ken Ward, a retired Alabama A&M professor of dendrology, the scientific study of trees. Allow me to observe up front that Ken led the educational tour with distinction!
You might wonder why I, a bachelor-degreed forester with a doctorate in applied ecology, would want to take a three-hour tree identification hike. The answer is simple, even if multi-faceted:
I took my one and only dendrology course 51 years ago
Six hundred miles north of here
I've made thirteen interstate moves during my professional career, gaining knowledge many miles wide… and far too shallow
The final two decades of my professional pursuits locked me in senior executive leadership roles at seven different universities, relegating dendrology growth to secondary, tertiary, or perhaps even quadrary level — a thing of occasional weekend hikes
Although for the past two years I have been resharpening my Nature skills in our north Alabama woods, my blade is rusty
I relished the idea of soaking up knowledge from a true local expert
Ken did not disappoint!
We walked the trail (paved greenway) on a picture-perfect morning, one somehow lifted from within an otherwise drenched December through February period.
A Glorious Winter Day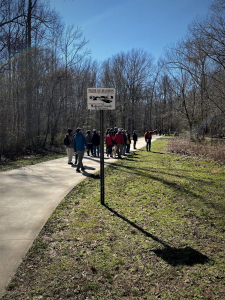 Beyond hosting the hike, the North Alabama Land Trust played a major role in establishing the Bradford Greenway. I borrow these words (and the two photos beneath the two paragraphs) from my January 20, 2020 Blog Post about our local greenways and floods: http://stevejonesgbh.com/2020/01/20/local-greenways-the-blessing-of-urban-floodplains/
I offer another tribute and appreciation to our Land Trust of North Alabama for its partnership in creating the Bradford Creek Greenway and other special places locally. I love the Land Trust's tagline: "Conservation in Action!" As a former four-time university president, I hold that application adds value to knowledge. Applying knowledge (driven by dedication and passion) brings action to bear. Without applying action to conservation, we as humanity, communities, and individuals practice only a shallow and meaningless conservation inaction. Amazing how removing that one space (between 'in' and 'action') changes the entire essence. Talking by itself can amount merely to conservation virtue-signaling. The Land Trust gets it done! I applaud its action, guided by a succinct and noble mission: The Land Trust preserves land and its legacies for conservation, public recreation, and environmental education to enhance quality of life in North Alabama now and for the future.
The Land Trust donated a 112-acre easement to the City of Madison (2006) for the Bradford Creek Greenway. The aerial photo shows the property lines (green) and the 2.5-mile trail (red) from Heritage School to Palmer Park. I have spent many hours biking along the creek under its welcome riparian forest cover and shade. A wonderful gift to future generations. We began our Tree I.D. hike at Heritage Elementary.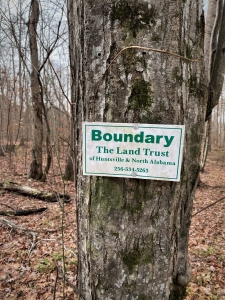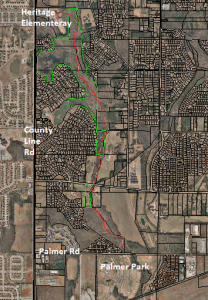 Here's Ken (below left) speaking to us at trailside, the riparian forest behind him. Below right he's pointing out the water tupelo (Nyssa aquatic) along Bradford creek, drawing our attention to the distinctively swollen base, often termed "butt swell." Water tupelo is happy with wet feet; in fact the species demands it, hence the "water" moniker. Where you find a tree growing (and flourishing) is an important identification diagnostic.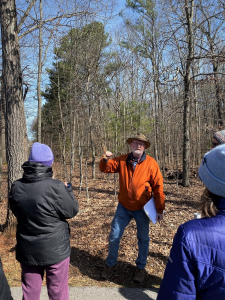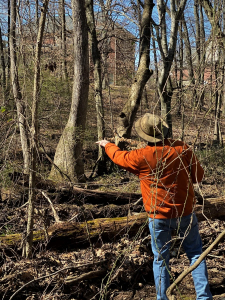 Ken focused on bark and bud characteristics. Black cherry (Prunus serotina) bark varies from its mottled grey (lower left) on younger stems to the finely flaked near-black of mature trees. I know black cherry, the principal species of the Allegheny Hardwood Forests of New York and Pennsylvania where I conducted my doctoral research. Lower right we see white oak (Quercus alba) with its vertically-shredded white-grey bark, which varies little across tree age.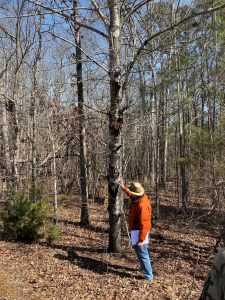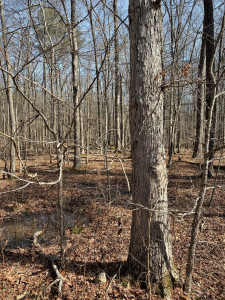 Never reaching beyond the intermediate canopy, Carpinus caroliniana (musclewood; American hornbeam) has an elephant-smooth grey bark, with sinewy muscled stem form. Lichens of various types often accent its bark (lower right). The Carpinus with my leaned trekking pole grows snug against an over-story sweetgum (Liquidambar styraciflua) that towers above it. The musclewood tree, a shade tolerant species, is content in the sweetgum's shade. In addition to bark, stem structure, and bud characteristics, another leafless tree diagnostic is canopy placement and growth form.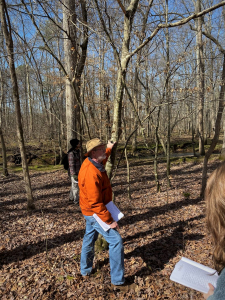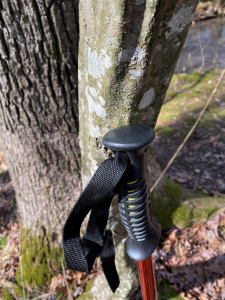 Both musclewood and ironwood (Ostrya virginiana; eastern hophornbeam) are common here in northern Alabama, as well in the forests of my doctoral research. Both also speak volumes about the need for learning scientific names, and not relying on common names: consider American hornbeam and eastern hophornbeam! Ironwood has finely vertically-shredded bark, grows straighter than Carpinus, yet likewise occupies the lower and intermediate canopy. both have very dense (hard) wood.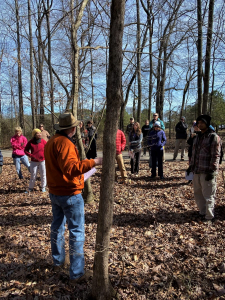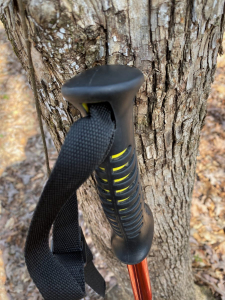 The common hackberry (Celtis occidentalis) occurs commonly across the northern half of the eastern US, and does venture into northern Alabama, primarily on upland sites. However, sugarberry (Celtis laevigata) is much more commonly distributed in the southern half of the eastern US. I do not know how to distinguish the two. Each has the diagnostic prominent corky ridges on the grey bark. Because we are in the southern half of the eastern US and on a riparian site, I am leaning toward sugarberry (laevigata).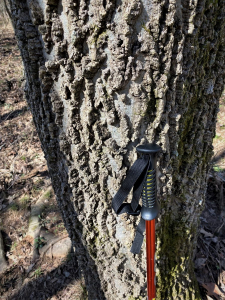 I can't resist another photo or two of that day's incredible weather: 35 degrees when we gathered at 9:00 am, rising mid-day to 55 degrees. Where we lived for four years (Fairbanks, AK) on the same day that we hiked here, the temperature rose to a balmy 11 degrees above zero with a two-foot snowpack. A week prior and a week later the highs ranged in the negative 20s! We are winter-blessed here in the Tennessee Valley region of northern Alabama. I suppose we pay our weather dues June through mid-September.
In case any of my Fairbanks friends see this Post, here's one more photo of the group enjoying the winter day!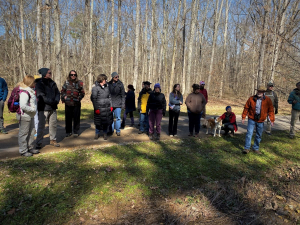 And, one more reflection on our Land Trust 0f North Alabama — a true service to Nature enthusiasts and future citizens across the region. The LTNA mission is simple, succinct, and noble: The Land Trust preserves land and its legacies for conservation, public recreation, and environmental education to enhance quality of life in North Alabama now and for the future. I urge you to visit the Trust's website: https://www.landtrustnal.org/vision-history/ Please consider joining and or contributing. 
Thoughts and Reflections
I wrote my books Nature Based Leadership (2016), Nature-Inspired Learning and Leading (2017), and Weaned Seals and Snowy Summits: Stories of Passion for Place and Everyday Nature (2019; co-authored with Dr. Jennifer Wilhoit) to encourage all citizens to recognize and appreciate that every lesson for living, learning, serving, and leading is either written indelibly in or is powerfully inspired by Nature. All three are available on Amazon and other online sources.
Here are the three succinct truths I draw from this Blog Post:
Learning about Nature enhances our understanding of our place in this world

Understanding our place magnifies our appreciation for Nature's beauty, magic, wonder, and awe

Appreciation of Nature inspires and leverages our passion for Earth stewardship
Inhale and absorb Nature's elixir. May Nature Inspire and Reward you!
Note: All blog post images created & photographed by Stephen B. Jones unless otherwise noted. Please circulate images with photo credit: "©2020 Steve Jones, Great Blue Heron LLC. All Rights Reserved."
Another Note: If you came to this post via a Facebook posting or by an another route, please sign up now (no cost… no obligation) to receive my Blog Post email alerts: http://stevejonesgbh.com/contact/
And a Third: I am available for Nature-Inspired Speaking, Writing, and Consulting — contact me at steve.jones.0524@gmail.com
Reminder of my Personal and Professional Purpose, Passion, and Cause
If only more of us viewed our precious environment through the filters I employ. If only my mission and vision could be multiplied untold orders of magnitude:
Mission: Employ writing and speaking to educate, inspire, and enable readers and listeners to understand, appreciate, and enjoy Nature… and accept and practice Earth Stewardship.
Vision:
People of all ages will pay greater attention to and engage more regularly with Nature… and will accept and practice informed and responsible Earth Stewardship.
They will see their relationship to our natural world with new eyes… and will understand more clearly their Earth home.
Tagline/Motto: Steve (Great Blue Heron) encourages and seeks a better tomorrow through Nature-Inspired Living!
Steve's Three Books
I began writing books and Posts for several reasons:
I love hiking and exploring in Nature
I see images I want to (and do) capture with my trusty iPhone camera
I enjoy explaining those images — an educator at heart
I don't play golf!
I actually do love writing — it's the hobby I never needed when my career consumed me
Judy suggested my writing is in large measure my legacy to our two kids, our five grand kids, and all the unborn generations beyond
And finally, perhaps my books and Blogs could reach beyond family and touch a few others lives… sow some seeds for the future
That's Alabama grandson Sam with me below right by a planted longleaf pine at the south end of Bradford Creek Greenway, opposite from the Tree I.D. hike.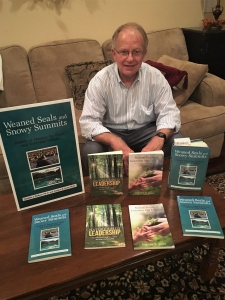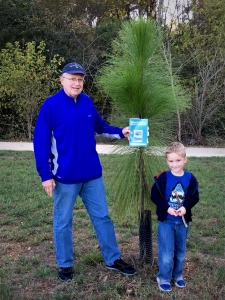 All three of my books (Nature Based Leadership; Nature-Inspired Learning and Leading; Weaned Seals and Snowy Summits) present compilations of personal experiences expressing my (and co-author Dr. Wilhoit for Weaned Seals and Snowy Summits) deep passion for Nature. All three books offer observations and reflections on my relationship to the natural world… and the broader implications for society. Order any and all from your local indie bookstore, or find them on IndieBound or other online sources such as Amazon and LifeRich.
http://stevejonesgbh.com/wp-content/uploads/2020/02/IMG_1598.jpg-012.22.20-Leafles-Tree-I.D.-Braddford-Creek-Greenway-CC.jpg
1200
900
Steve Jones
http://stevejonesgbh.com/wp-content/uploads/2017/01/gbhweblogo.png
Steve Jones
2020-03-07 08:48:18
2020-03-07 08:48:18
Leafless Tree I.D. Hike along Bradford Creek Greenway